Isko: From scavenger to Manila Mayor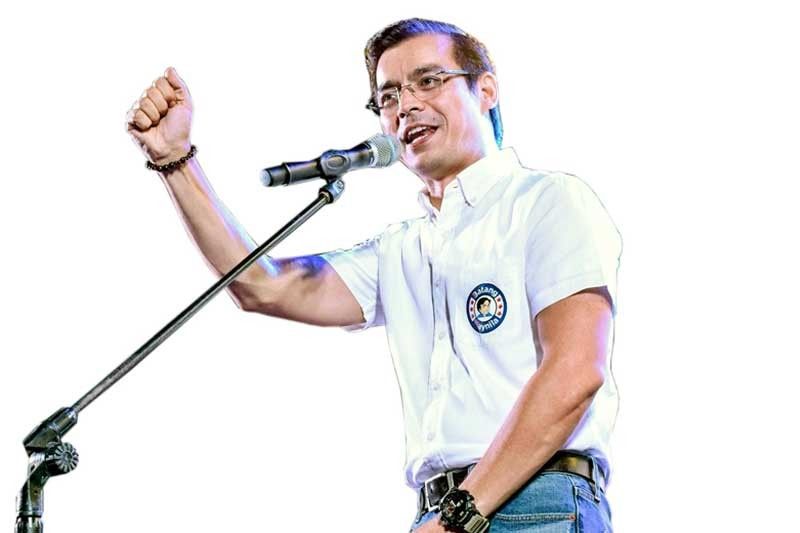 The long and winding journey of his life started at a garbage dump in Tondo, on to the topsy-turvy whirl of showbiz and now at the seat of power in Manila.
If and when Charo Santos-Concio's MMK (Maalaala Mo Kaya?) or Star Cinema thinks of dramatizing the life of Manila Mayor-elect Isko Moreno, that opening paragraph is the perfect blurb since more than a rags-to-riches saga, Isko's story flows like a fairy tale with a happily-ever-after ending. A STAR exclusive story in 2007 described him as "Super Isko" and a 2012 story as "Cinderella Man."
The first interview was when he was elected vice mayor of Manila, the first district of which he had served as councilor for three terms, first with Mayor Fred Lim and then with Mayor Joseph "Erap" Estrada whom he defeated in the May 13 midterm elections.
The second interview was in L.A. while Isko was on a stopover on his way to the John F. Kennedy School in Harvard where he took an Executive Education Program. He graduated from Rosauro Almario Elementary School and Tondo High School, both in Tondo; and studied at Arellano University (Law, undergraduate), Pamantasan ng Lungsod ng Maynila (Public Administration) and UP (Local Legislation and Local Finance).
The story goes that a lady councilor mocked Isko for not knowing how to preside over a council and refused to talk to him unless he learned how to speak English well.
"You know," Isko had said then, "when I look back, I think I should thank people like her dahil sila ang naka-challenge sa akin para mag-aral uli…"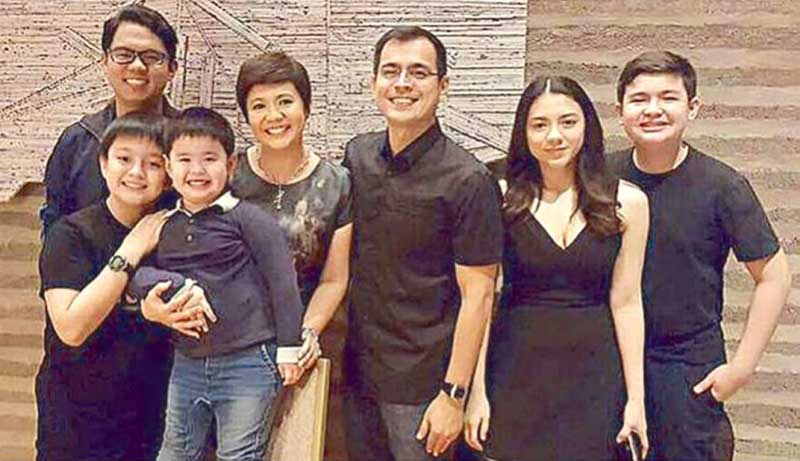 Manila Mayorelect Isko Moreno with his wife Diana Lynn Ditan and their children Vincent Patrick, Frances Diane, Joaquin Andre, Franco Dylan and Drake Marcus. Isko is among the young blood who now rules Metro Manila cities, including… — Photo from Isko Moreno's Facebook page
Get to know the new Mayor of Manila from relevant excerpts from those two interviews.
Before you joined showbiz, to what level did you belong?
"If there was a 'below poverty' level, doon ako. The poorest among the poor. Maybe you won't believe that our family used to eat other people's leftovers. When I was 10 years old and in Grade 4, I would collect leftovers, which we called batsoy, from a fast-food store, mga tira-tira sa gabi. My big plastic bag contained all kinds of leftovers…soft drink cans, styrofoam, plastic spoons and forks, straws and cups, tissues including sanitary napkins, tira-tirang spaghetti and hamburgers, kung anu-ano.
"We would segregate the bag's contents, the leftover foods, into kaning-baboy and kaning-tao. 'Yung fried chicken na may natitira pang laman, especially pag bata ang kumain na hindi naman nauubos, we would refry. That's what we called batsoy. Not La Paz batsoy, ha. Masarap 'yon! Ours we called pagpag batsoy."
Turning 45 on Oct. 24, Isko (full name: Francisco Dumagoso) was born to a father (Joaquin Dumagoso) who worked as stevedore at the North Harbor and a mother (Rosario Moreno, from Allen, Northern Samar) who was a plain housewife.
"I am an only child," Isko said, "solong tagapagmana ng malaking lupain sa Tondo," and then he laughed. He said that he has half-siblings from his father's side and is in good terms with all of them.
He was 18 when he was discovered by talent manager Wowie Roxas during a wake for a rich man, while lining up for free soup.
"That was in 1993," recalled Isko. The dead was our neighbor, medyo mayaman, so I attended the lamay for a free meal. There were only two kinds of dead — the poor dead and the rich dead. Pag mahirap, kape na nga lang wala pang gatas; biscuit na nga lang na kapag nahanginan malambot na. But if the dead was rich, may sopas at sandwich kaya dinadayo namin. That was how I met Daddy Wowie. He asked me, 'Gusto mong mag-artista?' and gave me his calling card."
It was Wowie who brought Isko into That's Entertainment, the GMA show hosted by German "Kuya Germs" Moreno (no relation) who built up talents until his dying day. "He was my Tatay-Tatayan," Isko said of Kuya Germs, "my guiding light."
Showbiz became his launching pad to politics.
Asked in that 2012 interview who his role models were, Isko named John F. Kennedy, Nelson Mandela, Lee Kuan Yew, Mahathir Mohamad and Ferdinand Marcos.
Any piece of advice for the youth?
His answer then still rings true these days.
"What I always tell them is that it's true na hindi lahat pantay-pantay…some are rich and some are poor. Pero ang sabi nga nila, libre lang ang mangarap. It's free to dream. The only sure way to have a better future is to have education. Like me. I was lucky na naging artista ako. Pero ang pag-aartista may hangganan. Your looks will fade, lalabas ang mga kulubot sa mukha mo at may sisikat na mas bata at mas magaling kaysa sa'yo. So young people out there, don't turn a deaf ear to what your elders remind you again and again ­— that it's only through education that you will have a better chance in our society."
Come to think of it, what comes to his mind now when he eats at a fast-food joint?
"I don't leave anything on my plate. Sinisimot ko talaga, malinis na malinis ang mga buto ng manok."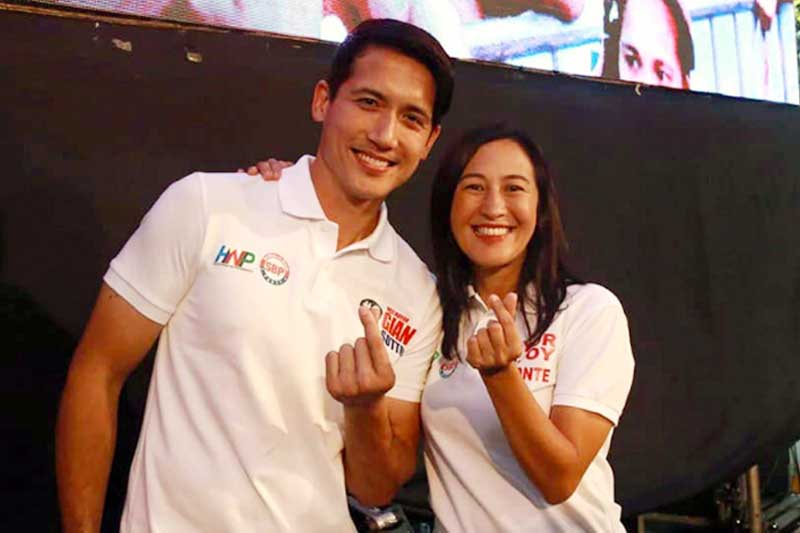 …Joy Belmonte (Quezon City) with Vice Mayor-elect Gian Sotto…— Photo from Joy Belmonte's Facebook page
Metro Manila ruled by young blood
The recent elections saw the emergence of young blood.
Aside from Manila with Isko Moreno, other Metro Manila cities are now ruled by a new generation of leaders: Mayors-elect Joy Belmonte in Quezon City, (with Vice Mayor Gian Sotto); Abby Binay reelected in Makati City; and Vico Sotto in Pasig City.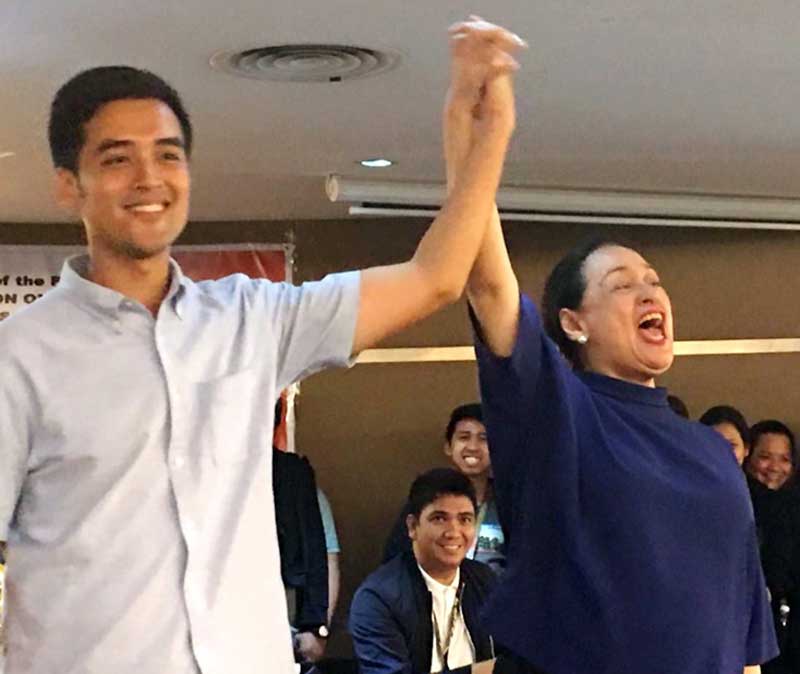 …Vico Sotto (Pasig City) with his mother Coney Reyes…— Photo courtesy of ABS-CBN
Other winning showbiz stars include: Grace Poe, Imee Marcos, Lito Lapid and Bong Revilla, senators; Alfred Vargas (Quezon City, unopposed), Yul Servo (Manila), Dan Fernandez (Laguna), Vilma Santos (Batangas), Strike Revilla (Cavite), Lucy Torres (Ormoc City) and Roman Romulo (Pasig City), congressmen; Jestoni Alarcon (Rizal, Board Member); Daniel Fernando (Bulacan), governor; Jolo Revilla (Cavite) and Imelda Papin (Camarines Sur), vice governors; Richard Gomez (Ormoc City), Andeng Ynares (Antipolo City), Lani Mercado (Bacoor City) and Alfred Romualdez (Tacloban City), mayors.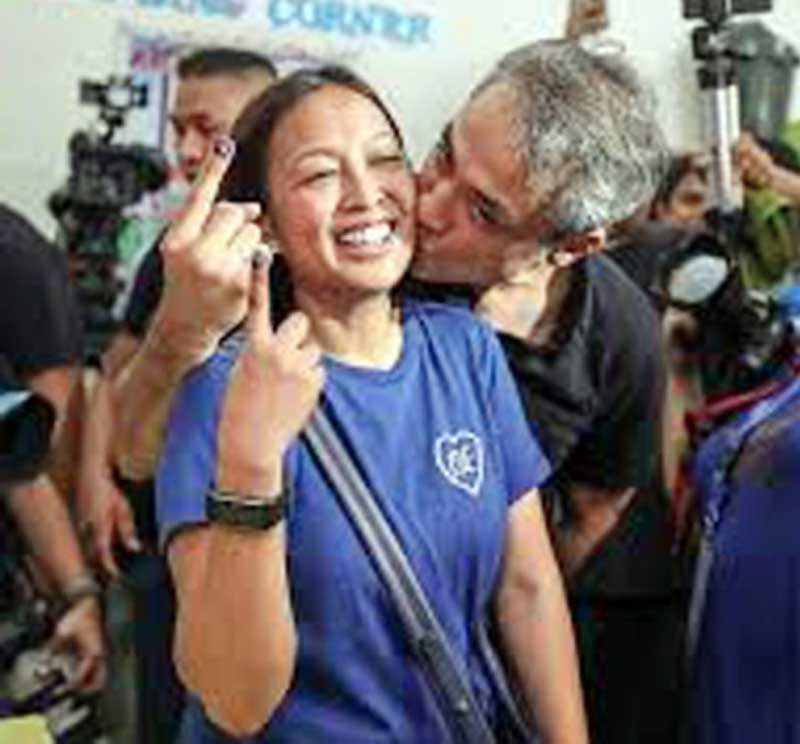 …Abby Binay (Makati City) with husband Makati Rep. Luis Campos. — Photo from Abby Binay's Facebook page
(E-mail reactions at [email protected] For more updates, photos and videos, visit www.philstar.com/funfare or follow me on Instagram @therealrickylo.)