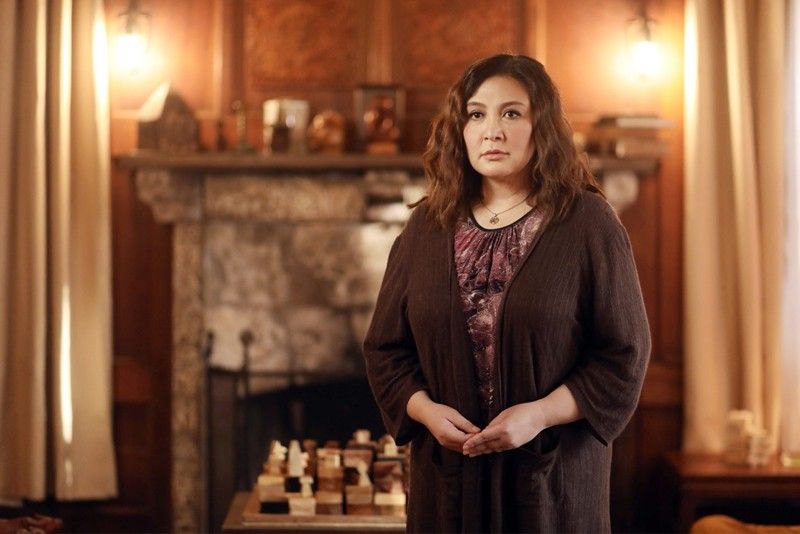 As she takes her first step into the horror genre via Kuwaresma, the Megastar elaborates on what she has left unsaid in previous interviews, in the process 'exorcising' (perhaps unwittingly) the bad spirits in her colorfully checkered life and career
CONVERSATIONS
-
Ricky Lo
(The Philippine Star) - May 12, 2019 - 12:00am
Opening nationwide on Wednesday, May 15, is the horror flick Kuwaresma which depicts how far a mother (Sharon Cuneta) will go to protect her children. A Mother's Day offering, Kuwaresma is Sharon's first horror starrer directed by Erik Matti and starring John Arcilla as Sharon's husband, with the Gonzales siblings Kent and Pam as their children haunted by a dark past in an old house.
Produced by Reality Entertainment and Globe Studios, Kuwaresma marks the first time two "megas" are working together — a Megastar and a Mega-director.
Sharon sat down for an all-encompassing "who-what-where-when-how" Conversation.
Who
Who is your greatest love?
"Well, of course, my husband (Sen. Francis 'Kiko' Pangilinan)…now. But before him, I have to say si Richard (Gomez). Actually, it's a toss-up between Richard and Robin (Padilla). Hahahaha! Honest 'yan, ha!"
Who do you trust with your secrets?
"My friends from childhood. There are four of them but they are all abroad. There's also Zsa Zsa (Padilla). So far, sila."
Who are the most important people in your life?
"My children…definitely! KC, Frankie, Miel and Miguel. Miel is the tallest now among them, taller than me. And also my oldest friends."
Who are the leading men (aside from Richard and Robin) do you like to work again with?
"Christopher de Leon (with whom I did Biktima) and Aga Muhlach (Kung Ako Na Lang Sana). I also enjoyed working with John Estrada (Caregiver, Unexpectedly Yours) who is a good actor and a really good friend. I've known him from way back kasi barkada siya ni Richard noon. We get along kasi nakakatawa kaming dalawa mag-usap. I like to work with people who are masayahin. But with Richard nitong huli (Three Words to Forever), nanibago ako sa kanya. Parang hindi na siya 'yung dating kilala ko. Iba na ang persona niya kasi he already has a position of power and so many responsibilities that go along with it. Unlike before na 100 percent focused sa pelikula, this time iba na because he had to sign so many papers kaya awang-awa ako sa kanya. We shot the movie in Ormoc City (where Richard is the mayor)."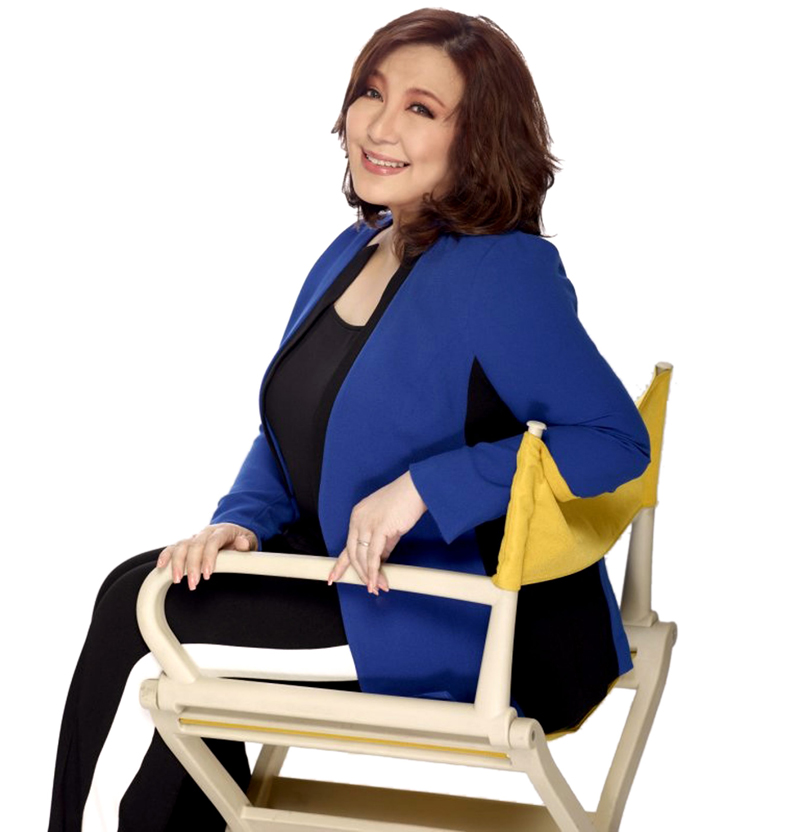 What
What do you consider your best performance as an actress (for 40 years)?
"Oh, that's really hard to say. Of course, I would have to say Madrasta for which I won a grand slam. But I also like Kung Ako Na Lang Sana because we (all the cast) were so natural. And then, Kuwaresma. I'm not joking and not because it is showing soon. Nang Iniwan Mo Ako which I did after Madrasta. You see, I cannot choose just one. There are just so many."
What do you consider the highest point in your life?
"Each time I had a baby…and when Miguel came. But the very first high point was when KC was born."
What do you consider the lowest point in your life?
"Oh, when my (first) marriage (to Gabby Concepcion) broke up. Kasi I saw my life as a fairy tale so I couldn't understand why it went wrong. How was I able to spring back from that low point? One thing is, I have never been self-destructive and anybody who knows me knows that. I don't drink, I can't stand alcohol, so I didn't resort to alcohol, hindi ako nag-drugs, wala akong bisyo. I promised myself that I would read myself to sleep every night. It was a conscious decision, kasi ang ano ko…I believe that you have to allow yourself a mourning period."
What else did you do, cry?
"Yes, I did cry…a lot! There was so much pain kasi, eh. It took me six months to get over it. It was quick! Hindi naman puede na the rest of your life nagluluksa ka. After that, I have had relationships that took me, my God, like a decade to get over! Kasi siguro it reached a point na napasukan na ng…hate is a strong word but I have to be honest…there was already hate between us."
What made the "hate" go away?
"It's not there anymore. You know what? No. Wala na. Remember that we (with Gabby) were supposed to do a movie together? I don't understand why in the end gumulo, nagulo."
What messed it up?
"Was I disappointed that the (re-team-up) project didn't push through? No, I wasn't, not really. But I must admit that I was disappointed by the flow of events during the negotiations. During the shoot for the McDonald's commercial we were okay. Ever since kasi I've been wanting any kind of friendship with him for the sake of our daughter. Parang we would always have that in common, eh. We couldn't totally get rid of each other. Even if I wished to the highest heaven that I could get rid of him, I could not. We have a KC and we have a following. We have a team-up that was loved by so many people."
What a waste, sayang! The Sharon-Gabby fans would have been rejoicing!
"You know what, ang dali kong kausap. So nagugulat ako kapag naririnig ko siya na anytime puede. I think instead of listening to me or believing me, you talk na lang to Star Cinema (the producer) and ask…what happened ba? Kasi ako, walang problema sa akin. Ayoko na lang mag-comment pero nasaktan ako d'un."
What is your present state of mind? Are you really happy, honest-to-goodness happy?
"Hmmmmm…silence!" (Laughter). "Define happy."
Well, you sleep well at night and you look at yourself and the world in a positive way.
"Oh, yeah, I have all that but you can't have everything so you always exert effort to be happy and content…and grateful. You realize that there are so much more things to be thankful for than things na nakakasira lang ng araw mo at mood mo."
What would you tell your 12-year-old self? (She started in showbiz initially as a singer at age 12 and in the movies at 15.)
"The same. I have no regrets. I would just tell her, 'It's gonna be a long ride, Sweetie! You have no idea how far this is gonna take you. It's not a bed of roses! This will be your life-long profession.' I thought ilang kanta lang titigil na ako at mag-aaral na ako. And I would tell my 15-year-old self, 'Guard your heart.' I wouldn't change anything. Viva really handled my career very well and then ABS-CBN and Star Cinema. I miss my Mama Mina (Aragon-del Rosario, the late Viva matriarch)."
Where
Where do you see yourself 10 years from now?
"By then, I would be 63. Hopefully, retired. But just like Meryl Streep and Helen Mirren, if there's a good project, I would do it. Showbiz is like AIDS; there is no cure. Once it bites you and you fall in love with it, and it falls in love back with you, you cannot get rid of it."
Where's your Achilles' Heel?
"Siempre, my heart. It's a very patient heart but once it breaks, it breaks very badly. Pero mahaba ang pisi ko but once naputol, there's no turning back. I'm a Goat (Capricorn), eh."
Where are you most at peace?
"At home…in my bed. I watch documentaries and biographies. There's Netflix, too. And, I have to tell you, the concert stage. Home to me is also the airplane. The longer the flight, the better for me, and the happier I am because nobody bothers you; there's privacy."
Where would you eventually live…if and when you retire?
"Probably in the US. But Japan is so attractive to me; I've always been in love with Japan. I can see myself as a citizen of the world, traveling from one place to another…living in one place for six months or one year and then moving to another place."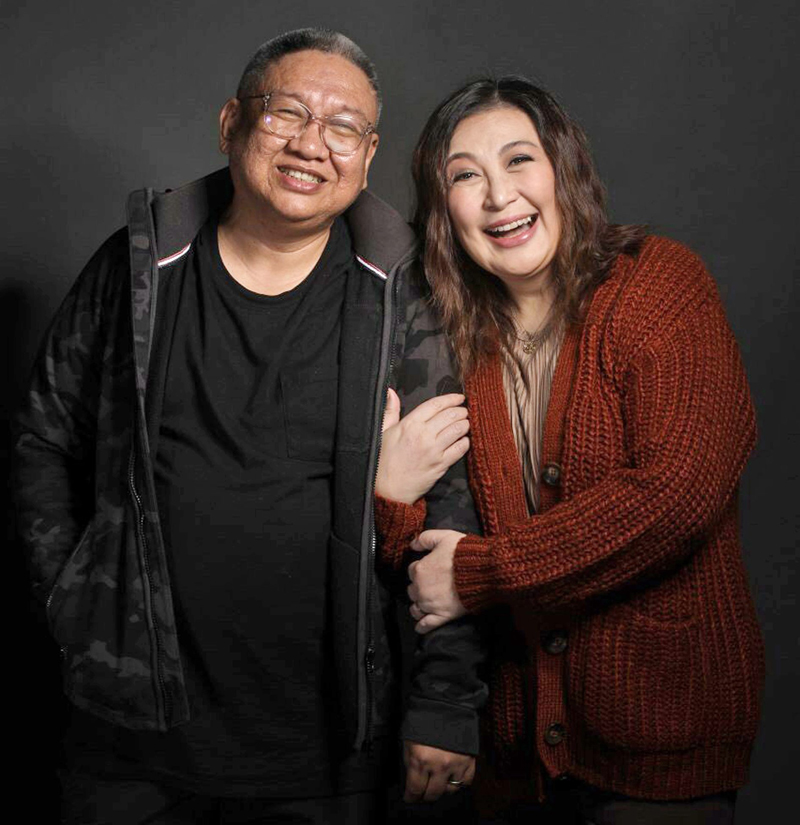 Sharon on Kuwaresma director Erik Matti:I have the highest regard and respect for him. I'm very proud of our movie which challenged me emotionally. I didn't run or do things like that but I felt drained and tired after the shoot of every scene.
When
When are you happiest?
"Of course, when I am with my kids or when I am alone. Remember, I grew up with my only (full) brother who is five years older (Referring to Chet Cuneta who is running for mayor in Pasay City. — RFL).
When are you saddest?
"When I am with people, I have mastered the smiling no matter how bad I am feeling inside. When my marriage broke up, I told myself that since nasira na 'yon, I took refuge in work. I used work na pang-distract so I had to succeed in it. My marriage was ruined and I didn't want anything to ruin my career.
"When am I saddest? When I am broken-hearted or when I am disappointed, especially in someone who could be a friend, a co-worker or a company. I am a very loyal person and I love with all my heart."
When are you in your best mood?
"When I am with our kids…and when I'm working. When I am doing concert tours abroad. It makes you miss home and when you return, you feel refreshed."
When are you in a fighting mood?
"Fighting like galit? When someone touches on my children. I really go into trouble for them. Remember KC and her former boyfriend before? I really fought for her kasi my daughter was involved. Kung ako lang, nilulunok ko na lang; I just swallow everything." (That incident involved Piolo Pascual.—RFL) "The irony is that now we are good friends and I love him so much."
When are you writing your autobiography?
"I have been trying to start writing it but…It will be a tell-all but if people expect na maninira ako ng mga exes ko, they will be disappointed. I am not the type who would wash dirty linen in a book. The public knows my story; my life has been an open book. All I can say is that 'yung mga minahal ko I was faithful and true at ako 'yung hurt lagi."
How
How was it working with Erik Matti?
"I have such high regard for Erik that when I was offered the project, in 15 minutes I said yes. I was so excited and in less than a month I had my script. They were so efficient, para silang army. We shot for three weeks straight, then I went abroad for my 40-day concert tour. When I came back, we resumed shooting in Baguio for about a week."
How different is Kuwaresma from your previous movies?
"I have never done a movie like this…nothing close to it. All my faculties were present. It's my first horror movie and I thought all that was required of me was to scream. Hindi ganoon. I didn't expect it to be demanding, to be emotionally draining. My performance is raw and organic. I am so proud of this movie."
How are you as a mom?
"Well, I am totally in love with my children. I have made so many sacrifices for them. I am a disciplinarian to a certain point but I believe that they should experience being children when they were small."
How do you envision life with your children once they have their own families and living away from you?
"I think I'm going to visit each of them on a regular basis. I'm sure KC will live abroad whether or not she gets married. She loves the Philippines but after schooling in Paris, parang hindi na niya comfort zone ang Pilipinas. Frankie is going to college in New York so she might just decide to live abroad also. Miel is presently in love with Korea and I wouldn't be surprised if she decided to live there."
(E-mail reactions at rickylophilstar@gmail.com. For more updates, photos and videos, visit www.philstar.com/funfare or follow me on Instagram @therealrickylo.)