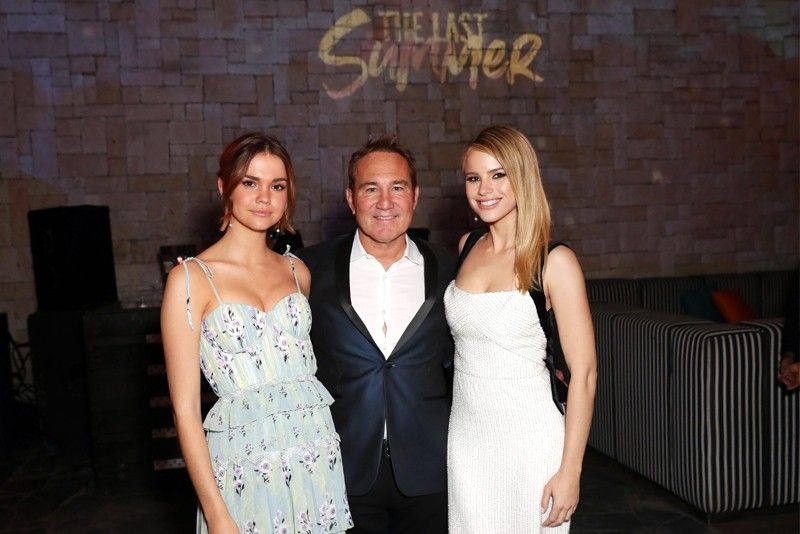 The Last Summer director William Bindley (with Maia Mitchell, left, and Halston Sage): My hope for the film is that it connects with all types of audiences, not just the high-school-college demographic depicted in it…The reality is that when it comes to growing up, nothing ever seems to change.
A summer rom-com for all ages
FUNFARE
-
Ricky Lo
(The Philippine Star) - May 11, 2019 - 12:00am
Millennials anywhere in the world can very easily identify with the characters of The Last Summer, the coming-of-age film now streaming on Netflix. The movie will remind movie fans in the Philippines about similar romance-comedies that they have grown up on such as Star Cinema's First Day High (and a lot more) and Regal Films' Blue Jeans (and others).
During the recent junket for the film at the Four Seasons Beverly Hills, the film's writer-director-producer William Bindley was not around and only six of the cast were — KJ Apa (Riverdale), Maia Mitchell (The Fosters), Halston Sage (Before I Fall), Jacob Latimore (The Chi), Tyler Posey (Teen Wolf) and Wolfgang Novogratz (Yes, God, Yes; more on them in a future issue).
The film was shot over 28 days, 27 in Cleveland and one long day at Wrigley Field in Chicago where the story is set.
Before co-founding Gulfstream Pictures (a film production and financing company with Last Summer co-producer Mike Karz), Bindley worked as a screenwriter and director in both film and television for a number of studios including Warner Bros. Pictures, TriStar Pictures, 20th Century Fox and Sony Pictures; and HBO Films, Showtime and CBS. Madison, his film starring Jim Caviezel and Bruce Dern, was an audience favorite at Sundance and was distributed theatrically by MGM Pictures.
"Last Summer explores the time of life when everything changes?the last 'recess' before the real world kicks in?when you are no longer a kid but not a fully responsible adult yet either," Bindley was quoted in the movie's Production Notes distributed among the journalists invited to the junket. "When you realize that your friends, your girlfriend, people you've basically grown up with are all going in different directions and that you may never see them again."
Bindley recalled growing up watching films like ?Fast Times at Ridgemont High? and John Hughes movies that inspired him to do a coming-of-age film.
"I started talking with Scott Bindley, my brother and co-writer, about doing something structured similarly to ?Love Actually? by intersecting storylines set in the summer after high school," added Bindley. "Years ago, young people wouldn't know what they were planning to do with their lives until ?after? college ­— like Benjamin Braddock (played by Dustin Hoffman) in ?The Graduate? ­— but now it feels like kids have to figure out their futures so much earlier.
"It seems like they have to know who they are and what they want to do with their lives by the time they graduate from high school. I just wanted to focus on that period of time ­— balancing the pressure of figuring out 'who am I?' with the fun of enjoying that last party-filled summer that they've finally earned."
Here are more excerpts from the Production Notes:
Can you tell us about the casting process and what was it like working with the cast?
"I started hearing a lot about KJ Apa from casting friends before ?Riverdale? had premiered. I met with him and knew instantly that he was our Griffin. When he committed, the whole process really took off. My daughter was obsessed with ?The Fosters? and turned me on to Maia, who we fell in love with for the role of Phoebe.
"I took a photo on my phone of KJ and Maia laughing on a couch between takes on the first day of shooting and the chemistry is so sweet and powerful that I knew right then that we had something special with them.
"Halston Sage is a friend and has been attached to this project for years, and every time I'd see her I'd tell her we were really close to making it, which wasn't true at all. I think she may have been originally interested in playing Phoebe, but I always saw her in the Erin role. I think what finally sold it for her was that Erin has ?two? storylines and two boyfriends.
"Jacob Latimore blew me away with his performance in ?Detroit? and I knew he'd bring a different layer of depth and humor to Alec. The first time we got on the phone we spoke for almost an hour and I couldn't wait for him to get to set.
"Tyler Posey came in for a week at the end of the schedule to play the Chicago Cubs player Ricky, and he was so jazzed to put on the uniform and shoot at Wrigley Field. He was really perfect for the role."
What were some of the challenges that your team faced in putting the film together?
"The biggest challenge on the film was telling so many different stories in so many locations. Every character had a home, a place of work, a summer hangout spot, a party locale, etc. It was a true logistical puzzle and we were blessed with incredibly sunny weather. The other challenge is that film is set entirely in Chicago, where I lived when I was younger (and attended college), so it was really important that every scene felt true to the city as a location…"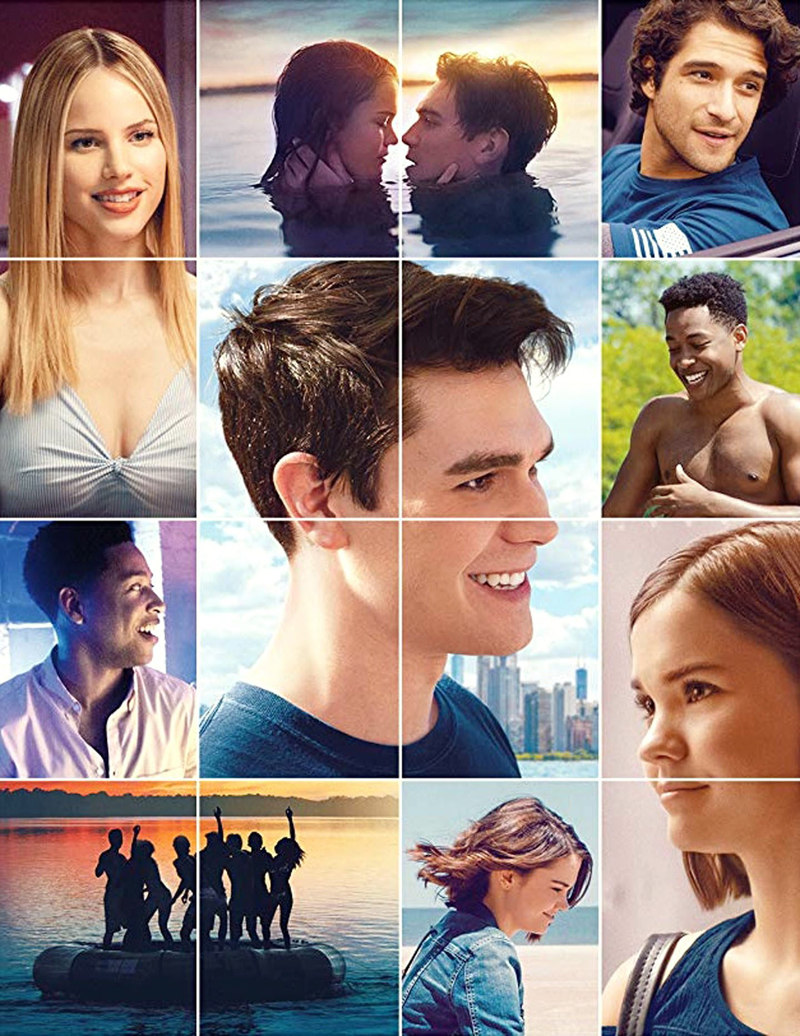 Four members of the cast are showcased on the movie's ad: Halston Sage (top left), Maia Mitchell (below, right), Tyler Posey (upper right), Jacob Latimore ((below Halston and Tyler) and topbiller KJ Apa (center).
What was your favorite scene to shoot?
"From an emotional standpoint, the most difficult scene and most fulfilling scene was the scene outside Griffin's home where Phoebe confronts him about a secret he's been hiding. It was the fourth day of shooting and KJ and Maia were forced to deliver this incredibly heavy scene. They both brought an intensity and a rawness that really pulled everyone in.
"From a pure fun standpoint, shooting the scenes on the field and inside the old scoreboard at Wrigley Field was a dream come true for me, especially being a longtime Cubs fan. My brother Scott came up with the idea to set a romantic date for two of our characters inside the old manual scoreboard and it was actually the last scene we shot in the entire film."
What was the most difficult scene to shoot?
"The party scenes in the warehouse were brutal. They were both night shoots and it was 97 degrees in there with no open windows so everyone was drenched and totally smoked out from the smoke effect?."
What do you want audiences to take away from the film?
"My hope for the film is that it connects with audiences of all ages, not just the high school-college demographic depicted in the film. I remember seeing ?The Breakfast Club in a theater when I was well out of high school and flipping for it, and I watched ?Fast Times? for probably the 15t?h? time when I came across it on television just a few weeks ago.
"Most of the stories in the movie are based on experiences that I (or my brother) had when we were in high school, because the reality is that when it comes to growing up, nothing ever seems to change. Most boys still fight with their fathers, girls often want to grow up faster and be older than they actually are, lots of dudes only want to score beer and get with girls, couples going to different colleges still struggle with the question of when and if they should break? ?up — it's basically the same issues and conflict for every generation."
(E-mail reactions at rickylophilstar@gmail.com. For more updates, photos and videos, visit www.philstar.com/funfare or follow me on Instagram @therealrickylo.)