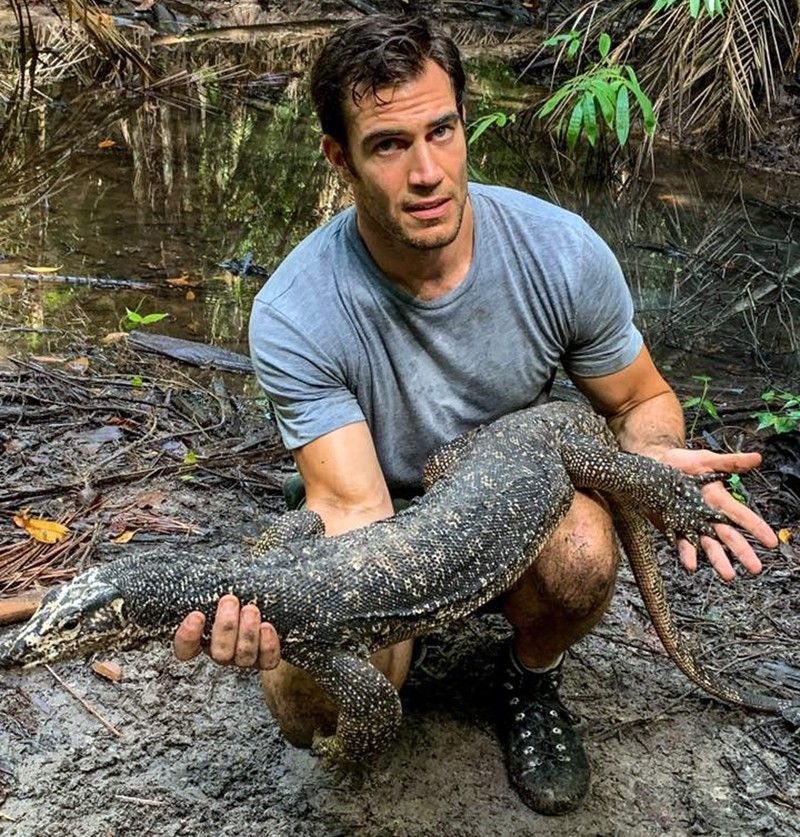 Animal expert and veterinarian Dr. Evan Antin with Palawan's water monitor lizard…
Photos from Dr. Evan Antin Facebook page
Evan goes wild over Palawan wildlife
MANILA, Philippines — Dr. Evan Antin has been dubbed Sexiest Beast Charmer and World's Hottest Animal Doctor. But beyond such labels and screen-friendly looks is a 13-year work history dedicated to animal welfare and wildlife conservation.
The 34-year-old, L.A.-based veterinarian and social media star is expanding the platform for his passion and advocacy via television. He goes on culturally-enriching trips and exciting rescue missions for some of the world's most endangered and exotic creatures, including Palawan's water monitor lizards and bearcats or binturongs, in his first-ever series Evan Goes Wild, premiering May 13, 8:05 p.m. on Animal Planet.
The STAR interviewed Evan last Monday, ahead of the show's pilot episode, to discuss his visit to the island-province of Palawan, which is also known as the Philippines' "last biodiversity frontier." He has been to the country three times, with the latest for Evan Goes Wild.
"The first time, I went to beautiful islands. The second time, I went to Northern Luzon to work with some of my bestfriends at the Philippines' crocodile conservation research. They are the most endangered crocodiles in the world. It was such a unique and awesome opportunity as well," he said during the video conference call. Below is the rest of the STAR interview.
You went to Palawan for Evan Goes Wild. What was the experience like and what wildlife did you encounter there?
"That was a very special episode to me. I've spent time in Palawan before, a couple of years prior. Being able to go back was very exciting because my favorite wildlife is native to the Philippines, especially Palawan. One of the most special things there is getting to rescue three binturongs. There are some species native only to Palawan — they are a very beautiful little mammal. We got to rescue three of them when they were about to go to the illegal pet trade after their mother was killed.
"I also got to take a look at a very big, incredible Asian water monitor (lizard), also another subspecies native only to Palawan. That was super cool! They are big, gorgeous reptiles. The one I looked at had a big infection on his mouth. I was doing physical examination on him right outside the Underground River in Palawan, not far from Puerto Princesa.
"I also got to interact with the Batak Tribe. They were a group of people living in remote areas in Palawan for about 50,000 years. They have a very rural and basic lifestyle and (I) got to interact with their domestic animals like dogs, cats and chickens. Yeah, it was an incredible time! I love the Philippines. I love the island. I had a wonderful time."
What message do you want to convey to Filipinos through the show?
"First and foremost, Filipinos should be aware that they have some of the most beautiful wildlife in the world. They have a lot of wildlife diversity. With this wildlife, a lot of it is dwindling so, making an effort, even a small one, like using less single-use plastic can make a big difference.
"Also, in a lot of places I go to, even in the Philippines, a lot of the locals are afraid of the wildlife. Snakes, for instance, are very misunderstood. A lot of Filipinos are afraid of all snakes. There are some dangerous snakes there, for sure, but there are a lot of not dangerous snakes as well. You know, being aware that all these animals play a role in the ecosystem where they are native to and that they are all important. If we get rid of all the snakes, the ecosystem and wildlife will fall apart. It will screw up everything — streets will be overpopulated; they screw up plants and other animals.
"I think just respecting wildlife and its habitat and making small efforts and changes day-to-day just to do your part. It could be as simple as avoiding the use of single-use plastic and proper waste-management."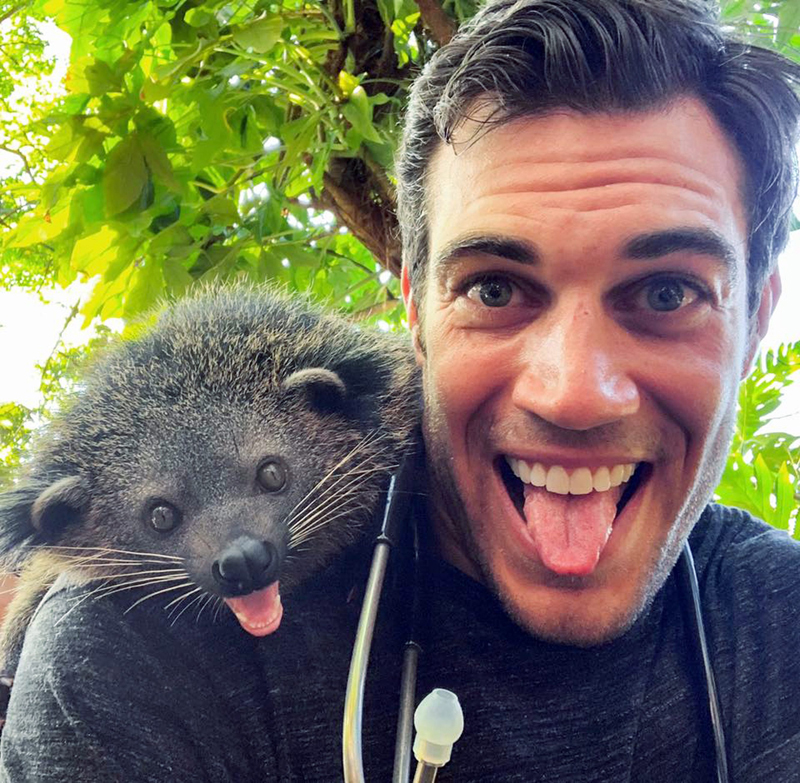 …and bearcat or binturong.
Is there any other place you'd like to visit in Southeast Asia or some other wildlife you'd want to encounter?
"Yes, absolutely! I've been to a few countries like Thailand, Vietnam, Cambodia, Philippines, Indonesia but there are still some parts of these countries I haven't been. I have never been to Malaysia and there are some really incredible diving there. Also, I want to see orangutans in Malaysia. I want to go to Sumatra. I've never been to Laos — I'd love to get there as there are some beautiful fresh water environments. With the diving and different primates and other crocodiles, and more cobras. I've caught a couple in Indonesia and the Philippines. These are my favorite kinds of snakes, so I'd like to see more. I mean, the list goes on — I'd like to see a sun bear. I mean, there's so much to see in other parts of the world. Southeast Asia is absolutely one of the best places in the world for wildlife. For someone like me who lives in the US, a lot of these animals we don't see here. It's very special to me."
How did this love affair with the wildlife start?
"I have always loved animals and thought they were a great part of my life. I grew up in Kansas which is a state right in the middle of the US and we have a lot of wildlife there. I grew up catching lizards and turtles and insects.
"I didn't realize I wanted to be a vet until I was in college. I started taking biology courses and I just fell in love. I love to learn and I love sciences. I've always had a fascination for medicine and surgery. With my love for animals, it just all made sense.
"When I was about 18 or 19, I realized this is really where I belong. This is the career for me — the path I wanted to follow. I switched my major from business to evolutionary and ecological biology and worked towards becoming a vet. I have been a vet for six years now and I couldn't be happier. I really love what I do."
Besides wildlife, what other things that you "go wild" over?
"I'm passionate about fitness. I love exercising and weight-lifting and getting in the gym and what-not. That makes me feel really good emotionally and physically so that's something I've been doing for over 20 years now. I also love traveling generally, I love seeing the world. I love animals, snowboarding, diving and sometimes, I love being a home buddy. When I have some time at home, I get to just relax and catch up with some work and cleaning."
Doing this show Evan Goes Wild, how has it changed your veterinary career? What has been the biggest lesson you've learned so far from this experience?
"Traveling and working with wildlife is something I have been doing for 13 years. Doing the kind of work I was doing isn't necessarily a totally different thing for a long time except that now, I have a whole production crew with me and we have a show to put up under the network. But I would say, one of the biggest things that I got from the show was working with the people. I've met some of the best conservationists, wildlife rescuers and veterinarians. They are doing really amazing things to help the world's wildlife, and so getting those connections have been so valuable to me. I mean, the animal world is small world but because of the show, I've met more people."