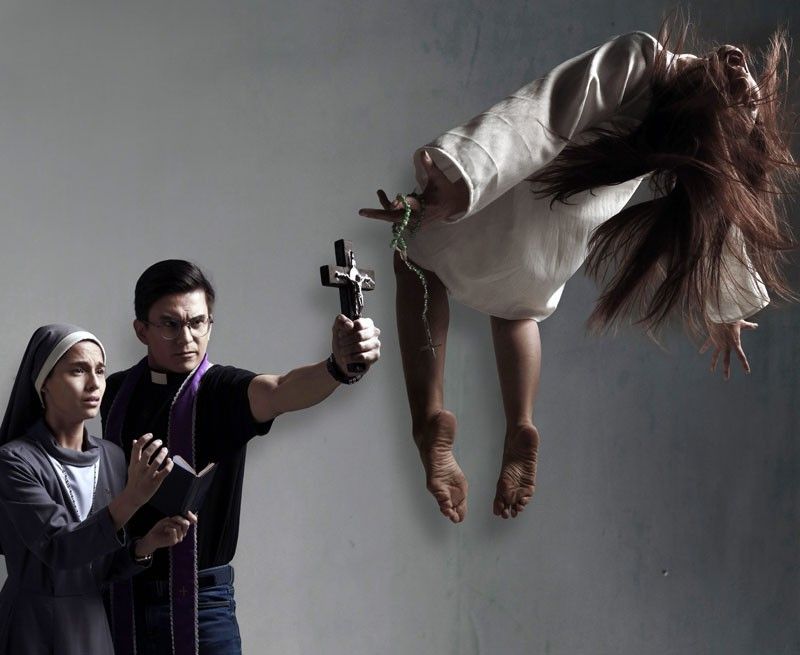 Asked if the film is a form of social or cultural commentary, Tom (with co-star Jasmine Curtis-Smith) had this to say: 'Maybe there are certain layers that you can infer from the film. But that's not the main goal or the main point of the film. We're here to entertain and to give something that would trigger some pr mordial sense… that fear... (and) at the same time, it (the movie) built a whole world that feels so real, that feels so synonymous with our reality, na may mapupulot ka na aral.'
Tom Rodriguez as a man of the cloth
Jerry Donato
(The Philippine Star) - April 9, 2019 - 12:00am
MANILA, Philippines — Tom Rodriguez always fits the bill of such roles as a man in love and a man in uniform. In Maledicto, Tom dares to portray a man of the cloth named Xavi who is bound to debunk or discover the unknown.
"It's my first time to play a priest, but he is an off-beat type," said the bedimpled actor, in an interview with The STAR, "... just putting on the (priest's) garment, (I felt) there was a weird feeling to it, something new, na parang wow, it was (both a privilege) and (an) honor to wear it."
The enthusiasm could be attributed to Tom's being a Catholic and once an altar boy. Despite his character's quirks, becoming a clergyman on the big screen was, in a way, a wish granted for Tom.
"I've always maintained that he swims between the precipice of belief and disbelief," said Tom of his another meaty role, which is set against the backdrop of horror-thriller. By the way, Maledicto is co-produced by Cignal Entertainment and Unitel, and directed by Mark Meily. It is the first venture of Fox Networks Group Philippines in producing local content (films). "It seems that anytime he can flip back and forth," Tom added.
Before heeding the call of priesthood, Father Xavi was a psychologist — a man of science — who believed in objective truth. His past somehow stands in the way of his present work as an exorcist. He would look at his new world "with a mind of a doctor," Tom shared. With that, his faith in the existence of a Higher Being is also being challenged.
"He fluctuates," said Tom. "He tries to immerse himself in a world he doesn't understand... he (comes) from a religious family." The pragmatic Xavi was against the idea of his mom him becoming a priest. One can say that Father Xavi's inner and mental struggles make him susceptible to unseen things that lurk around.
"In a way that rings true with Father Xavi's journey in the film," said Tom. "His journey is going from that uncertainty, hindi siya sure whether he believes in it or not, to really knowing for sure that this is a reality."
Tom Rodriguez plays Father Xavi, who is about to discover the unknown in Maledicto
Part of the "self-contained" yet multi-layered narrative of Maledicto are the personal histories of Sister Barbie, a nun with the gift of charism (played by Jasmine Curtis-Smith), Mara, the sister of Xavi (Inah de Belen) and Agnes, a religious student (Miles Ocampo).
"She gets the same thing that happened to my (character's) sister that (he) couldn't understand and solve before," said Tom of the case of Agnes. "It starts happening to her."
Also in the cast are Liza Lorena, Menggie Cobarrubias, Eric Quizon, Nonie Buencamino, Martin Escudero and Franco Laurel.
"Each and every line, each and every description informs the characters," said Tom of how the screenplay was crafted, "parang lahat ng nababasa mo dun, pwede mong mahimay, (malalaman mo) na ganyan pala si Father Xavi, hindi lamang sa mga linya mo, kundi kung paano ka pagusapan ng ibang character."
Asked if the film is a form of social or cultural commentary, Tom had this to say: "Maybe there are certain layers that you can infer from the film. But that's not the main goal or the main point of the film. We're here to entertain and to give something that would trigger some primordial sense… that fear... (and) at the same time, it (the movie) built a whole world that feels so real, that feels so synonymous with our reality, na may mapupulot ka na aral."
But what the viewers will wrap their head around is, how the characters will explain and describe the phenomenon they are experiencing. It could be a case of illusion or misperception, you know experiences that are similar to that of visual apophenia and pareidolia, as Tom shared.
"You'll find out in this film if the things that Father Xavi and the people… are experiencing are all in their minds," he said. "We don't know if the hallucination the characters are experiencing in the film (is) real or a construct of the mind." The film, Tom assured, will answer it within the context of the world it has created.
With those interesting insights in place, the word "maledicto" will be explored as words "that corrupt something that is pure and good," said Tom.
Aside from the film's direction, acting and storytelling, viewers can look forward to the Dolby atmosphere Maledicto promises.
"I'm really, really excited to see that part," said Tom. "I know horror or even any psychological thriller really hinges, I think for it to be successful, on the auditory (aspect) also... I don't think we should discount the gravity of sound design and the auditory stimuli, (like) how (they) affect us."
The audiences are in for an immersive movie-watching experience.
(Maledicto will premiere on May 1 in theaters nationwide. For updates, follow @maledictomovie on Facebook and Instagram, or visit http://maledictomovie.com/.)