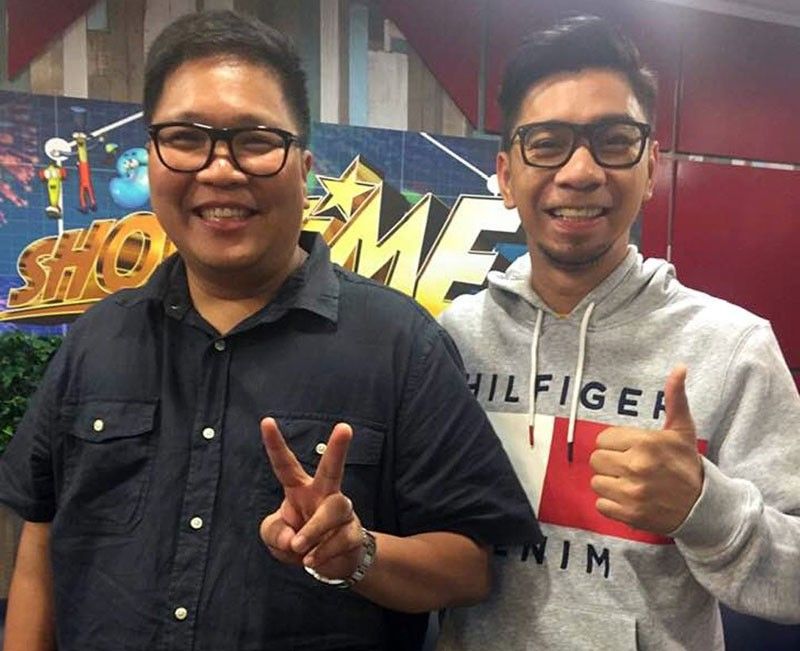 It's Showtime hosts Jugs Jugueta (left) and Teddy Corpuz attend the pilot episode of the Indonesian franchise
Photo by Honey Orio-Escullar
It's Showtime Indonesian version
MANILA, Philippines — It's Showtime loyal viewers must be familiar already with the noontime show's theme song translated to Bahasa since hosts Vice Ganda, Anne Curtis, Vhong Navarro, Karylle, Jugs Jugueta and Teddy Corpuz sang a portion of it last week, after announcing the show's first international franchise in Indonesia.
"This is such a great blessing, achievement and honor for all of us," said Jugs and Teddy who flew to Indonesia last Sunday to represent the brand, witness firsthand the pilot episode on the Indonesian channel MNCTV and meet their counterparts in It's Showtime Indonesia.
The Indonesian version is a groundbreaking milestone, as stated in the press release, marking ABS-CBN's first non-narrative format franchise buy and solidifying the network's position as a reliable content provider in the international arena.
According to It's Showtime's business unit head Peter Dizon, "This is a massive achievement and honor for the whole team as we celebrate the 10th anniversary of It's Showtime this year. From introducing XB Gensan, Rachel Gabreza and international sensation TNT Boys to the world, It's Showtime and ABS-CBN are committed to discovering world-class talent and providing high-quality Filipino entertainment that would appeal to the global market."
He added that Jugs and Teddy were the ones who attended the pilot episode because "their role in Showtime as hosts also extends to giving happiness to madlang people, so every time that we need an access to reach the madla, sila po talaga ang una naming naiisip to cover the event."
Dizon explained further that Vice Ganda has no counterpart in It's Showtime Indonesia "because in terms of culture, Indonesia and the Philippines are different. So for casting, it's not necessary that they also have a Vice Ganda counterpart. What they needed was a main host who will anchor the main program. They have counterparts of Jugs and Teddy because it's very crucial to make connections with the madlang people whom they call as the Showtime Mania."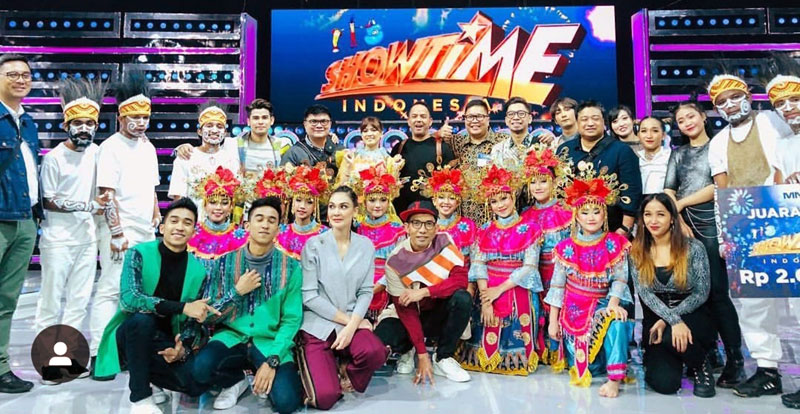 Joining Teddy and Jugs in Indonesia are It's Showtime bosses direk Laurenti Dyogi (leftmost), direk Bobet Vidanes (back row, eighth from left), business unit head Reily Santiago (sixth from left)
Indonesia's It's Showtime enlisted its brightest stars including singer-comedian Raffi Ahmad, model-turned-actress Luna Maya, renowned host Indra Herlambang, host-actress Chika Jessica and rockstar twins Musbrothers. Filipino TV host and recording artist Leo Consul is also one of the hosts.
Furthermore, the franchise carries It's Showtime's popular segments that have made a mark on the Kapamilya including Sine Mo 'To, Cash-Ya! Kaya!, Ansabe, Copy Cut and Bida Kapamilya.
According to Dizon, the negotiations with the Indonesian team "happened last year but (we) just formalized the details recently. Regarding the duration of the contract, actually we haven't finalized it yet because we are still discussing all of the content that will be included in Showtime Indonesia up until now. We still have to figure them out and from there they will be the one who will determine it. The contract is renewable so it can be extended."
He added, "Once we secure the deal, we can also offer them our Tawag ng Tanghalan, Miss Q&A. Sila po ang makakapag-determine niyan if culturally they're ready to adapt (to) the format."
Incidentally, It's Showtime is turning 10 in October and as it continues its year-long countdown, the show introduced new segments such as the compatibility game KapareWho and the search for the next leading man Bida Man.
Meanwhile, kicking off on April 1 is Tawag ng Tanghalan's week-long Quarter 3 semifinals.