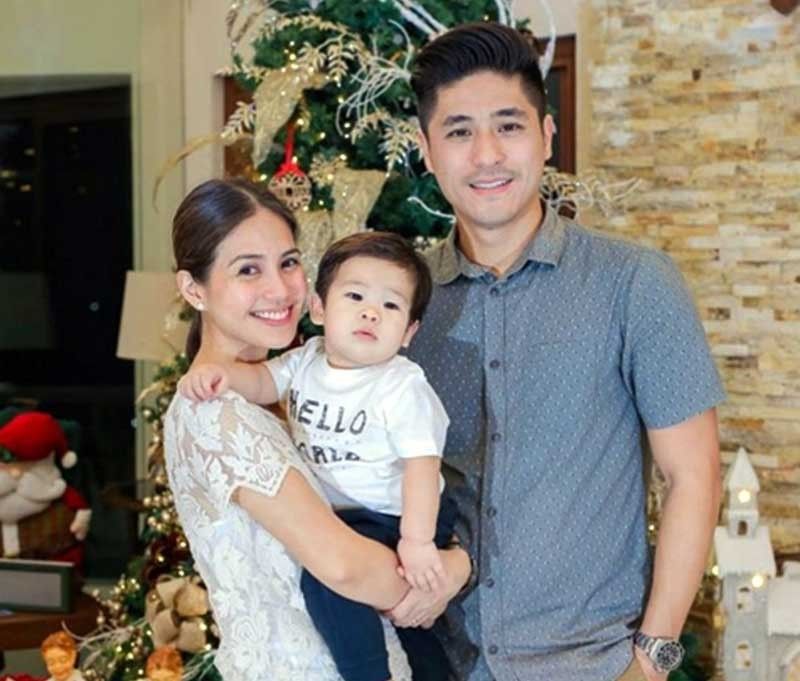 Kaye Abad, who returns to acting via ABS-CBN's new series Nang Ngumiti Ang Langit, says no regrets for taking a break from showbiz for family life with husband Paul Jake Castillo and their son Joaquin.­
Photo from Instagram
Kaye feels 'more relaxed' living in Cebu
MANILA, Philippines — Kaye Abad has happily made Cebu her home after marrying Cebuano businessman and former actor Paul Jake Castillo in 2016.
The 36-year-old actress and mom to one-year-old Joaquin joins other showbiz denizens who have relocated to the Queen City of the South, such as Donna Cruz-Larrazabal, Carlo J. Caparas, John Lloyd Cruz, Lian Paz, as well as Baron Geisler, who's always in Cebu now because of his business.
"We're now just waiting for Sarah Geronimo (to move to Cebu)," Kaye jokingly added in an interview with STAR and other reporters last Tuesday, as the pop star is the girlfriend of another proud Cebuano Matteo Guidicelli.
Still, Kaye has not seen or even met by chance John Lloyd, who has quit acting and is staying away from the public eye for family life with Cebuana Ellen Adarna. The actor is Kaye's former (reel and real) loveteam partner from way back, during their Tabing Ilog days. (Incidentally, Baron was also part of that hit late-'90s show.) "I'm happy for him (John Lloyd), he also has a child now, like all of us have families now," Kaye said.
She's not surprised at all that the actor did what he did. "Even before, we talked (about it). I know he's the type that when he's OK, when he's ready, he won't make showbiz his livelihood. Kumbaga, if he's able to save, he'll set up his own business, he won't make acting his source of income."
Perhaps, Kaye won't be surprised as well why the actor, et al, has fallen in love with Cebu. When asked about her life now, she said she feels happy and contented, and prefers living in Cebu than in Manila. "Masarap. They always ask me that. Come to think of it, I prefer living there because it's very laidback. It's a combination of the province and city life. If you want to go to a beach and the farm, (you can easily go to one) everything is accessible. If you want the city (life), you have malls. Everything is there. I'm more relaxed (in Cebu)."
She now also understands the local language. "All of Paul Jake's friends, hirap sila mag-Tagalog. So, I had to understand (the language). Nahirapan sila mag-kwentuhan in Tagalog nang dahil sa akin. They just speak in English or Bisaya."
Marriage and motherhood, she added, are everything she imagined them to be. "As in, I thank God because all my dreams came true, to have my own family, to be a housewife, everything. I've already said this, that at times, it scares me because He really gave me everything. Wala naman sanang kapalit."
Kaye became so well-adjusted to the family life that she considered leaving showbiz for good. But to paraphrase what has been said, you can take the girl out of the acting world, but not the acting out of the girl. "(When the media used to ask me before) how do you see yourself 10 years from now, I'd always say that when I get married, I will stop acting... But after I got married and gave birth, whenever I would watch the TV, I would also miss it. Paul Jake would ask me, don't you miss it? I miss it. I miss it sobra (a lot)."
Nevertheless, she said, "I don't regret leaving showbiz for a while for my family."
For Kaye, who last did a teleserye in 2015 with Two Wives, the offer to return to showbiz via the ABS-CBN drama Nang Ngumiti Ang Langit, which premieres on March 25, was a "blessing." She liked the work conditions, especially because her character appears in the story for a limited time.
She recalled having jitters on her first day on the set. "Actually, I was nervous on the first taping day because I didn't know if I still knew how to act, or if I could still do it because I took a break (from work) for a long time," she said.
When asked how being a real mom helped her in portraying the mother of the lead character Mikmik (played by Sophia Reola), she said she did mother roles long before she became an actual parent. "It's weird because — how do I explain it? Ever since Tabing Ilog, I already became a young mom. Now that I am a real mommy, I guess it helped in the emotions," adding that she's not the "technique kind of person" that she has to think of Sophia as her own child. She finds that tough to do since her child is a boy.
"Madali lang siya sa part na nanay na ako, but when it comes to acting na may anak, the same pa rin siya as before. I guess, that's it, di ko siya ginagawang technique na isipin mo na siya yung anak mo; pumapasok lang ako sa character. That's why it was a little difficult this time because I only did it for a while. I had some difficulty adjusting and getting into character and bonding with Sophia at first but after a while, it became OK kung kelan (just when) taping (for my role) was ending."
She, nevertheless, said of ABS-CBN's newest child star: "This being her first lead role, I can see she's willing to learn and she's not stubborn. She listens to the director (FM Reyes and Marinette Natividad-de Guzman), like what needs to be done, she absorbs everything. I enjoyed working with her. She loves to smile, how she is as Mikmik is how she is in real life. She's a happy kid."