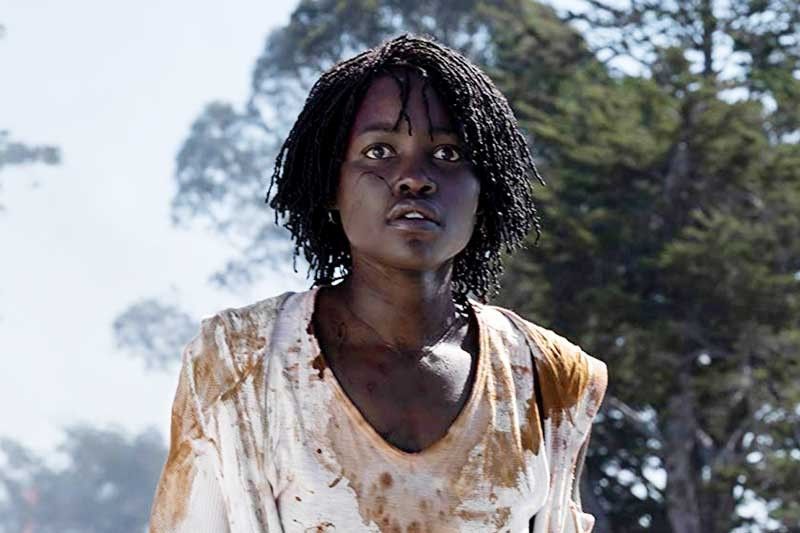 Oscar winner Lupita Nyong'o plays a physically demanding role in the film.
Horror with social commentary
Film review: Us
MANILA, Philippines — Two directorial films in, and it's safe to say that Jordan Peele has a firm grasp on what he's trying to say; and that as writer, producer and director of Us, it's good that he's taken the full reins and creative control of his projects. He's the Real Thing, a cinema phenom for our times. If Get Out was strong suspense with a subtext about Race, Us is straight out horror with a subtext about the hollowness of the so-called American Dream.
For those who have seen the trailer, it won't be a spoiler to say that this is a doppelgänger story that posits the notion that we are our own worst enemy — that an evil twin resides in each of us, given a physical and external manifestation in the film. As a child living in the coastal town of Santa Cruz, California, Adelaide Wilson (Lupita Nyong'o) actually met her "double" and suffered from the trauma. In the present day, she returns to the town on holiday with her family — husband Gabe (Winston Duke, a scene-stealer in Black Panther), daughter Zora (Shahadi Joseph) and son Jason (Evan Alex). Zora is into track and field, while Jason is fixated with masks — traits that will be of significance later in the film.
With premonitions left and right that this return to Santa Cruz will be fraught with danger, Adelaide senses that the past is catching up with her — but just how weird and bloody this will be, she can't even fathom. One aspect of the tarnished American Dream is personified in the Tylers, Kitty (Elizabeth Moss) and Josh (Tim Heidecker), and their twin daughters (some foreshadowing employed here with the girls being twins).
The acting challenge of having to each create two characters, and keep each distinct is thrust upon all the main cast members. And here's where the girls seem to be having the most fun. Nyong'o won an Oscar for Best Supporting Actress in 12 Years a Slave, and this one is just as demanding and physical a role. When we meet Adelaide's "twin," it's like we're watching another actress. And Elizabeth Moss in a secondary role, has a scene with a vanity mirror that just stands out — and you know she's enjoying playing such a off kilter role compared to her work on The Handmaid's Tale.
If I have to level a criticism on Peele and his films, I have to admit that while I enjoyed Get Out; I found the premise exciting, but that the more memorable scenes came in the set-up and middle portion of the film — and the resolution seemed rushed or weak in comparison to what went on earlier. This same situation happens again with Us — the very final, twisted ending is great, but I saw it coming; and the last 20 minutes just don't continuously surprise, but seemed to be bogged down by repetition — and the tying of loose ends leaves much to be desired.
So while critics are all praises for Get Out and now, Us, I believe Peele's best film is still somewhere on the horizon. In the meantime, his panache and gift for comedy is once again put to great use here — the shafts of humor come unexpectedly, and from the least likely places. And it's on this count that Duke as Gabe excels.
Us is a disturbing horror film that dares us to leave the theater having enjoyed the scare jumps and horror, while pondering on the subtextual social commentary.