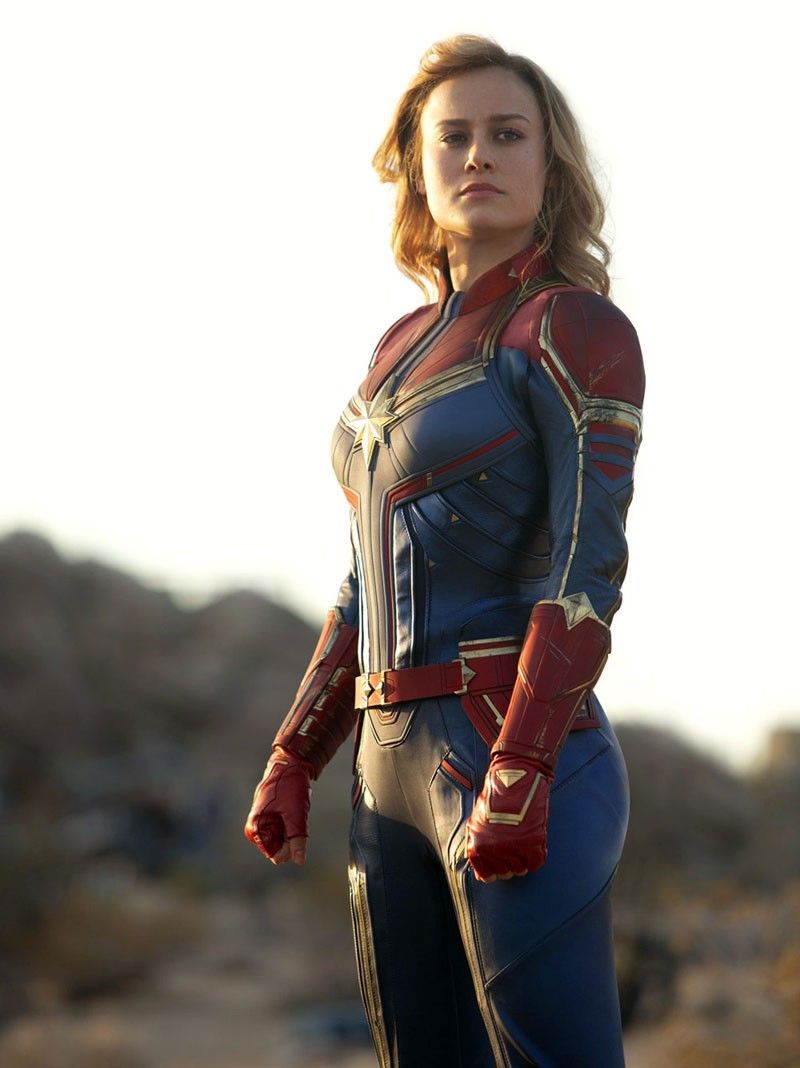 Brie eventually felt like it was her 'destiny' to become Captain Marvel. 'Everything was lining up for me to do it and I was denying myself the fulfillment of, like, a destiny in a way to do it and I have to see it through and it doesn't mean that it's not confusing and painful.'
Brie Larson identifies with Captain Marvel's journey
MANILA, Philippines — Yes, Brie Larson is the new leader of the Marvel Cinematic Universe (MCU). With the arrival of Captain Marvel in theaters ($760M worldwide box-office gross after only one week of release), the Oscar-winning actress takes on the massive responsibility of carrying the mega-successful superhero franchise into the future.
And just like her cinema alter ego, Brie's ascendancy to the top of the MCU superhero universe was not by all means an easy one. From the moment Marvel announced her casting up to now, many hard-core and traditionalist fans of the comic book series are still protesting the movie for various reasons. These trolls continue to hound the Internet with their unfounded criticism of the movie — if only they go watch the movie, they will likely be blown away by what is undoubtedly one of the very best Marvel movies ever made. It's a spectacular hero journey/origin story mash-up that will keep the audience on the edge of their seats.
The mixed reaction to her donning the iconic red, white and blue Captain Marvel costume was not lost to Brie however.
"I tried my best to not talk about expectations when it comes to my work," the actress told this writer last year. "I am an artist in the first place. I am here because I want to catch people off-guard and bring more mystery and surprise and initiation into lives."
"If I go into it thinking that there are expectations or something that I am supposed to prove then I kind of miss the whole point of what it is that I am doing here," she added.
This writer was among a select group of journalists invited to the set of the movie middle of last year to observe the filming of one of the key scenes in the film (the one involving the lunch box) and meeting with the cast for a brief chat.
The visit was strictly confidential and the embargo was lifted only days after the movie opened in theaters last week.
Captain Marvel sets up the next phase in the MCU franchise. Brie's character Carol Danvers a.k.a. Captain Marvel is the MCU's first stand-alone, female-franchise title character. The film tracks her journey as she becomes one of the universe's most powerful superheroes.
At the time of our visit, the stars and the filmmakers were reluctant to share specific details about the story. By now, everyone who has seen or heard about the movie knows that the movie is set in the 1990s and features one of the coolest cats in Goose and a throwback '90s soundtrack to rival the best ever!
And, of course, the biggest revelation in the film is how Captain Marvel's timeline will intersect with the Avengers timeline. Oh, yes, Thanos better beware!
"We thought it was the right time to finally introduce Captain Marvel to the world. She's one of the most popular characters and one of the most powerful characters in the comics and will now be the most powerful character in the Marvel Cinematic Universe," Kevin Feige, the president of Marvel excitedly announced.
One of the key ingredients why Marvel movies have been both a consistent critical and commercial success is the uncanny casting of brilliant and award-winning actors whose performances have transcended the comic book origins of the characters.
"When we found out that Brie Larson might be interested in joining the MCU, we had numerous meetings and pitched to her the idea for the film," Kevin recalled. "One of the highlights of my career at Marvel was introducing her at Comic-Con and having her come out on stage and stand with literally almost every other actor from the MCU. She was at the forefront, which was a great foreshadowing for how audiences are going to embrace Brie as this character."
For Brie, however, the decision process took longer than her critics would assert. She did not jump into the opportunity right away; she carefully weighed her decision and considered many factors before she signed on to the part.
"It wasn't an easy decision at all," she revealed. "It took me a really long time to make a decision. I am grateful that Marvel was very patient while I took a long time to make that choice because deciding to do a film like this doesn't just change my life it (will) also change the lives of my family and my partner and my friends and so there's a lot of careful consideration that has to happen."
Brie also shared that she's an introvert and it is one factor she considers when deciding what movies to make.
"The idea of choosing to put myself in a position where I can be observed more feels totally bizarre. It feels like it goes against my nature. So I had to take the time to weigh the options as to what I can bring to this creatively and what it meant in the larger context… because I want to tell stories of people and I want to continue to be a person and I don't want to feel separation and my life is a bubble that's completely different from everyone else."
And what helped her decide was the opportunity of having a bigger platform without diminishing her core values as an artist.
"I did a small indie film called Short Term 12 (film buffs should check out this moving 2013 movie Brie made before she and Rami Malek won their Oscars a few short years later) that ended up going international and I took that film to so many film festivals and I saw the impact that it made because I made so many Q&As and I saw how it affected people. And once I had an understanding of what this type of work could mean to people, the idea of making it on a larger scale, because indie films are for a specific audience — it is for people that are seeking out there, looking outside — but movies like this, they go everywhere, I don't have to work as hard for the work to get out there, it will be there."
And eventually, she felt like it was her "destiny" to become Captain Marvel. "Everything was lining up for me to do it and I was denying myself the fulfillment of, like, a destiny in a way to do it and I have to see it through and it doesn't mean that it's not confusing and painful."
Then the haters/critics came. But Brie is ready, like Carol Danvers, like Captain Marvel, she's ready once she's committed to something.
"Sometimes, it scares me but I also believe that I will find a way to make my way through it because I am committed enough to myself of being an artist that I wouldn't let anything stand in my way."
Captain Marvel is now showing in Philippine theaters nationwide.