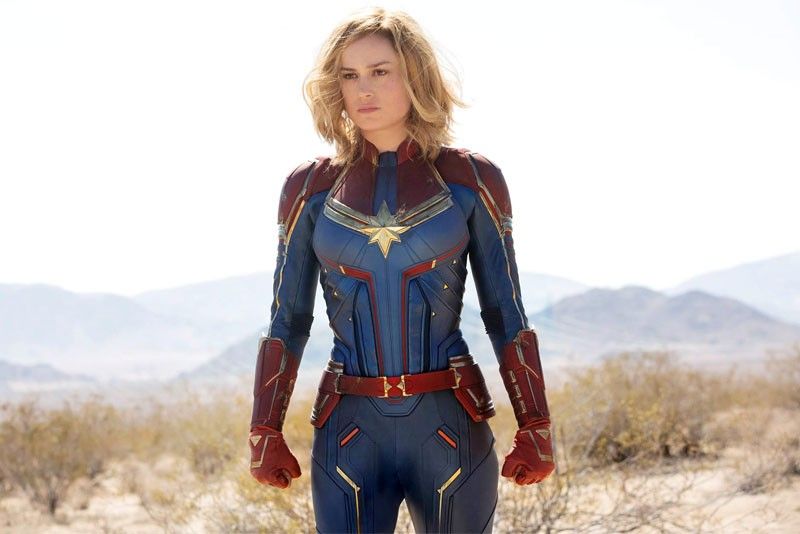 Brie Larson plays the title role in an origins story that works as an integral prelude to the Avengers finale
Mind games, superhero-style
Film review: Captain Marvel
MANILA, Philippines — Leave it to Marvel to come second in the titular super-heroine movie sweepstakes, and yet doing so in spectacular style. With Oscar Best Actress winner Brie Larson (for Room in 2015) playing the title role of Captain Marvel, the Marvel Cinematic Universe (MCU) offers an origins story that works as an integral prelude to the Avengers: Endgame finale that every comicbook hero movie fan is anticipating with bated breath come April.
As Vers/Carol Danvers, Brie Larson provides us with a super-heroine whose physical powers are never in question; it's more a matter of harnessing and being in control of these powers. And where the real difference lies is in the mental fragility of this super-heroine. Assured of her powers when we first meet Vers on the planet of Kree where she's a warrior and at war against the shape-shifting Skrulls; it's the uncertainty of who she is and why she's in possession of said powers that form the main focus of this identity odyssey.
Subject to vivid but seemingly unconnected flashbacks and memory fragments, we're given a central figure with a very questioning, troubled psyche. As a result, the super-heroine is a much more complex and textured character than others we may have encountered in the past — Brie has to emote, possess mood swings and look guardedly confused at various junctures of the film. Vibrant yet vulnerable, Brie tries to stamp a particular identity on this super-heroine, and indie film directors Anna Boden and Ryan Fleck are all for this, giving this Marvel film a unique central character vibe.
Set in the 1990s, we get a young Nick Fury (Samuel L. Jackson), the engaging human foil to Captain Marvel, as the film evolves into a buddy film of sorts. And to turn up the entertainment value, Fury picks up his own sidekick, an orange tabby cat he names Goose — a feline who has her own set of surprises behind her whiskers. Jude Law as Vers' Kree mentor, Annette Benning as Danvers' superior Air Force commanding officer and Ben Mendelsohn as Skrull Taros are the other major support roles in this tale of lost-and-found identity.
If there is a problem with the film, it would be that coming this late in the comicbook hero film series, there isn't really something new to offer, and so many of the beats and tropes of the vignettes and sequences look derivative or rehashed. The initial premise of coming to Earth from a distant galaxy is so Superman or Thor, there are aerial dogfights that echo Star Wars, and even when at the height of her powers, Captain Marvel's movements remind us of Dark Phoenix. The reliance on a musical soundtrack to bring home we're in the 1990s is very Guardians of the Galaxy in nature and inspiration, although I did love the blockbuster video setting, and how it took so long for files to load on the computers.
As with all the Marvel films, part of the enjoyment for the "faithful" was playing connect the dots, and how all these films impinge on and reference each other. Shape-shifting Skrulls? Are Loki and the Frost Giants related to the Skrulls? And when the Tesseract showed up, you could sense eyebrows being raised.
At its heart, the film stands as a vital piece in a gigantic puzzle — something that all the Marvel films have been building up to over the years. And the payback for following all this culminates next month, when Avengers: Endgame hits the screens. What role Captain Marvel will play, and what the fates are of all the superheroes we've faithfully followed through the decades will be answered; and I know so many gasped in pleasure when the end credits Easter egg of Captain Marvel gave us a hint of what's to come.