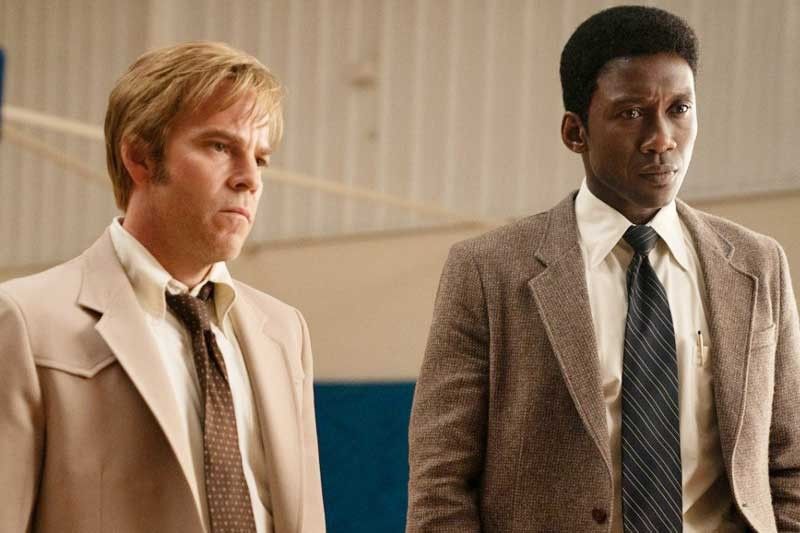 Mahershala Ali (right) and Stephen Dorff in a scene from True Detective Season 3.
Big weekend 'surprise' for Mahershala?
MANILA, Philippines — This weekend is shaping up to be Mahershala Ali's biggest in years. First, he's the heavy favorite to win Best Supporting Actor (his second Oscar in two years) for his turn in Green Book and, second, the season finale of the acclaimed HBO anthology crime series, True Detective Season 3, will air.
The modest and handsome actor met with this writer recently for an interview where he shared his thoughts on his current status as one of Hollywood's hottest stars after his breakthrough film Moonlight won for him his first Oscar. We also talked about his current HBO series where he is headlining a television series that only five years ago helped resurrect the career of Matthew McConaughey.
"I just try to do my best work. I try to have empathy and look at everyone as an individual and respect them as best I can," he thoughtfully replied when asked what he thinks of all the accolades critics and his peers have been giving him.
"If that speaks to people afterwards and collectively they say, 'Hey, that's work that's worthy of an award or something,' I am not necessarily going for that — what I just want to do is make sure that people see my work and the choices that I make and the projects that I am a part of and ideally, I just want them to walk away and be, like, 'That impacted me.' Sometimes I am successful at that, sometimes I'm not."
He can also be seen currently in theaters in the movie Alita: Battle Angel, where he plays a villain.
"I take my characters seriously. I feel like there's an opportunity to offer something to the world in each of these characters whether you are playing someone who is viewed as a villain or someone who is viewed as a good guy."
In True Detective, he plays Wayne Hays. The series is set in three separate time periods and, in an acting showcase, the actor plays three different versions of his character: A young passionate detective in 1980; a middle-aged married man in 1990; and a retired detective with fading memory in 2015.
During the interview, this writer noticed how Mahershala expresses himself in measured phrases. He has a soft, firm voice and speaks clearly.
"Wayne is an extraordinary man. There's a lot of space, a lot of runway to share his humanity; to share the life that he has and also to shed light on his darkness. When you recognize that, it becomes your responsibility to do everything you can to play all that music, to play all those notes, to make sure you make all those colors as vivid as you possibly can."
Wayne was originally written as a white character and Mahershala revealed that he lobbied and made a case for him to get the part.
"I just pitched myself and shared why I thought giving me an opportunity to portray that lead cop could be a good thing for the show and add another layer of nuance to already layered and nuanced characters," he said.
Created by Nic Pizzolato, the third season of the celebrated series tells the story of a macabre crime in the heart of the Ozarks. The mysterious death of one child and the disappearance of another would take decades to solve.
The disappearance in Season 3 may or may not have links to the events in Season 1. There's a tightly kept reveal that Nic even had to withhold from the cast the script for the final episode until they were ready to film it. "For three months, we didn't know!" Award-winning actor Stephen Dorff exclaimed. "Do I die, does Wayne die? Who did it? I felt like a detective after a while, kind of, 'Hey, you've heard about what's in episode eight?'"
Stephen plays Roland West, the detective who worked on the case with Wayne. The beautiful Carmen Edojo also stars as the schoolteacher and writer Amelia Reardon who married Wayne and helped crack the case.
Even Mahershala himself was tightlipped when pressed for details during the interview. On Monday morning, Manila time, at 10 a.m., the finale episode will air on HBO and all will be revealed.
Meantime, on that same morning, the Academy will reveal whether Mahershala is their choice for Best Supporting Actor of the Year. But whatever happens, the actor's winning streak does not end at the Oscars. His performance in True Detective is already gaining buzz and he could continue marching on until the Emmys are handed out in the fall so he can collect yet another award.
True Detective Season 3 also streams on HBO GO.