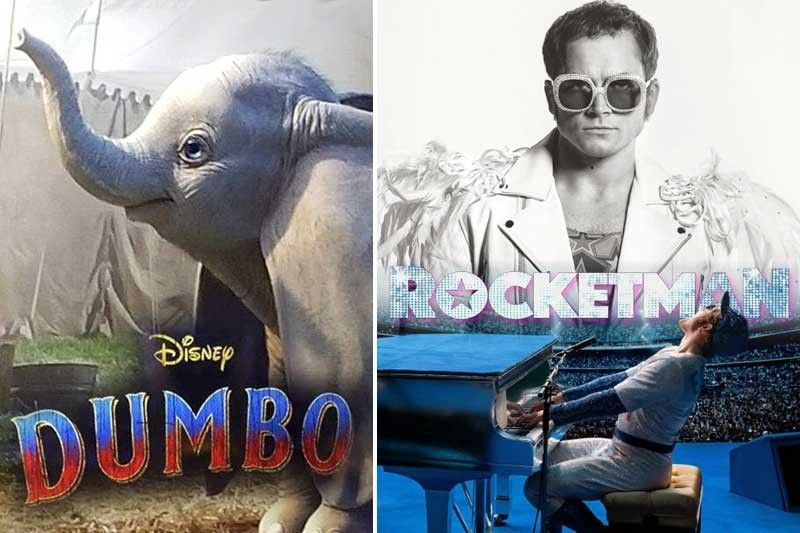 (Left) Set for a March playdate, it is a new live action reimagining of the heartwarming Disney feature film about a baby elephant with big ears from 1941. (Right) Taron Egerton portrays Sir Elton John in the biopic.
Musicals to look forward to
Rami Malek is now on his way to a Best Actor grand slam win for his performance as Freddy Mercury in the Queen biopic Bohemian Rhapsody. Awards, nominations and acclaim have been showered on Lady Gaga and Bradley Cooper for their work in A Star Is Born and the same thing for Emily Blunt in Mary Poppins Returns. Given those, it is no surprise that musicals have again become a hot ticket in Hollywood. And so, here are some of the titles we can look forward to enjoying these coming months.
Set for a March, 2019 playdate is Dumbo, a new live action reimagining of the heartwarming Disney feature film about a baby elephant with big ears from 1941. How to get a live elephant with extraordinary ears to fly is Disney's special effects problem but moviegoers are already sure of a great adventure with no less than Tim Burton of Edward Scissorhands, Batman and Planet of the Apes fame as director.
And what a cast. Danny De Vito as the circus owner, Colin Farrell as the man who takes care of Dumbo and Michael Keaton as the evil impresario of Dreamland. Of course, I am sure that Mommy Elephant will sing Baby Mine, one of the sweetest lullabies ever written to put Dumbo to sleep. Baby Mine was nominated for Best Original Song at the Academy Awards.
Rocketman set for the summer of 2019 is the Sir Elton John biopic. Teasers show that British actor and singer Taron Egerton, who was seen in Kingsman: The Golden Circle, seems to be doing a good job portraying the legendary pop artist. Will he do a Rami in next year's awards season? Let us all wait and see.
But whatever the outcome, I am sure we will all enjoy the music. Bennie and the Jets, We All Fall In Love Sometimes, Candle In The Wind, Sorry Seems To Be The Hardest Word, Daniel, Your Song, Goodbye Yellow Brick Road and many others. Rocketman also stars Jamie Bell, Richard Madden and Bryce Dallas Howard and is directed by Dexter Fletcher, who replaced Bryan Singer as director of Bohemian Rhapsody.
Cats, one of Broadway's and the West End's longest running and biggest grossing musicals, will finally hit the big screen come Christmastime. But since that is time allotted for the Metro Manila Film Festival (MMFF), we, Pinoys, will either get a few days of Cats before the MMFF opens or a full playdate on January 2020. Make sure you watch. Cats is based on the Old Possum's Book on Cats by the great poet T.S. Elliot and the music is by the legendary Andrew Lloyd Webber.
The big screen version has a powerhouse cast of actors to bring life Elliot's famous cats. These are Idris Elba as Macavity; Taylor Swift as Bombalurina; James Corden as Bustopher Jones; Ian McKellen as Gus, the Theatre Cat; Jason Derulo as Rum Tum Tugger; Rebel Wilson as Jennyanydots; Judy Dench as Old Deuteronomy; and Jennifer Hudson as Grizabella, which means she will get to sing the showstopping Memory. Executive producer is Steven Spielberg and director is Tom Hooper, who also directed Les Miserables starring Hugh Jackman.
Watch out, too, for Disney's Aladdin directed by Guy Ritchie, starring Mena Massoud as Aladdin and Naomi Scott as Princess Jasmine, who I believe will get to duet on A Whole New World. Nice. But what everybody will be waiting for is how Will Smith will play the Blue Genie, which the late Robin Williams truly made memorable. Smith started out as a rapper so I have a feeling that his Genie will be doing a lot of rapping.
The Lion King, also by Disney with Donald Glover as Simba, Beyoncé Knowles Carter as Nala; Chiwetel Ejofer as Scar; and James Earl Jones as King Mufassa, plus of course, the spellbinding music created by Elton John and Tim Rice with songs like The Circle Of Life, Can You Feel The Love Tonight, I Just Can't Wait To Be King and others. I am getting the feeling that this will come out visually as a musical Black Panther.
Also set for big screen adaptations are a remake of West Side Story, In The Heights, Beautiful: The Carole King Story and one of the most awaited films ever, Wicked.