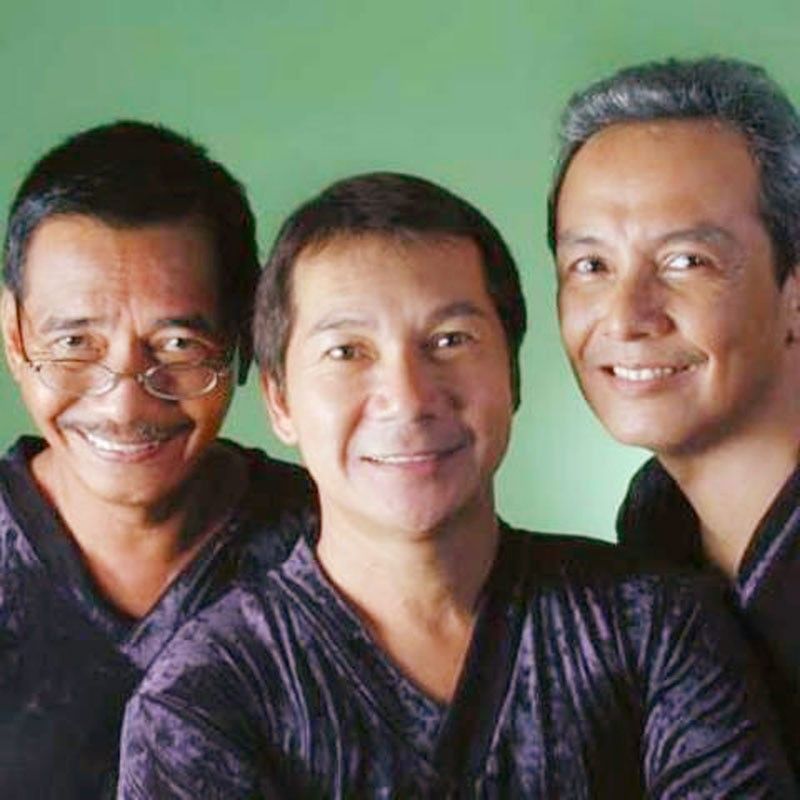 Eto Na! Musical nApo! traces the early years of how the group of Danny Javier, Buboy Garovillo and Jim Paredes was formed.
Nandirito kami, ang barkada mong tunay, aawit sa iyo
Sa lungkot at ligaya, hirap at ginhawa, kami'y kasama mo
MANILA, Philippines — Those familiar lines from Awit ng Barkada, popularized by the Apo Hiking Society, have become the anthem of many Filipinos who have either embraced the song as their favorite Tagalog ditty or singled out Apo as their top Pinoy pop group.
Awit ng Barkada is one of the classic songs that make it to the repertoire of Eto Na! Musical nApo!, a show that traces the early years of how the group of Jim Paredes, Danny Javier and Buboy Garovillo was formed.
Originally staged for highly successful and well-received performances in August last year, Eto Na! Musical nApo! is back for a much-awaited second run until March 17 at the Maybank Performing Arts Theater, Bonifacio Global City (BGC).
The instrumental medley of familiar Apo tunes that starts the musical, also sets the tone for a nostalgic trip down memory lane. The strong, 18-member cast was readily onstage. Garbed in colorful '70s attire done by Eric Pineda, the caboodle was singing and dancing to the rousing, yet extended opening number, Blue Jeans, a familiar Apo hit.
From the wide discography of Apo's songs, a number of hits were chosen to be included in the musical. Even the ones not originally recorded by Apo but penned by its members — like Di Na Natuto by Danny Javier and popularized by Gary Valenciano and Nakapagtataka by Jim Paredes and recorded by Hajji Alejandro — were included in the line-up.
The story revolves around teenage boys who are students and friends struggling to balance their studies and their dream to make it as a singing group, write their original song and make it on the big stage.
Mark Bautista, the most recognizable face onstage, plays Rick and gets the powerful spot numbers — Nakapagtataka, Di Na Natuto and Tuyo ng Damdamin — that soar with his distinct vocal prowess.
Jobim Javier, a disc jockey by profession and the son of Danny Javier, makes his theater debut as Butch in Eto Na! Musical nApo! To say that Jobim can sing will be merely an understatement. The guy is truly a chip off the old block.
As Butch, Jobim gets paired opposite Sab Jose, who plays Michelle, only his crush initially in the musical, but he seriously pursued her despite the girl being taken, and they ended up together. He powerfully croons Mahirap Magmahal ng Syota ng Iba as his dilemma and Panalangin.
Alfritz Blanche is Sonny, the group's songwriter who is worried that his girlfriend is soon leaving him to go to the US with her family. He definitely gets the laughs even when he merely says, "God bless." Jon Philippe Go is Ray, the pre-med guy whose dad detests his foray into music.
Jef Flores is Jaime, Jon Abela is Donnie and Vyen Villanueva is Bobby, the last three men standing, who eventually formed the group.
The first Tagalog musical production of 9Works Theatrical, Eto Na! Musical nApo! brings Apo's songs back to the fore. Undoubtedly, the songs have been embraced by a new generation of music lovers. Ewan, Salawikain, Awit ng Barkada, Batang-Bata Ka Pa and Yakap sa Dilim were the other popular songs in the line-up.
There were millennials in the audience on the Sunday night we watched the musical. The young people may not necessarily know Jim, Danny and Buboy, but the Apo songs clearly resonate on their minds.
The musical makes you reminisce and look back at the era four decades ago, when Magnolia Ice Cream House was the place to go to and Boracay was an unheard of beach destination (a guy couldn't even pronounce it correctly).
Love Bus was the only air-conditioned commuter bus on the route of Highway 54, later known as EDSA. Budji Wara was the most notable hair stylist and Yeye Vonnel was the fad. The year was 1975, when Martial Law had been strongly enforced for the past three years.
Written and directed by Robbie Guevarra, with the Apo Hiking Society trio contributing to the story's development and Jonjon Martin as dramaturg, Eto Na! Musikal nApo! charms audiences with its varied themes of love, youth and friendship, as well as college life, growing pains and conflicts.
Everybody, young and old alike, can identify with the musical and its characters. With music and story that will make you sing, laugh and even cry.
Eto Na! Musical nApo! is three hours long, yet one hardly notices the duration while the cast members were onstage and even after they made their much-applauded curtain call.