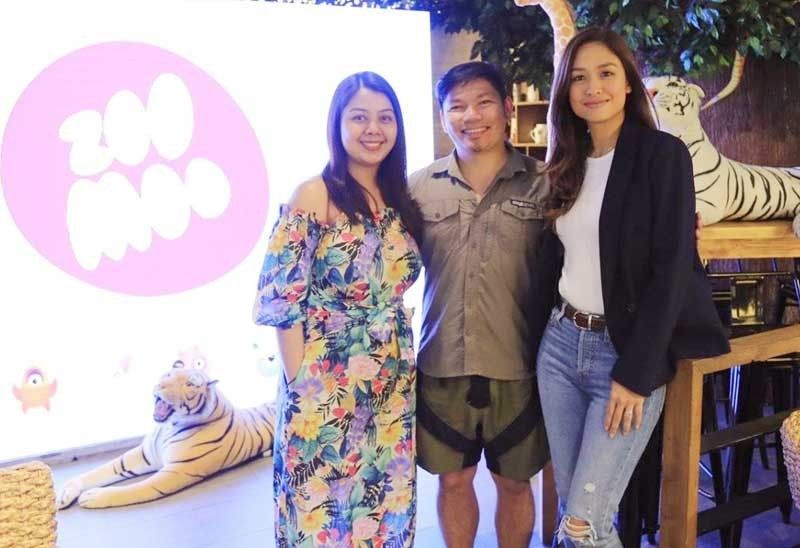 From left: ZooMoo sales & marketing manager Trippy Padilla, environmental advocate Gregg Yan and lifestyle host Kelly Misa-Fernandez during the media call.
ZooMoo aims to raise children's AQ
Bot Glorioso
(The Philippine Star) - February 16, 2019 - 12:00am
MANILA, Philippines — A number of kiddie programs are being aired on TV these days. Some take pride in giving all-out fun and laughter while others are focused on sharpening the mind with interesting scientific facts, math riddles and basic proficiency in conversational English. SkyCable is making a difference by dedicating its Channel 120 to kids with the goal of helping parents provide a fun way of learning more about animals and nature through ZooMoo, a new channel of Blue Ant Media.
The English-based media channel nourishes children's Animal Quotient (AQ) through its library of shows that captures their attention and awakens their imagination. ZooMoo sees the importance of instilling the love for animals at a young age for them to be highly compassionate individuals in the future. Thus, ZooMoo provides loads of information about animals, their habitats, behavior and characteristics in a manner that is understandable and visually-appealing to preschoolers.
But how do we assure that kids nowadays who have become accustomed to television, tablets, phones and computers could actually be good caretakers of the environment?
Kelly Misa-Fernandez, environmental advocate Gregg Yan and Blu Ant Media sales and marketing manager Trippy Padilla believe that the availability of gadgets in this day and age of modern technology is beneficial to children as part of their learning tools.
"First of all, if you want to see wildlife in their natural habitats that's pretty hard because you have to travel, climb mountains and cross rivers or head to swamps to get a bit close but there's no assurance that you'll see them," said Gregg during the recent media call. Besides, how many kilos of backpacks you need to carry just for your supplies? Yes, you can travel and go to Donsol for whale sharks but not everyone can do that. But right at home, you can see them and all you have to do is watch ZooMoo and you will be able to see animals in their natural habitats."
What's good with the digital technology, Gregg added, is that everyone can now have a close look at various animals from around the world. "There are wildlife conservationists who take photos and upload them online and on social media (platforms) for people, especially kids, to learn and discover what's there in the wild. The world has become modern that in just a click of a finger, everything is there (on Internet)."
Although, Kelly never denied that there is also a downside to allowing kids about using gadgets when parents fail to minimize the impact of these devices on them.
As a mom to three-year-old Tristan, Kelly admitted that there was a time when she and her husband became too lenient to their son when it comes to using gadgets because they, themselves were into using them. They didn't realize how much time Tristan was glued on electronic screen. "And since we travel a lot, it has become more convenient for us to have a gadget. You see, there are lots of waiting time in the airport and Tristan has to behave so we usually bring out our gadgets and Tristan would be glued on his."
Until Kelly noticed that Tristan became dependent on it. "That's one disadvantage because he would not talk to us. So, I started to limit his screen time and there are now days na wala talaga. We really need to try to find the right balance with regards to the use of gadgets. What's good, he knows how to count from one to 100, he knows the ABCs and he can sing many songs."
With Tristan often in tow in her travels, Kelly also tries to be a good example to her son by showing to him "little acts" that can make a big difference in the environment like putting trash in proper disposal bin. She, too, uses recyclable products instead of plastic.
In order to create awareness on the protection of animals and love for Mother Earth to more children, Trippy said that ZooMoo will bring the best of educational yet entertaining show. Veteran filmmakers are working closely with the channel to create contents that are suitable to kids.
(SkyCable subscribers can choose to add ZooMoo to their channel line-up for only P20 per month via SkyCable Select.)