Ellen Page leads a brood of dysfunctional superheroes
February 16, 2019 | 12:00am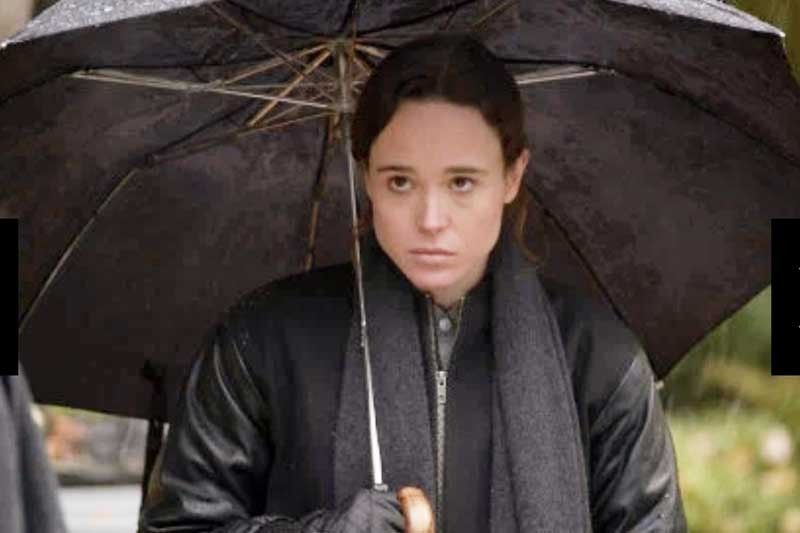 TORONTO — With Hollywood basking in the box-office triumphs of superhero flicks such as The Avengers, Black Panther, Wonder Woman and Aquaman, Netflix is bringing to the small screen a new superhero live action series called The Umbrella Academy, which is hailed for its new, twisted take on the superhero genre.
"I love it, it's engaging and it felt like nothing I've seen before," gushed headliner Ellen Page about the show now streaming on Netflix. There are 10-part, one-hour episodes for Season 1.
"It's moving and funny that when the first one ended, I wanted to click on the next," she told a press junket where select foreign publications (including The STAR) were invited to a vast studio lot in this Canadian city to meet the cast, witness actual shoots and tour the meticulously constructed sets and a warehouse full of vintage and modern costumes and props.
"That was obviously a really good sign," added Ellen, best known for movies like Juno, Inception, Flatliners and X-Men.
Netflix is equally excited about the major project produced by Steve Blackman and based on the award-winning comic series of the same name created by Gerard Way (ex-frontman of My Chemical Romance band) and Gabriel Ba. It follows the estranged members of a dysfunctional brood of seven with supernatural abilities who were born under mysterious circumstances in 1989 to different women who showed no signs of pregnancy.
They were adopted by a space alien, posing as the billionaire industrialist and eccentric inventor Sir Reginald Hargreeves (Colm Feore), who intended to mold them into superheroes to save the world from a pending apocalypse.
The Hargreeves children became quite famous stopping bank robberies and other crimes. The public, however, got tired of them and dumped them like washed-up child stars. They disbanded and went separate ways until Sir Reginald's sudden demise forced them to reunite to solve the mysterious death and confront their past.
Aidan Gallagher, known as No. 5 or The Boy who is actually a 58-year-old man trapped in the body of a 13 year old, said the superheroes in the series became messed up courtesy of Sir Reginald, who would traumatize them and deprive them of normal childhood.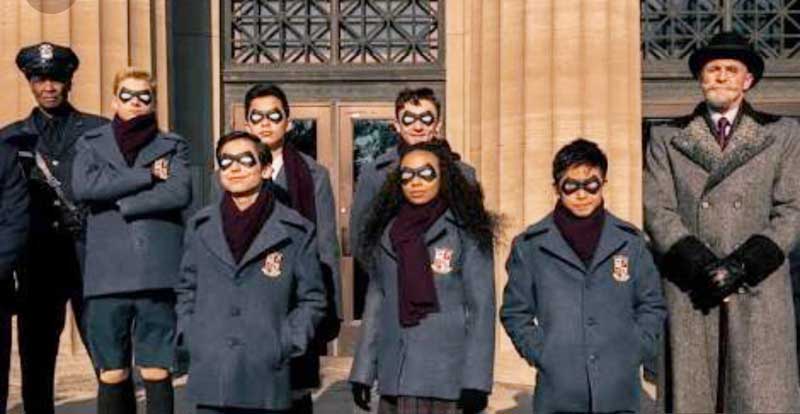 Sir Reginald Hargreeves (Colm Feore), far right, presents to the media and the public the superheroes of The Umbrella Academy, who use their strange and grotesque powers to defend the world from all kinds of crimes.
"He wasn't the best father figure for us so much that he couldn't be bothered so he made us a mother who's actually a robot," said Aidan, a traveling assassin who can teleport back and forth. "So all the kids are somewhat messed up in their mentality."
The most psychologically damaged is Vanya (a.k.a. No. 7/The White Violin), played by Ellen, the black sheep of the family and the only one who did not develop any supernatural ability. Or so we thought.
Ostracized and ill-treated, Vanya suffers from depression and anxiety. A gifted violinist, she finds solace in her violin, which has a vital part in the plot.
"Because she has no powers, she was treated like an outcast by her family who made her feel absolutely worthless," said Ellen. "She has a lot of resentment and anger that she hasn't really dealt with."
Tom Hopper, who plays the leader of the brood Luther (a.k.a. No. 1/Space Boy), stressed that The Umbrella Academy is more than your typical superhero movie.
"What I love about The Umbrella Academy is that they're not just superheroes but are real people with real problems," said Tom, whose character possesses the ability of super strength but always tries to do the right thing.
"Every human being will be able to relate to all their problems like the insecurities and things that affect them when they were kids and still affect them into their adult life," added Tom, who has starred in Game of Thrones and Merlin.
"It's drama-driven as opposed to sci-fi superhero-driven," said Emmy Raver-Lampman, who is Allison (a.k.a. No. 3/The Rumor), a formerly world-famous movie star who possesses the power of suggestion — anything she says aloud comes to pass.
"It's a bonus that we're superheroes…but it's until a crazy action sequence comes in when you remember we're superheroes," she noted.
"The show is so much about character that you will forget you're watching a superhero series," added Cameron Britton, who plays the villain Hazel, a ruthless hitman whose job is to time travel and assassinate targets in different decades.
"When I read the comics I found it to be incredibly fun, original and off center which I prefer," Britton said. "I love to be in projects that take risks. The Umbrella Academy captured the essence of this graphic novel."
One of the most intriguing characters is Klaus (a.k.a. No. 4/The Séance) essayed by Robert Sheehan. Klaus' powers are levitation, telekinesis and the ability to contact the dead and use them essentially to influence the living. He is a drug addict but a loveable mess of a human being.
"It's weird you have a superhero doing drugs and you don't see that a lot," claimed Mexican-American actor David Castañeda, who plays Diego (a.k.a. No. 2/The Kraken), who has a secret love for his adopted sister Vanya.
Diego is a skilled and intense vigilante who is after two time-traveling assassins, Hazel and Cha-Cha, played by Cameron Britton and Mary J. Blige, respectively, who are trying to stop the Academy in its tracks and allow the apocalypse to happen. The three of them have some of the biggest fight sequences.
"We have amazing stuntmen who have kept us safe, but also allowed us to do as much as we can to make the show look good," David told the press, who managed to watch some intense fight scenes. "We rehearse with fight coordinators."
There's a great deal of balance between violence, intense drama and comedy in this series, according to Aidan.
"The writing is incredible," he declared. "When I read the script, I was just blown away. But I think there's a lot more comedy than you would expect."
The Umbrella Academy is not without meaningful life lessons to learn, according to Tom Hopper.
"Each of them will realize in their own time that they are actually better off together and that they are ultimately stronger together," Tom said. "In the end, they need each other, they care about each other and that they love each other."
The Umbrella Academy also stars Kate Walsh (The Handler), Adam Godley (Pogo), John Magaro (Leonard Peabody) and Ashley Madekwe (Detective Patch).