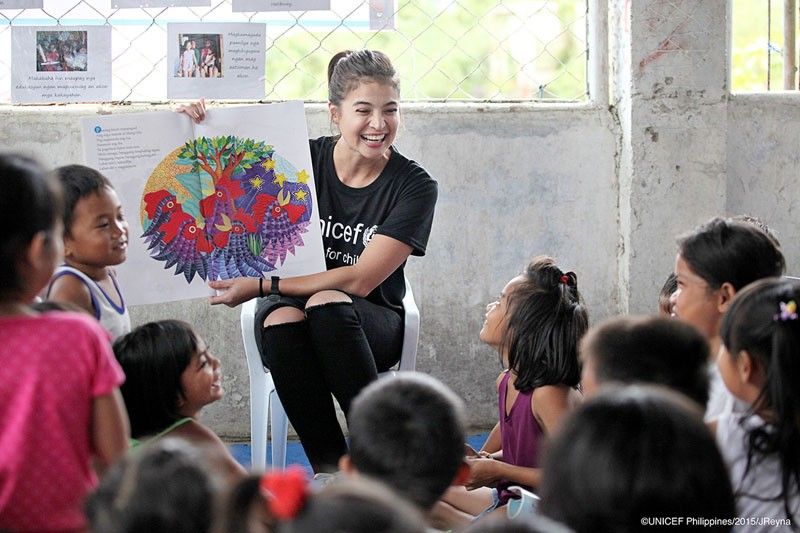 As UNICEF national goodwill ambassador, Anne Curtis will be involved in special projects like Heroes for Children, fundraising and a children's book that promotes reading among children
Anne, a champion of children's rights
Jerry Donato
(The Philippine Star) - February 12, 2019 - 12:00am
MANILA, Philippines — Anne Curtis has played different roles in life. Being a face for UNICEF is one. She has made a great stride in advocating for children's rights.
"I don't know if it's specific because UNICEF, of course, is a global brand with global goals, (and) the priority, of course, is children's rights," replied Anne when asked about the particular programs she will be doing with UNICEF to benefit Filipino kids in a recent group interview with media. "So what I will be working on this year is working with the adolescents and their health programs." Part of that is to address the growing rate of HIV in the country. The age of those infected now ranges from 15 to 24. This health issue needs to be addressed. "I will be working closely (with adolescents) in that field," added Anne, who will help teach the young the value of health and education and speak on other relevant issues like violence and teen pregnancy.
Anne belongs to that circle of local and international celebrities — Gary Valenciano, Jackie Chan, David Beckham, Orlando Bloom, Millie Bobby Brown, Priyanka Chopra, Ricky Martin, Leo Messi, Liam Neeson, Shakira and Lilly Singh — who find the time to work on their advocacies on top of their work commitments.
"With (It's) Showtime, it's a live show so you see me. It's different from my movies," shared Anne on how fans might see her from these personal and professional endeavors. "It's very easy to (differentiate me) from the actress and who I am as a host and as an ambassador."
The UNICEF event, announcing the elevation of Anne and Daphne Oseña-Paez from celebrity advocates to national goodwill ambassadors, saw the passion of a young advocate in the former, who breaks stereotypes of being a TV and movie personality. Anne generously gave members of the media a sneak peek into her life as a goodwill ambassador by recalling the opportunity to meet mothers and babies in her fieldwork. In this journey, she learned the importance of prenatal care and "the first 1,000 days of a child." That explained why she got emotional watching her video for it reminded her of a mom, whom she met, "when I was meeting the mother, she had just lost her child because she had given birth… She had not known the importance of prenatal care, which is part, of course, of a pregnancy," Anne said. "So all those feelings that I felt during these field visits came rushing back to me."
As for her presence on social media, Anne shared with the press that she would use it, "every chance I can get to raise awareness." She also implied that if one feels the need to stand up for something, the platform can be tapped for that. From there, one may see the democratic spaces social media may afford.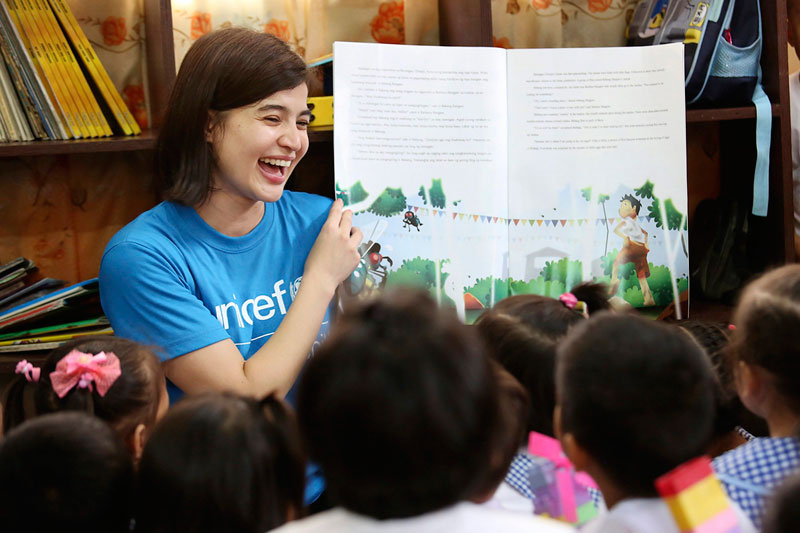 With her work as a UNICEF major donor and celebrity advocate for the past nine years, Anne deserves the appointment and the privilege to further make a difference in the lives of children. Based on the information provided by UNICEF, the actress-host is involved in special projects like Heroes for Children (which supports the first 1,000 days of children), fundraising via international marathons and a children's book that promotes reading among children and instills self-confidence in them.
Daphne, on the other hand, will be busy with her flagship program, Auction for Action, for UNICEF Philippines. It is an art auction that gathers Pinoy artists (from art, design, furniture and jewelry) for a good cause.
"As I've mentioned earlier, it's a whole educational experience for me, transitioning into a wife and you know being more aware of where the future will lead me," Anne said. "It's a whole educational experience for me and I said this is almost prepping me to be an amazing mother."
What's good about Anne is she never fails to use her celebrity status for good causes and is aware that working with UNICEF comes with a responsibility.
The new designation sees Anne having meetings and discussions with UNICEF, receiving phone calls from the organization and doing field visits. "It's hard when you're just reading the information, right? (You have to) learn from people who have been on site and who have experienced it and they are bringing you to the field," she shared. "So you experience (it) first hand. You have to know what it is you are promoting and advocating."
Asked what's her stand on efforts to lower the age of criminal liability of the young, Anne replied: "I think that the existing law should be just fully implemented. There's no need to lower the age. At 15, may discernment na. You are aware of what you're doing."