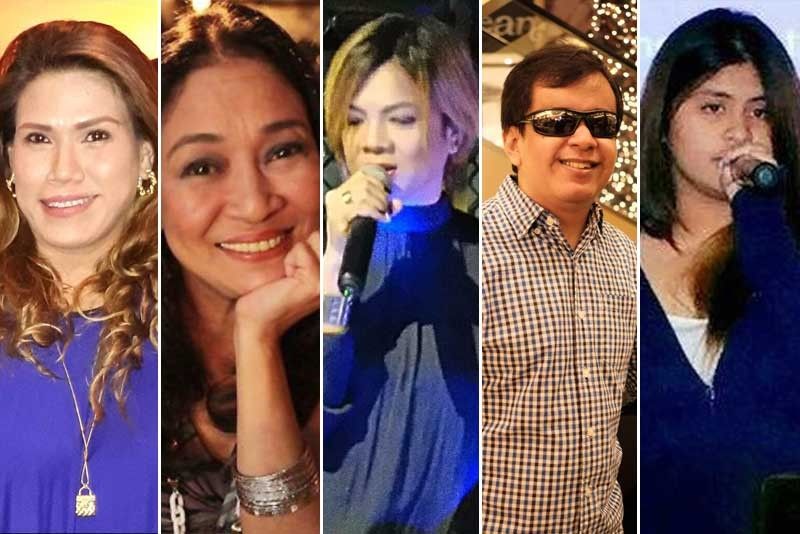 Milet Abrenica, Emcy Corteza, Janis Cagara, Allan Gonzales and Manna
Intimate, up close, personal
MANILA, Philippines — Artists expectedly mount the stage and render the most romantic songs in their respective concerts this season of love.
Love To Last is an apt title for a Valentine concert that gathers together five artists, who never discount the power of love in their respective lives... be it love for their significant other, their parents, their siblings or even their best friends.
Topbilled by Emcy Corteza and blind singer Allan Gonzales on Feb. 14 at C3 Events Place, Missouri St. in Greenhills, San Juan City, Love To Last also features special song numbers from Janis Cagara, Milet Abrenica and budding, young artist Manna Merk.
Emcy comes from a family of musicians, so she was exposed to music at such an early age. She left her roots in Bacolod, pursued her studies in Manila, graduated at the University of the Philippines Conservatory of Music and embarked on a professional music career.
Undoubtedly, a multi-talented artist, Emcy also takes on the role of working as orchestrator and co-producer for the concert, mounted by Laurel Media, with Roni Merk as president and producer.
"Emcy is one artist with the perfect pitch and she is most capable of giving the best orchestration for this wonderfully-knitted show," offers Roni. "She has the passion for creating the best Valentine show we can offer.
"From lining (up) the repertoire to sequencing the songs and mentoring the performers to make the show meaningful, purposeful and cohesive, Emcy can take everything on. She plays the keyboards and sings. She is a vocal coach, as well."
Allan was only two years old when he started manifesting his musical inclination, notwithstanding his being visually impaired. He started tinkering with the piano and other musical instruments. At age six, he started singing.
It came as no surprise when Allan embarked on a professional musical career, playing the piano and singing, which allowed him to earn a decent income. He also got to perform with other artists such as Kyla and that gave him more professional exposure.
Eighteen-year-old Manna, meanwhile, has been surrounded by artists and musicians since she was a toddler. Thanks to her father, Jazz Prince Richard Merk, who exposed her early on to music. Her grandmother, Jazz Queen Annie Brazil, also influenced Manna's love for singing.
Top business communicator and marketing and PR guru Roni Merk, is Manna's mom, who further encouraged the young girl's musical passion. Manna could carry a tune as early as five years old. Professionally, she started singing when she turned 16.
"What sets this concert, Love To Last, apart from other Valentine shows is that this is intimate, up close and personal," Roni points out. "It was conceptualized to be the sweetest Valentine concert this season and audiences will know when they watch it.
"Most of the couples, those in a relationship or even single but hopelessly romantic will get to listen to their theme songs which will reminisce their past lives, future and prospective partners or those who are in a relationship at the moment."
Janice has opened for the concerts of such artists as American singer Stephen Bishop, Total Entertainer Rico J. Puno and has performed alongside Dale Adriatico and Richard Merk.
Milet was the first runner-up in the Stars on 45 singing contest on ABS-CBN's noontime program, It's Showtime, in 2014. She has done the rounds of performing all over the country, doing shows in Manila and even the provinces.
Also featured in Love To Last is The Infinity, a group of professional singers who are all product of singing competitions where they emerged winners. The group is composed of Russel Dionisio, Zillah Cabarles, Christine Joyce Llanes and Allan Arboladora.
A real, lovely woven Valentine dinner-show and reasonable, too, Love To Last is a benefit show for Cheers Foundation and Anchor of Hope, both taking care of cancer patients.