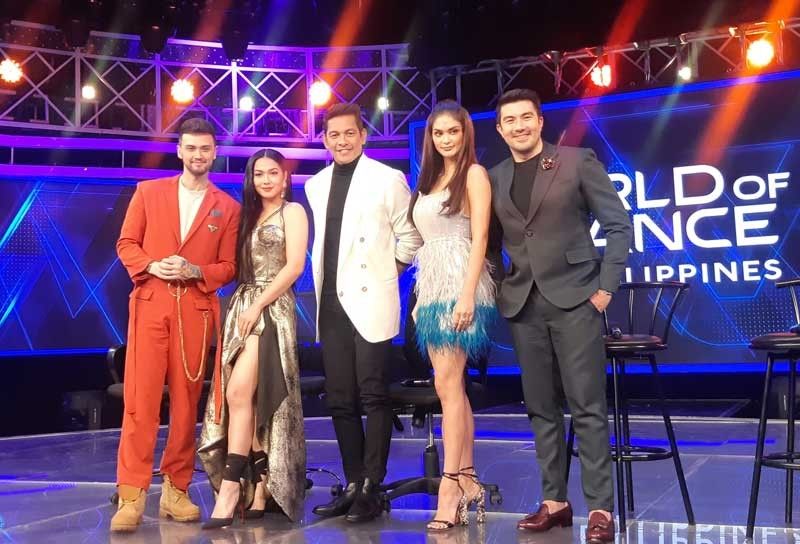 World of Dance Philippines (from left) judges Billy Crawford, Maja Salvador and Gary Valenciano with hosts Pia Wurtzbach and Luis Manzano
World of Dance Philippines judges on long love affair with dance
MANILA, Philippines — The newest reality contest in town, ABS-CBN's World of Dance Philippines has drawn 20 dance acts from here and overseas, all qualified to spin, sway and swing their way to the next round.
Various dance styles and back-stories were shown to audiences, judges Gary Valenciano, Billy Crawford and Maja Salvador, as well as hosts Pia Wurtzbach and Luis Manzano. A hip-hop artist once performed with Billy. A ballroom dancer studied the art because of Maja. An urban dance group caught Gary V's eye for its "winning" name.
During a presscon on Wednesday, it was the turn of the judges of the Philippine edition of the US dance show to open up on their own long love affair with dance and performance.
Asked by The STAR during a presscon if he had any dance mentors, Gary — who has chalked up over three decades as a singer-songwriter/performer — said that he never had "as in that one person who taught me or was guiding me through it, maybe except for my sister Gina who used to dance before and reached the finals of Dance 10, one of the very first dance contests before. But as a musician, up to this day pa rin, I will consider myself as more of a singer-performer than a dancer, na mabuti nalang nahaluan ko ng dancing ang mga ginagawa ko at nagustuhan naman ng mga tao."
The 54-year-old Gary, who earned the showbiz moniker Mr. Pure Energy, was inspired early on by foreign artists like Michael Jackson, Sammy Davis Jr. and James Brown. "After I would see them (on TV), I would look for a place where I could practice. As a matter of fact, when I became part of Kundirana (the music ministry of La Salle Greenhills) in high school, habang kumakain ang ibang kaklase ko sa may Unimart after dismissal, I would be in the music room. I would practice in front of this big mirror, doing the moonwalk. I didn't think I was already doing it right because for me, mali pa rin. Until my classmates said, 'That's what Michael Jackson is doing.' Then they would tell me, magsayaw ka pa (dance some more)," Gary recalled.
"Then as I started dancing and creating my own music, ipinasok ko na rin yung pagka-Latino ko since I'm half-Filipino, half-Puerto Rican. Dun ko ipinasok ang mga iba't-ibang rhythms that I was able to incorporate my moves to, and I'm so thankful that as I grew up, I had the right dancers with me to create the kind of impact that I think still happens today when I step on stage."
For Billy, it was Gary V who introduced him to the performing world. "This is the reason (pointing at Gary) I got into dancing. That's being honest. And he knows this," the 36-year-old singer/host shared.
"I remember being four and a half years old, and being in Music Museum at that time, napakalaki pa ng shoulder pads niya nung panahon na yon at may afro (hairdo) pa siya ng konti. That's what made me realize that I want to be like him. So, Kuya Gary is actually the reason why I'm in this line (of work) right now."
Thanks to Gary, Billy also got influenced by the likes of MJ and Brown. "But in all fairness, Kuya Gary — he's my mentor."
Maja, on the other hand, loved watching TV shows as a kid because "gusto kong panoorin yung mga lalaking tuma-tumbling — the Streetboys. Until (former Miss Universe) Ms. Dayanara Torres became my idol because of course (I'd see her) in ASAP, then Ms. Vanessa del Bianco (who has since quit showbiz)." She laughingly recalled that she once shared a dance number with the latter and she became so afraid of committing mistakes that to avoid making any, she loudly counted her steps and it was caught on cam.
The 30 year old, who's been dubbed "dance princess," is celebrating 16 years in showbiz come March and she feels that it was her dancing that first endeared her to fans. She credited veteran choreographers like Teacher Georcelle of G-Force for training her to be a confident dancer because "I used to be really shy."
But Gary, who has long worked with Maja in the Sunday variety show ASAP, begged to disagree with Maja's self-confessed shyness.
"Actually no," said Gary, narrating the first time he saw Maja dance in a rehearsal. "I had to look for the heads of ASAP and ask who's this (girl)? 'That's Maja Salvador.' 'Maja Salvador, part of the Salvador (acting) family? 'Yes.' But I've never seen a Salvador move like Maja Salvador. At that time, I really told myself if there were other young people like her who could move like her, the dance scene in the Philippines would definitely change. Then she met my expectations because she's not just a dancer, she's also an award-winning actress... She has proven that she can still do what she did 16 years ago. That says a lot."
A thankful Maja reacted that her Tito Gary always has encouraging words for the younger artists. She brought up one conversation she had with him prior to being offered to sit as a judge on World of Dance. "Remember what you (Gary) told me? 'Just wait for it and God will give it to you.' And then when this (show) was offered to me, together with him, I said, grabe hindi ko lang siya kasama sa ASAP because he's not just my idol in dancing and performing but also for how he is (with us)."
Maja turned emotional when she looked back on the health challenges — a heart surgery and cancer scare — Gary went through last year. "Then it happened. The health challenge of Tito Gary. When the World of Dance staff planned on visiting him, I couldn't tell them straight that I didn't have the heart to see him weak. That's how I am, I don't want to see people who give inspiration in a state of weakness. Kaya sobrang sinasabi ko noon na sana gumaling na agad para kami pa rin (in World of Dance), that's why thank you Lord!"
Billy himself was impressed with Gary's recovery. "Grabe yung recovery ni Kuya Gary, I mean I've never seen anybody (like that) that's why we call him Superman. Honestly! Just imagine for everything he went through, operations and all, in four months, he's here and he's still performing like he's 25."
Meanwhile, Luis and Pia didn't need to showcase some dancing skills, hidden or otherwise, to be chosen as hosts.
"(World of Dance) is already established in the different parts of the world, especially in the US. So, it's really a big deal for me (to be host). I'm still new to hosting, it's something I'm trying to get used to but they like my personality. And you know, I work closely with the contestants. So far, I've been having a lot of fun here, learning a lot and slowly getting better at hosting," the 2015 Miss Universe said.
"They haven't asked me to dance yet. So, we'll see," she said, also admitting that she doesn't dance. "Pang opening lang ako ng Binibini (pageant). But I guess with enough training, enough time, enough effort into it, maybe I could pull it off."
As for Luis, when he was younger, "I really used to dance, Billy Boy knows this. Siguro nahawa ako sa Mama ko (referring to Rep. Vilma Santos who used to have her own variety show). And I was always around the VIP dancers."
"But you realize early on that I love dancing but it won't be my bread and butter. I was so interested but I wasn't able to turn it into a passion per se," he added.
Luis has been the go-to host for nearly every new reality show on ABS-CBN. How many shows has he done so far?
"Good question. I wish I knew. It's a good problem to have. I simply started in MYX then ASAP, then the shows came one after another. The sum total — how many shows and the number of seasons — I honestly don't have any idea. But thank you, I'm going to look into that," the host told The STAR.
Nevertheless, the World of Dance Philippines is offering Luis a new experience, starting with his dynamics with new co-host Pia. "No matter how good you believe you are, no matter how good people say that you are, the moment you think there's nothing more to learn, that's when everything goes down. Every new partnership, every new show, there's something new to learn."
World of Dance Philippines airs Saturdays and Sundays, 7:30 p.m.