Ely Buendia, Itchyworms take their creativity to next level
January 24, 2019 | 12:00am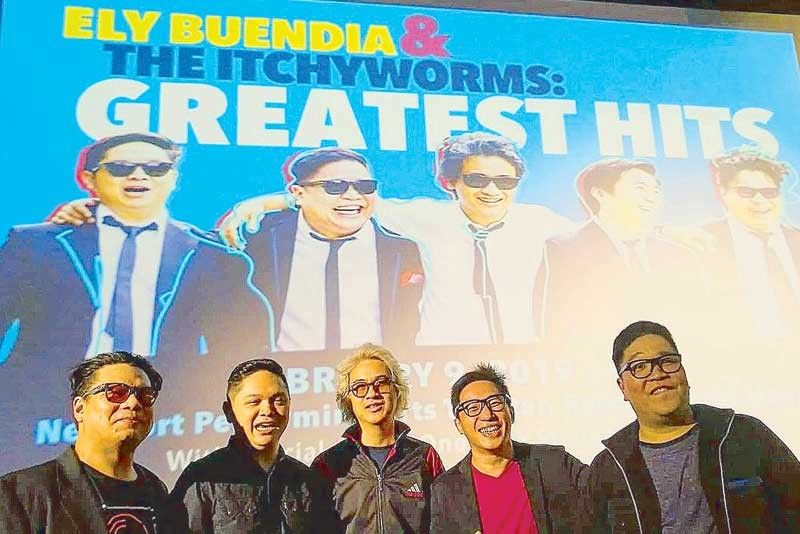 MANILA, Philippines — What drew two of the most iconic names in Filipino rock music together to stage a major concert?
"Bata pa lang kami idol na namin si Ely (Buendia)," said Jugs Jugueta, vocalist/guitarist of The Itchyworms, the band behind some of the best OPM tunes of the 2000s. "Ely and Eheads really inspired me to write my own songs."
To which Ely, who became a household name since the early 1990s with his former band Eraserheads, shot back that drew laughter from the crowd: "Ako naman, when I was in elementary I was already idolizing Itchyworms and they also inspired me."
That brief exchange of banter about generation gap offered a glimpse of the bond between Ely and The Itchyworms that led to a collaboration of songs and gigs highlighted by their upcoming Feb. 9 first major concert at the Newport Performing Arts Theater (NPAT) at the Resorts World Manila.
Joking aside, Ely related that he and The Itchyworms became fast friends when the group recorded a demo at his UP Village home studio.
Ely became fast friends with Itchyworms when the group recorded a demo at his UP Village home studio. Photos by Edmund Silvestre
"Itchyworms was just starting then and there was an immediate bond between us because we sort of like the same music, we like the same people, so it's already there in the beginning," shared Ely, who has achieved an OPM legend status with a string of remarkable hits he has penned.
"As time went by, Itchyworms morphed into one of the better bands and songwriters out there," Ely added. "The mutual admiration and respect for each other became stronger over time."
In 2016, they collaborated on the single Pariwara, followed by Lutang in 2017 and some gigs in between.
"Honestly, I notice that there seems to be magic when we play our original songs with Ely," said Itchyworms vocalist/drummer Jazz Nicolas. "I know people will see the spark when we perform together on stage."
Itchyworms vocalist/guitarist Chino Singson, on the other hand, said the offer to do a show with Ely at NPAT (with 1,500 seating capacity) practically fell into their laps.
"We saw the musical and Huling El Bimbo (featuring the songs of Ely) and we know how the venue looks," Chino said, "and for any musician, it's always a treat to play at a very large venue with excellent sound system like the NPAT so we didn't hesitate to say yes."
Apart from Pariwara and Lutang and some cover songs, Itchyworms will also play at their Feb. 9 concert their widely-popular songs Beer, Di Na Muli, Prinsesa, Akin Ka Na Lang and Ayokong Tumanda. Ely, of course, is expected to sing some of his own smash hits like Pare Ko, Ligaya, Alapaap, Toyang, With A Smile, Ang Huling El Bimbo and Huwag Mo Nang Itanong.
(Tickets to the Ely Buendia & The Itchyworms: Greatest Hits concert are available on ticketworld.com.ph or at the RWM Box Office with tel. no. 908-8000 loc. 770.)