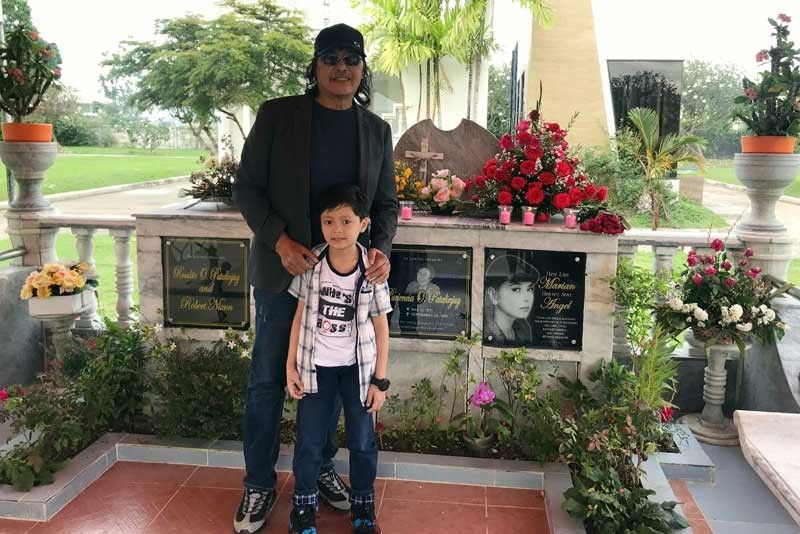 Komiks King Carlo J. Caparas with grandson Indi at his wife Donna Villa's tomb at the Mactan Island Memorial Garden in Marigondon, Lapu-Lapu City.
Photos by Raoul Tidalgo
For Carlo J, art is best therapy
FUNFARE
-
Ricky Lo
(The Philippine Star) - January 7, 2019 - 12:00am
CEBU City — In barely two weeks, Komiks King Carlo J. Caparas and children CJ and Peach will commemorate the second death anniversary of his wife Donna Villa who succumbed to cancer on Jan. 17, 2017. The well-loved couple was known for producing box-office hits known as "massacre films" that dramatized real-life heinous crimes and thereby helped trace suspects at-large.
Taking an hour-plus Oceanjet from Tagbilaran to this city for a two-day post-Christmas vacation, my Bohol-based friend Raoul Tidalgo and I prioritized a visit to the Mactan Island Memorial Garden in Marigondon, Lapu-Lapu City. During the almost two-hour traffic-clogged drive from Marco Polo Plaza, Carlo (himself at the wheel) recalled Donna's agonizing last two months in heart-wrenching detail that sometimes made him choke with emotion and wipe quiet tears. Only a brilliant novelist like Carlo could relate it as vividly as if he were filming a tragic story in painfully extreme close-up.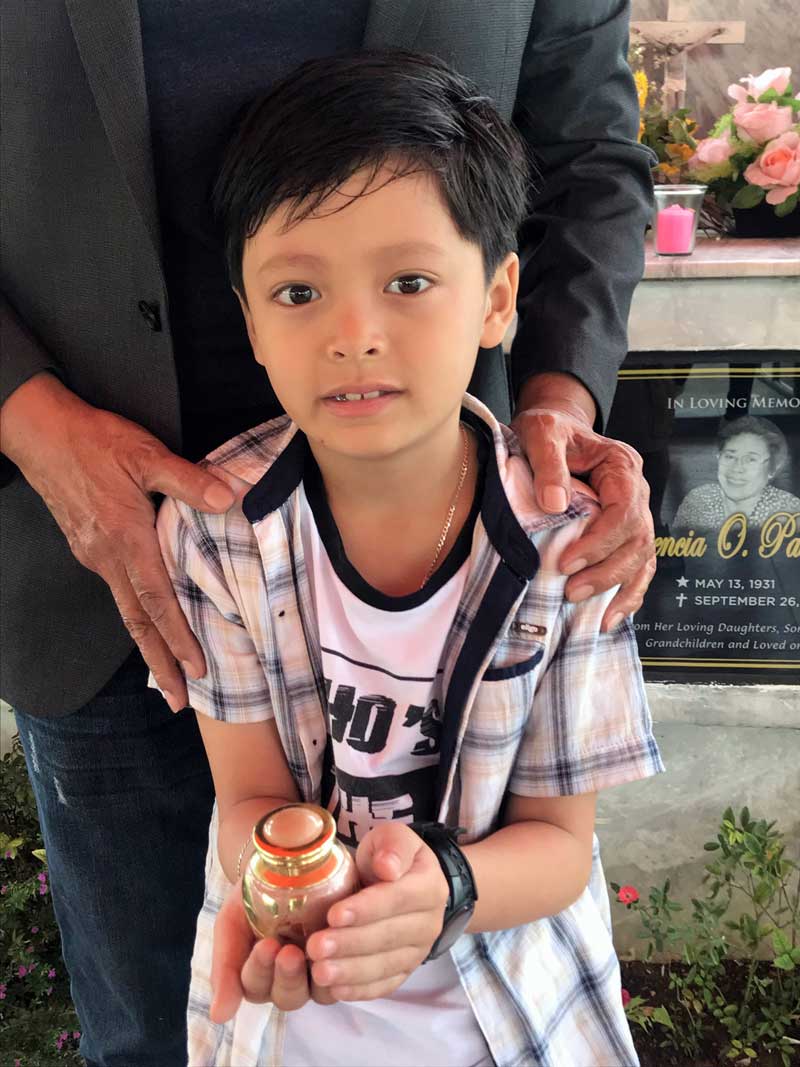 Anywhere he goes, Carlo carries part of Donna's ashes in a little jar held by Indi.
"Donna's strict 'order' was not to tell our children and our close friends about her condition," said Carlo, so I will obey that order and refrain from dropping even a hint of how Carlo stuck to Donna's side at the UST Hospital. "For 29 years, we never left each other's side. We were together everywhere and in bed all those years, even on a folding bed inside the tent when we were shooting a movie."
The Memorial Garden covers several hectares, so serene that Thursday afternoon. It has been Carlo's "second home" since Donna's ashes were entombed there, beside those of her parents, Rosalita Patalinjug and Robert Nixon (said to be related to former US Pres. Richard Nixon), and relatives Pastor Patalinjug and Pacencia Patalinjug. (Donna's real name was Marian Patalinjug.) In December last year, Carlo had a marker placed on it with Donna's favorite picture and this epitaph: Here lies MARIAN, Heaven Sent Angel…Your life was a blessing, your memory is a treasure, you are loved beyond words…and missed beyond measure.
The front of the tombs is adorned with different kinds of flowers. "Donna's favorites," noted Carlo.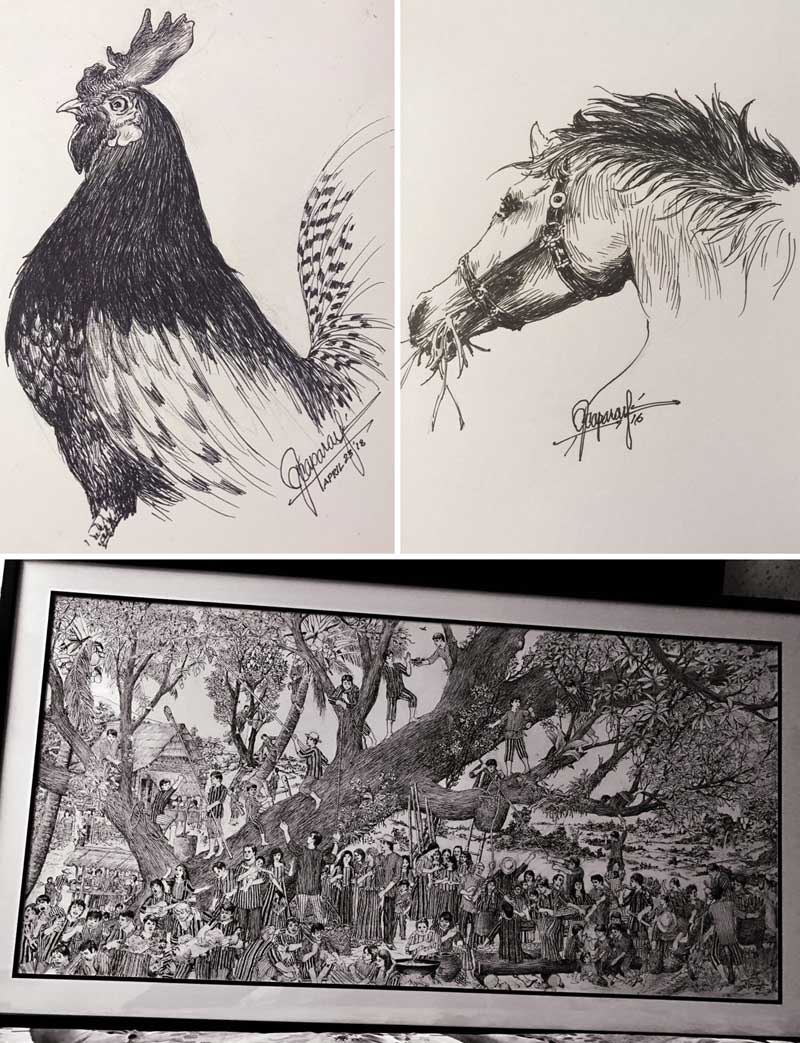 Some of the drawings that take Carlo's mind away from Donna even just for a while, as part of his therapy
Because they were like, as the saying goes, two peas in a pod, Carlo is finding it hard to move on, to let go, leaving Donna's things at home as she had left them, with framed blown-up photos hanging on the walls of both their houses at the Nuvali in Sta. Rosa, Laguna, and in Cebu where Carlo now stays most of the time, not wanting to leave Donna in the vastness of the Memorial Garden that casts a profound feeling of sadness and longing, especially at dusk.
"Donna and I were making plans even while she was on her sick bed," said Carlo. "She was convinced that she would and she could beat it (the Big C) until the very last minute. Sabi niya, magbabakasyon kami sa Europe with CJ and Peach when she got well. She had plans for our company including doing a movie for Cannes."
Also as per Donna's "order," Carlo has kept parts of Donna's ashes in a little jar. "You have to carry it wherever you go," she told me. "She had been talking about being cremated a few years before she got ill even if she thought that I would go ahead of her. She was wrong." (During our visit, the jar was held by Indi, the couple's grandson, named after Indiana Jones, Donna's favorite movie character.)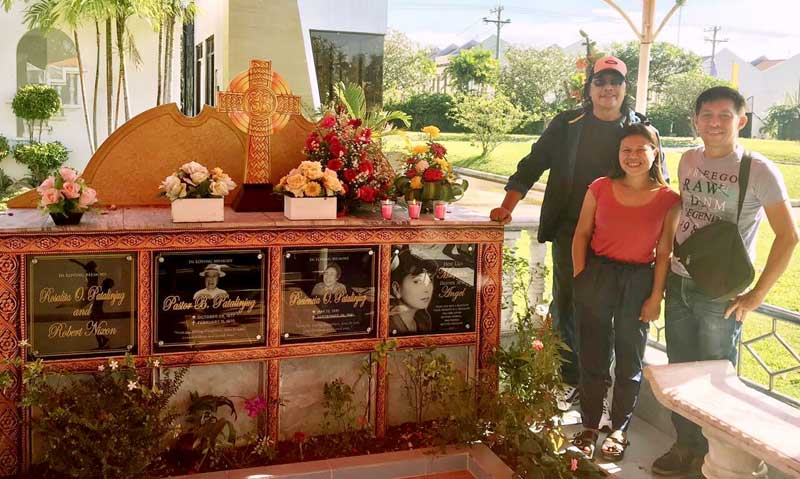 A 'Marian Angel statue' above the epitaph, made by Gerry and Gay, owners of Divine Lapida Maker in Cebu
As therapy, Carlo has been drawing, an activity that, even just for a while, takes his mind away from Donna. What usually took him a few hours now takes months to finish, such as a huge 58 x 28 piece that he worked on from February to August 2017. He has also done drawings of a rooster and a horse in living details that would belie his detractors' claim that he couldn't draw. "Sino ngayon ang magsasabing hindi ako marunong mag-drawing?" Carlo said.
Before we left the Garden, Carlo opened the boxful of torta we gave him as pasalubong from Bohol. Carlo cut it and put one half between two candles on top of Donna's tomb.
"It's her favorite," he said as if talking to himself, his voice caught in his throat. "We always shared it in halves."
(E-mail reactions at rickylophilstar@gmail.com. For more updates, photos and videos, visit www.philstar.com/funfare or follow me on Instagram @therealrickylo.)