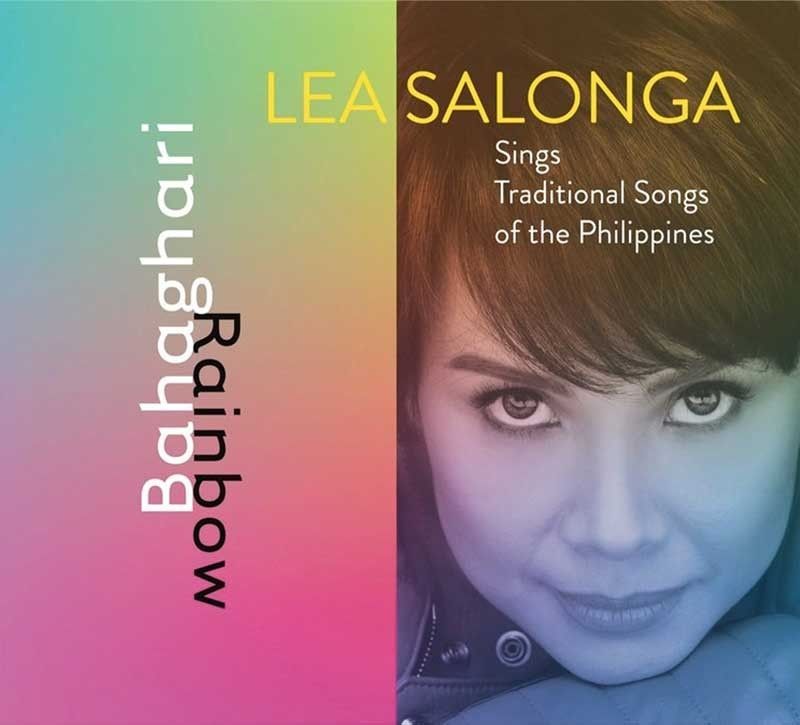 The album is titled Bahaghari, which is Filipino for rainbow. Released locally by Curve Entertainment, Inc., it was produced by National Artist Ryan Cayabyab for GLP Music.
Lea Salonga sings traditional Filipino songs
How nice that Lea Salonga has recorded an album of traditional Filipino music. It is really about time. She has already had a blessed 40 years in show business that have seen her pave the way for the entry of Filipino artists on Broadway and London's West End. So now is a right time for her to take a look at her true musical roots and the result is this noteworthy project.
The album is titled Bahaghari, which is Filipino for rainbow. Released locally by Curve Entertainment, Inc., it was produced by National Artist Ryan Cayabyab for GLP Music. The label is not your usual hitmaking entertainment outfit. Its main goal is to introduce children of all races to world languages and culture through music. GLP record releases are intended to encourage kids to dream and explore a world of music. Not just their own but from everywhere. One excellent example of the kind of work that GLP does is Coloreando featuring Spanish artist Marta Gomez. It won the Latin Grammy for Best Children's Album.
And now it is Lea's turn with Bahaghari. This is where her celebrated voice is heard singing native tunes that we grew up with representing various regions and cultures of the Philippines. These songs are set against simple arrangements with just the basic instruments to encourage children to sing along. Hopefully, their parents, too.
Like it or not, it is a fact that Filipino kids nowadays are more familiar with foreign songs. I do not mean just the likes of Jack and Jill went up the hill but also of the latest by Post Malone or Cardi B. Maybe with Bahaghari, they can be enticed into also singing Bahay Kubo like Lea does. Her rendition, as always is in her famous perfect pitch.
Aside from Bahay Kubo, which unfortunately children have come to know as a "listahan ng gulay," the album also includes the Visayan classics Pobreng Alindahaw and Matud Nila; folk songs like Paruparong Bukid; Tinikling, Atin Cu Pung Singsing from Pampanga; Magtanim Ay Di Biro; the Ilonggo lullaby Ili Ili Tulog Anay; Sarung Banggi from the Bicol Region; Leron Leron Sinta; Pamulinawen of the Ilocos; Si Filemon, Si Filemon; Sitsiritsit Alibangbang; Sampaguita; and Waray Waray.
Bahaghari is now ready for downloading or streaming online. But I hope that Curve makes the physical CD available soon. It is said to come with a booklet containing facts about the songs and would make a very good Christmas gift. It would be very good for our children to sing a Paruparong Bukid or Sitsiritsit Alibangbang once in a while instead of Letting Go.
Again, I say how nice of Lea to do Bahaghari and I hope that it becomes the start of her closer relationship with our native music. Just think, there exists a massive catalogue of classic Filipino songs just waiting to be sung again. And wouldn't it be great if Lea were the one to sing them again now. Songs, unsung and unheard for a long time die, I hope it does not happen to ours.
By the way, the local release of Bahaghari caps what was truly another remarkable year in Lea's career. Remember, she sold out the Plenary Hall of the PICC during her two-night concert celebrating her 40th year in show business. Before that she was in New York performing as Erzulie, the goddess of love in the Tony-winning musicaI and now also Grammy-nominated for Best Theater Show Album, Once On This Island. She also went on a solo concert tour and was a judge in the talent show The Voice.
Lea's 2019 is also pretty much filled up. Her last one was so successful that she is set to go on another long concert tour. Titled The Human Heart Tour, this time around she starts off in Hong Kong and Singapore in February and then continues on to around the UK in March. These shows will be followed by gigs in the US of A and Canada.
Then there is Sweeny Todd. The Stephen Sondheim musical will be part of Atlantis Theatrical's 20th anniversary celebration and Lea is taking on the role of Mrs. Lovett. She is the one who makes the worst, the most shocking, the craziest pies in London and she is one totally unhinged woman. It is an actress' dream role and I am sure that Lea will give a truly fantastic performance. Playdate is in October.