Jake Johnson (left) is the voice of Peter and actor/rapper Shameik Moore (right) is the voice of Miles.
MANILA, Philippines — "Anyone can wear the mask."
That's what Shameik Moore said during the roundtable interview with the cast and filmmakers of the latest Sony Pictures Animation movie Spider-Man: Into the Spider-Verse. That was the same day that the film was named the Best Animated Film of the Year by the New York Film Critics. Since then, the movie has received additional awards and nominations from other critic groups. As of this writing, it has a 100 percent fresh rating on Rotten Tomatoes.
Not a few US critics are hailing this latest entry into the cinematic Spider-Man lore the best ever. This writer is in agreement. This film is short of being a perfect film. It not only makes you rethink who and what Spider-Man is but it also takes you back to the beginning of the mythology only this time Peter Parker hands over the reins to another Brooklyn teenager named Miles Morales. This Spider-Man is beyond fun, it's glorious! From the animation craft to the voice talents to the story to the poignant cameo of creator Stan Lee – this movie has everything!
"We were both really blown away!" actor and comedian Jake Johnson said echoing what the critics are saying. "Our directors and Chris and Phil have done an amazing job. It's funny, it's fresh, and I think the animation is something you've never seen. You get a little taste of the original Peter and Spider-Man, the way you know him, but you also get new blood in Spider-Man with Miles."
Jake is the voice of Peter. Actor and rapper Shameik Moore provides the voice of Miles.
In the movie, Miles suddenly develops mysterious powers that transform him into the one and only Spider-Man after being bitten by a radioactive spider. As the new superhero, Miles just like Peter before him, must now use his newfound superpowers to battle a madman bent on opening portals to the Spider-Verse and pull different versions of Spider-Man into our world.
Shameik, who admitted to not being a big comics geek, was 17 when he first encountered the character of Miles while watching television. He instantly felt a connection to the character. "I saw the character on TV and I looked in the mirror next to me and I felt like someone took a photo of me and animated my face!" he recalled. "He looked just like me! It wasn't that he was black, he was like me!"
Shameik's journey into becoming Miles seems predestined as if the Spider-Verse was already working its magic at the time, so to speak.
He was making an independent movie bound for Sundance when he first saw Miles on TV. When the movie screened at the festival, Chris and Phil, who was casting for Miles at the time, happened to be in the audience. They saw Shameik and today, at 23, he is Miles!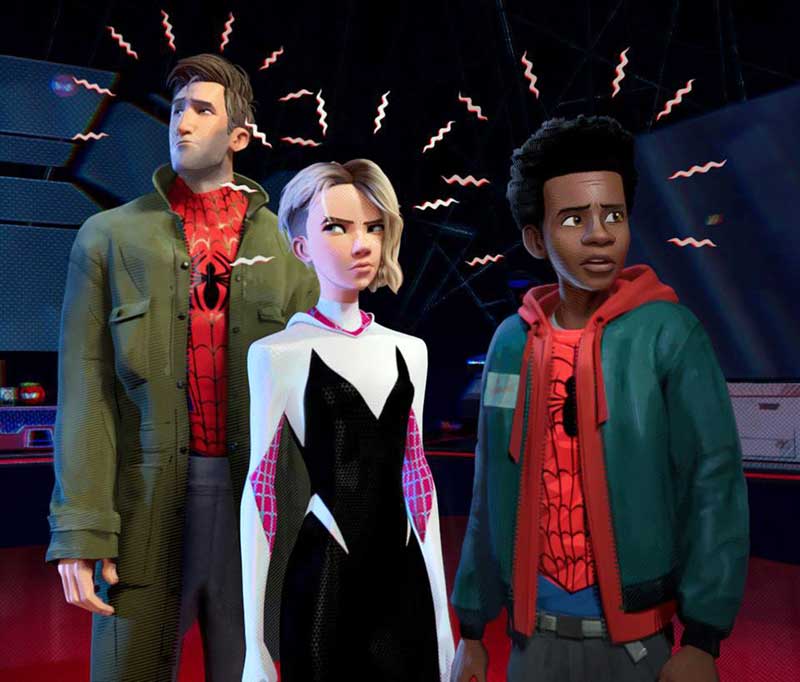 From left: The animated characters of Peter Parker, Gwen Stacy and Miles Morales
Chris Miller and Phil Lord are a filmmaking duo that has produced and directed some of the biggest animated hits in Hollywood. They are also big Spider-Man fans and they, in their words, "were very careful to get Miles' story right."
In casting Shameik, they found the perfect Miles. "He is kind of goofy and awkward but also has a bunch of swagger and that dynamic felt like a really cool way to take Miles. He has this sort of adorably dorky thing and he also is so cool at the same time."
The duo was guided by two key questions when they were developing Miles' origin story. "We felt very responsible for staying as true to what has been established in the books as we possibly could. Why do these stories resonate so well with audiences? Why is this character so popular?"
They spent many years thinking about it until they found their answer in Stan Lee's letters.
"We are all in this together," they said quoting the legend. "He would write those letters to everybody when we were kids reading the books. We felt like he was speaking directly to us when we were 10 and so we wanted to make a movie that spoke directly to the people in the same way."
"The world of Stan is about inclusion and about how we all have something to contribute."
The legendary Stan Lee makes a poignant cameo in the movie and it drew a thunderous applause at the screening. The Spider-Man creator died last month. He was 95.
The scene, which turned into quite a beautiful and memorable tribute was recorded a year before his death. "We came to him and he was really open and game to try just about anything and just happy to be a part of it and was such a positive spirit," Chris said.
Jake and Shameik did not get to meet the legend though but both are thankful they get to play two of the iconic superheroes Stan created.
"I feel really honored to be part of somebody's imagination and I wish he was able to see the final product like everybody else. I am honored to be part of that legacy," Jake said who described his version as "the same Peter Parker that we know. But now he's grown-up a little bit. He's 40-years-old and life has kind of kicked his ass a little bit."
And though he liked playing Peter, Jake told us he wouldn't consider doing a live action Spider-Man no thanks to what he considers to be life-threatening experience doing real stunts alongside Tom Cruise in The Mummy.
"I did three months of stunts with that man. Although that was really fun and really intense, there were really terrifying life moments!"
Shameik, on the other hand, is not ready to give up his character. "I do genuinely think that you get to do more in an animation film but as long as I am young enough to do it and as long as there is an opportunity for it to happen, I plan to attach my face with the name Miles Morales. I don't even have to wear the mask to do the flips and stuff! Anyone can wear the mask."
Spider-Man: Into the Spider-Verse is now showing nationwide.