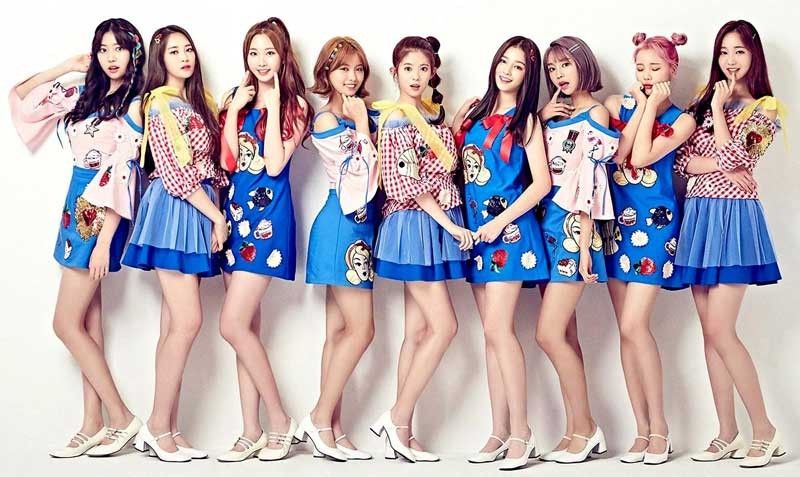 The K-pop girl group was recently signed by Frontrow as its international ambassador
Momoland happy with their Pinoy Merries
MANILA, Philippines — It seems that Pinoy fans will get to see more of their favorite K-pop girl group Momoland as the nine-piece band was recently signed by Frontrow as its international ambassador.
Momoland shot to fame via its hit song Bboom Bboom which has, as of the moment, 284 million views on YouTube.
The catchy song with cute dance steps has become so popular among many Pinoy K-pop and non-K-pop fans and spawned a hundred dance videos on social media.
Momoland was formed by MLD Entertainment through the 2016 reality show Finding Momoland. The show winners became the seven members, Hyebin, Yeonwoo, Jane, Nayun, JooE, Ahin and Nancy. They debuted on Nov. 10, 2016 with the EP Welcome to Momoland. Momoland then added two more members Daisy and Kim Taeha to the group.
Last year, they released their most successful single Bboom Bboom and the rest is history, as they say. They became the first girl group to earn a Platinum certification by Gaon Music Chart, for the over 100 million streams for Bboom Bboom.
The song became a clear favorite, especially among young children, that, according to reports, former Ilocos Sur Gov. Chavit Singson's granddaughter requested for Momoland to perform in the Philippines. Momoland had an exclusive concert for a chosen audience last August at Solaire.
The popularity of Momoland has not dwindled since and just recently Frontrow has signed up the group to become its brand ambassador.
Frontrow president RS Francisco and his business partner Sam Versoza said it was their company's members who personally picked Momoland to be brand ambassadors.
"I asked our Frontrow members who their favorite K-pop girl group is and they said it's Momoland, so we went ahead with our plans to get Momoland as our brand ambassadors," said Francisco.
He added that he was amazed at the girls' professionalism and humility.?
"After a tiring flight, they accommodated us and still had lunch with us, sharing jokes with us. I was telling my friends, I was watching Momoland on YouTube, and seeing them from afar, they're like nine superstars, but as soon as you meet them, you realize they're just normal teenagers who just want to have fun, who love what they're doing and are good at what they're doing, I admire them," Francisco said.
At their recent press conference, Momoland members said they're very happy to be back in Manila. Meanwhile, the ninth member Yeon Woo was not able to join them because of fever.
Daisy said the favorite part of their stay in the Philippines is meeting their fans, who they lovingly call Merries.
"On our second time in the Philippines, we are really happy to meet our 'Merries.' It's not every day that we get to see our fans, and that makes our stay here truly memorable and happy," Daisy said.
Nancy, the youngest of the group and the most popular member, echoed Daisy's sentiment, saying it's always a joy to meet and interact with their Pinoy fans.??
"We missed you guys and really want to meet you in person," said Nancy, a half-Korean, half-American beauty. ??
Francisco said Momoland had a photo shoot for Frontrow and a concert at Tamag Grounds, Vigan City in Ilocos Sur. They will also have a fan meet at Smart Araneta Coliseum on Jan. 25, 2019.