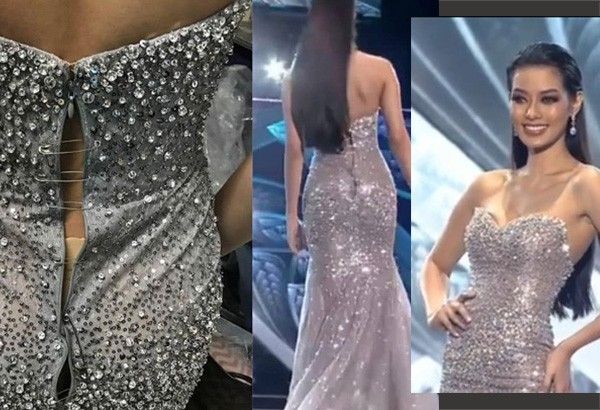 Miss Supranational 2018 top 10 finalist Jehza Huelar suffered from a wardrobe malfunction (left) right after the top 10 finalists were announced.
Instagram/@powerhouseph_, @forthephilippines
Despite wardrobe malfunction, Philippines finishes at Miss Supranational 2018 top 10
MANILA, Philippines — Philippine representative Jehza Huelar finished at the top 10 finalists of Miss Supranational 2018 pageant held in Poland on December 7.
The Davao beauty failed to enter the top 5, but showed grace under pressure when she suffered wardrobe malfunction in the latter part of the pageant. On her Instagram stories, Jehza shared that her gray gown designed by Kannah Besino-Simbulan came undone and had to be closed using safety pins, just right after the top 10 finalists were announced.
Even so, the 24-year-old paraded the dress as if nothing happened.
In the end, Puerto Rico's Valeria Vazquez Latorre won the crown, followed by USA's Katrina Jayne Dimaranan, Poland's Magdalena Bienkowska, Indonesia's Wilda Octaviana Situngkir, and Mexico's Diana Romero.
USA's representative, who won as first runner-up, is Filipino-American Jayne Dimaranan, formerly Binibining Pilipinas Tourism.
Jehza was gunning to become the Philippines' second Miss Supranational titleholder after Mutya Datul won it on 2013.
This year marks the pageant's 10th anniversary, for which past winners, including Datul, had a reunion.
Before getting the opportunity to represent the country in the international competition, Jehza lost twice at the Binibining Pilipinas before winning the Binibining Pilipinas Supranational title last March.
Jehza said that it was her fiancé, Philippine Basketball Association player Peter June Simon, who encouraged her to join in the pageant again after losing twice.