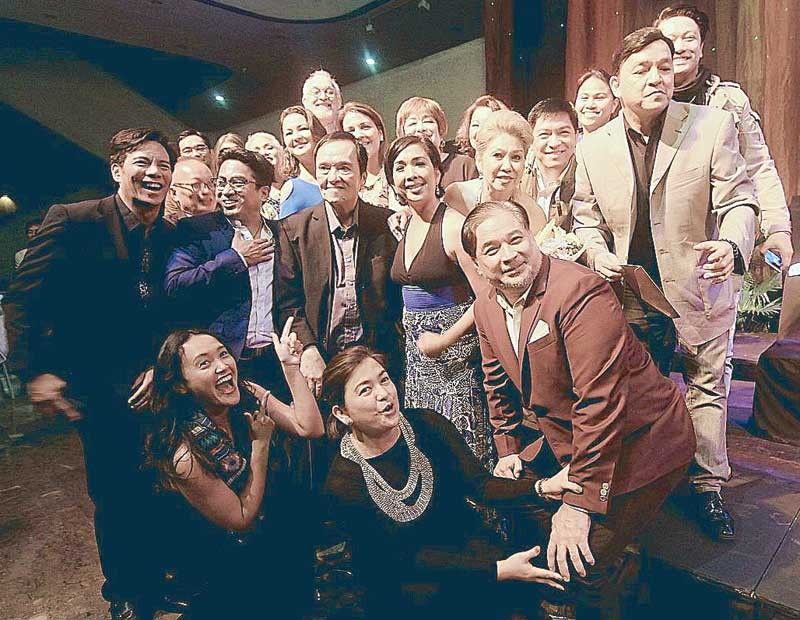 Nestor U. Torre (second row, third from left) in a rare photo at the Dec. 4 concert
MANILA, Philippines — Nestor U. Torre, N. U. T. to many, suffered a stroke last February and has since been confined, away from his 98-year-old mother, Isabel, and family, for his continuous rehabilitation and therapy. Prior to his stroke, Nestor, 77, actively pursued his writing for a daily column on in-depth entertainment news, interviews and commentaries. He complemented his column with classroom teaching, conducting workshops, and writing, directing and producing for stage, film and television. As a multimedia practitioner, Nestor received accolades, countless awards and recognition here and abroad for "raising the bar" for Philippine entertainment journalism and multimedia production.
N.U.T.'s multifarious career dates back to the early '60s when, after finishing his undergraduate studies at the Jesuit-run Xavier University in Cagayan de Oro, he completed his master's degree in journalism, radio and television at the Northwestern University in Illinois in a record 12 months. At age 21, in the mid-'60s, he immediately taught at the University of the Philippines and later on at the Ateneo de Manila University. As a young professor at UP, this " heartthrob" was dubbed "Crush ng Bayan" by this writer, then, a senior scholar in speech and drama.
Onto his protracted career, Nestor touched many lives. Laurice Guillen, Jo Mari Chan, Ed Sicam, Bibsy Carballo, Heidi de Ocampo and Doreen Gamboa Fernandez were students and colleagues in the academe. In the late '60s, he was commissioned by my late husband, television pioneer Pete Roa, to direct ABS-CBN's landmark Two for the Road with Elvira Manahan, Joey Lardizabal and Eddie Mercado. In the late '70s, Nestor co-hosted Two for the Road II with Elvira, Johnny Litton and George Sison. He directed Pete in Sanlinggo, a PTV4 talk show, co-hosted by Gigi Lacson, Rosemarie Gil and Bey Vito. Through the '80s and '90s, Nestor dabbled in directing other awarded television shows.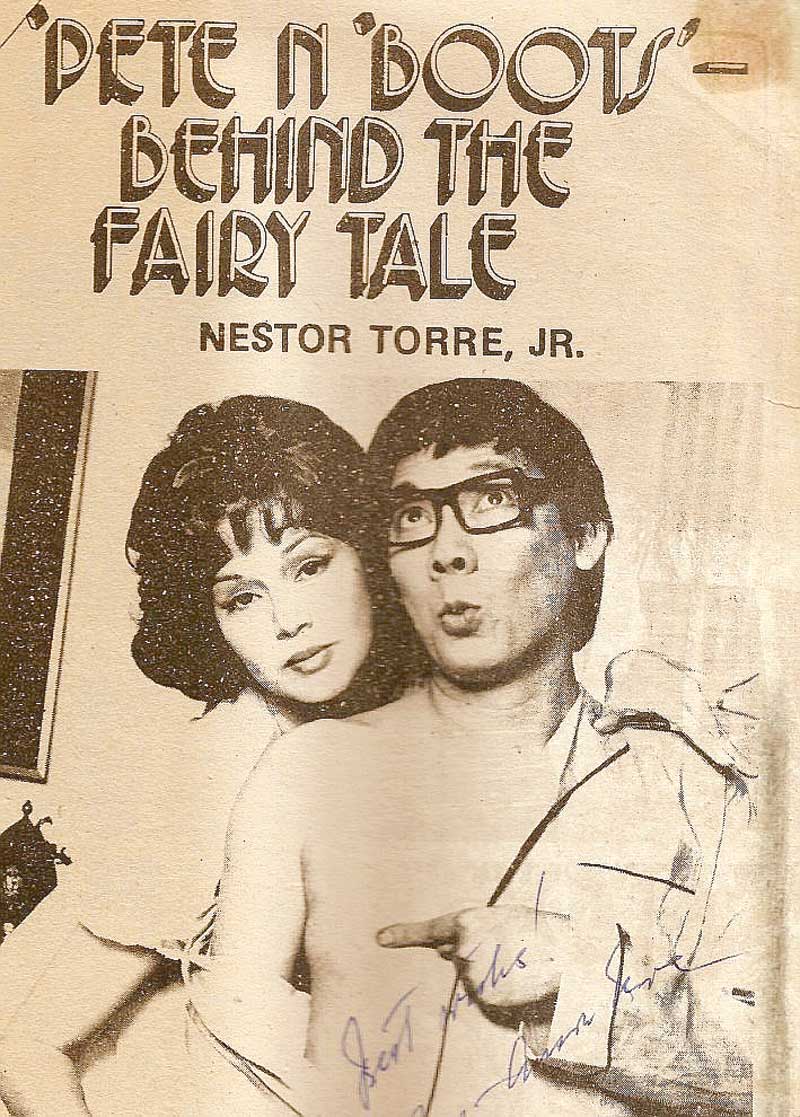 That's me and Pete in my first stage comedy, directed by Nestor
As a film writer and director, Nestor's filmography includes highlights from FPJ, JE (Mayor Joseph Estrada's studio) and Lea Productions.
The theater world benefited from Nestor's talent and dedication as writer and director. Lately, he was sought after for religious musicals like Magnificat, Birhen ng Caysasay, Pope John Paul II's life story and the Padre Pio bio series, produced by Pete's foundation, PRIME, of which Nestor is a board member.
Other stage achievements of Nestor include Katy the Musical, Cory the Musical and the more recent Chinoy Series.
Theater luminaries like Mitch Valdez, Celeste Legaspi, Robert Seña, Isay Alvarez, Dulce, Pinky Marquez, Ricky Davao, Bo Cerrudo, Gian Magdangal, Bobby Martino, Beverly Salviejo, Leo Rialp, Ryan Cayabyab, Rica Arevalo and Rito Asilo lost no time in organizing a tribute-cum-concert on Dec. 4 at the CCP Main Lobby. Pro bono performances were characteristically outstanding and inspired, the latter as a collective paean to their teacher, mentor and patron who evoked the best in them as performing artists, never mind the "unsparing rod" he used on them all in the process of shining their spurs.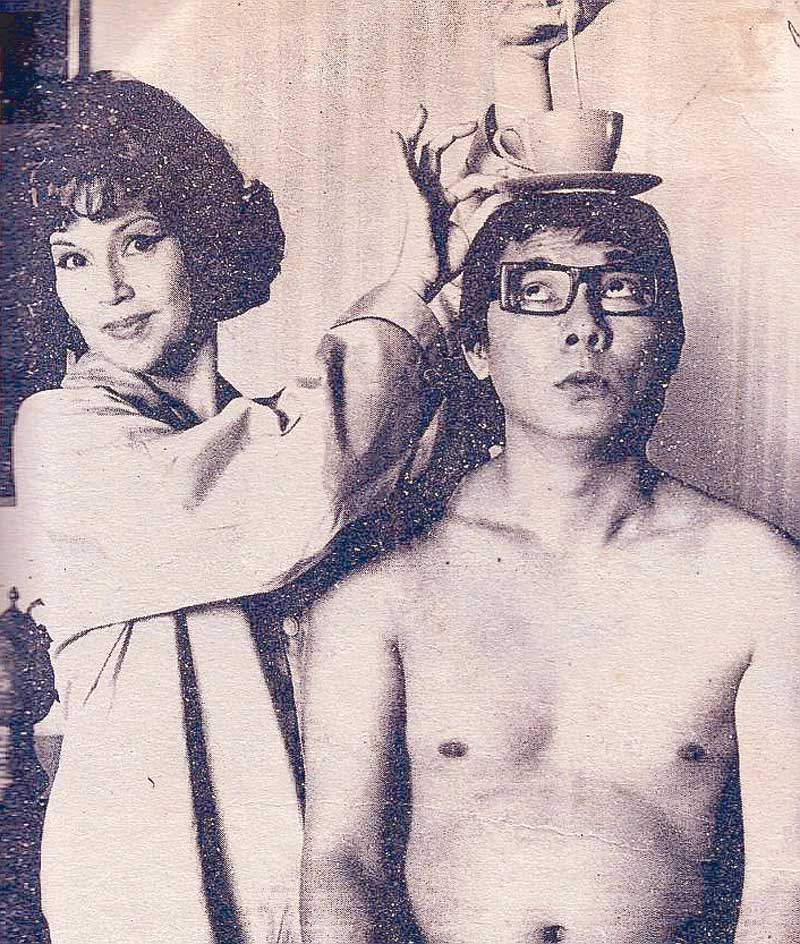 It was a rousing "Thank you" that the celebrated and esteemed artists offered to Nestor at the evening's curtain call. I was an absentee performer due to the death of my mother-in-law. I take this opportunity to echo "Thank you, Nestor" to my erstwhile teacher, mentor, director and friend. I affirm my colleagues' collective expression of gratitude to this man who remains whole despite his temporal brokenness.
Thank you in particular, Nestor for unrelentingly "pushing me to the edge of my thespic limits." You drove me to muster the courage and the resolve to leave my comfort zone and boxed performances in the pursuit of passion and intensity in my craft. Happily, in your honor, I share this photo memento of Pete's and my "daring," "raucous" but heralded performance in my first stage comedy, where I romped on stage in nighties, albeit sleeved and lined. Your rehearsals scared me out of my wits, the performance enervated me… but, on opening night, I made the audience laugh. It won me an award.
Thank you, too, for the lessons in in-depth, thorough and consuming dedication at interviewing for the front page article on my husband King and me a few years back. Having you trekking our daily path for three days in your pursuit of accuracy and human interest was an encumbrance at times, but the resulting article proved that devotion and dedication to one's vocation are fool-proof.
Hurry back to the work scene, Nestor. Again, thank you.