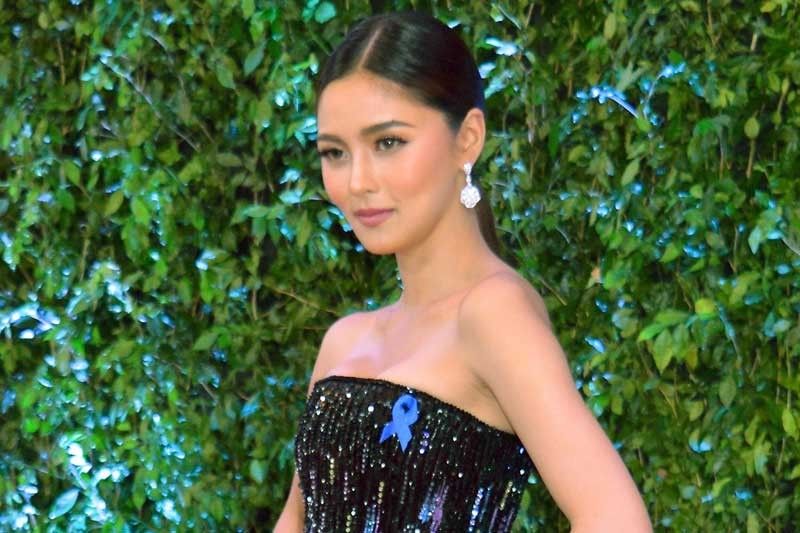 In One Great Love, Regal Entertainment's entry in the 2018 Metro Manila Film Festival (MMFF), Kim takes 'five steps higher' by agreeing to do love scenes with Dennis Trillo and JC de Vera. The girl has indeed turned into a woman.
The Flowering of Kim Chiu
CONVERSATIONS
-
Ricky Lo
(The Philippine Star) - December 9, 2018 - 12:00am
Her pa-tweetums days are over.
"I can't be playing teeny-bopper roles forever," said Kim Chiu. "I have to grow as an actress. After all, I'm already 28."
So in One Great Love, Regal Entertainment's entry in the 2018 Metro Manila Film Festival (MMFF), Kim steps out of her comfort zone and goes daring (that is, by three Kim Chiu standards) by dabbling in not just one, not just two but three sizzling love scenes with her leading men Dennis Trillo and JC de Vera, shot in the bedroom, by the fireplace and at the bathtub of a yacht. Leave it to Eric Quizon, the movie's director, to convince Kim to do them.
The flowering of Kim has begun and she's blossoming beautifully. The girl has turned into a woman.
"It felt like I took five long steps higher doing those scenes because I want to show to the public that I could do it," explained Kim who was typecast in sugary-sweet roles since she topped the PBB (Pinoy Big Brother) years back, picking up a Best Supporting Actress nomination (for All You Need is Pagibig) along the way.
One Great Love (Eric's follow-up to My Two Mommies, his recent Regal hit direction) is described as a hugot-hugot rom-com that tackles love and relationships. Kim plays Zyra Paez, a woman fortunate enough to be with her one great love. Dennis plays Dr. Ian Arcano, a heart doctor who firmly believes in the sanctity of family and keeping it that way. JC plays Carl Mauricio whose turbulent past left him scarred. (Other stars are Eric himself as Zyra's father, Miles Ocampo as Zyra's sister and Marlo Mortel as Miles' free-spirited boyfriend.)
Here's Kim in the "who-what-where-when-how" quiz:
WHO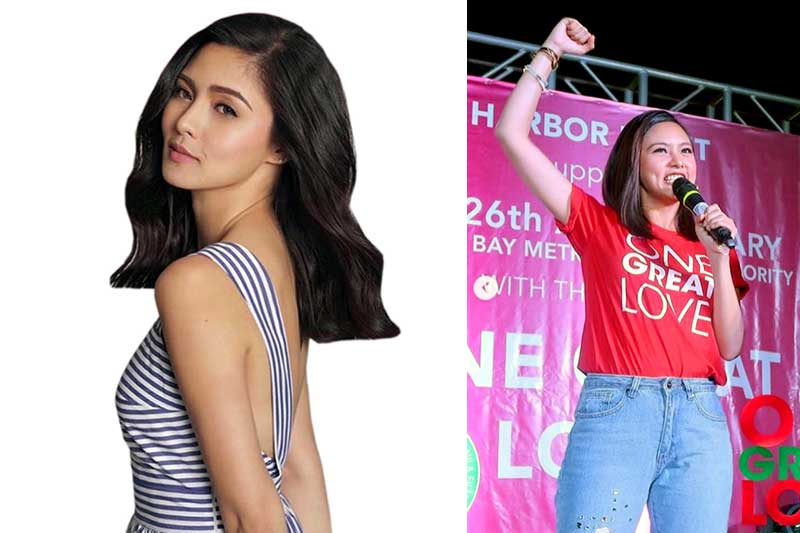 Who makes you happy these days?
"Marami. I'm overflowing with love and happiness."
Who do you turn to when you have problems?
"My Ate (our oldest sister) who acts as my guardian."
Who are the VIPs in your life?
"My siblings. They are the reason why I am working so hard."
Who is your one great love?
"I will answer it by comparing 'true love' and 'great love.' With true love, you compromise with each other para maging perfect ang pagsasama ninyo. With great love, it's something that never fades kahit maraming taon na ang nakakalipas you still feel the same way for him."
Who is your role model?
"In showbiz, it's Judy Ann Santos. Parang patented na ang buhay niya — nag-artista muna, nag-asawa, nanganak at pinagsabay ang career and family."
WHAT
What do you consider your three biggest achievements?
"I realized my dream to be seen on TV…I was able to build a house of our own (because we used to just live with my lola)…and I was able to send my siblings to school."
What's your favorite city?
"Aside from (my native) Cebu which will always be in my heart…yes, London! The city has retained its culture and tradition."
What workout do you do?
"I run, I bike."
What is the best thing about being Kim Chiu?
"That I can make people laugh. I consider that an achievement."
What is the worst thing about being Kim Chiu?
"Laging viral ang mga mali ko — when I sang off key, when I fell onstage. At least, the people are happy when they see that on social media."
WHERE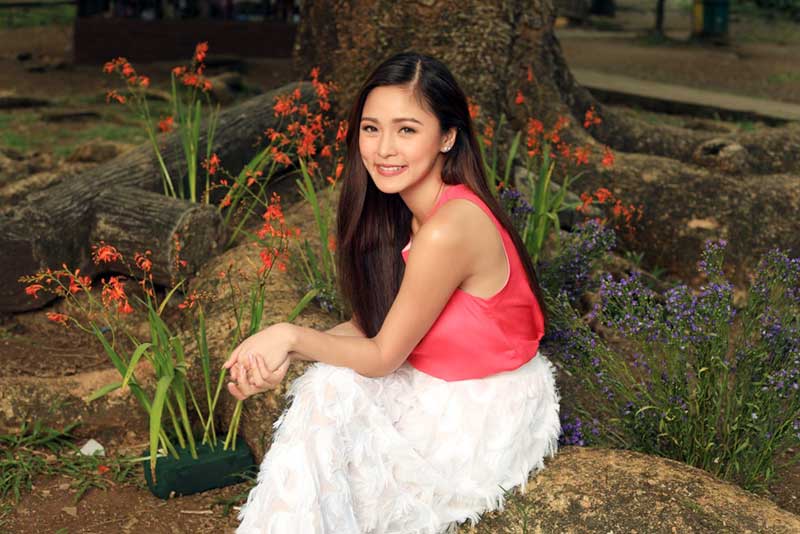 Where are you most comfortable?
"At the gym while sweating. It's relaxing; nakakatanggal ng stress."
Where is your Achilles' heel?
"My private life. It irritates me when they pry into my private life, especially my love life na dapat ikaw lang at ang partner mo ang nakakaalam." (Kim admitted on Tonight with Boy Abunda that she and Xian Lim are going steady.)
Where do you want to settle down, if and when?
"In Canada. My uncle lives there. My brother, a private pilot, lives in Edmonton. My sister, who is a PAL flight stewardess, often goes there. I took a three-week vacation in Canada and I loved it. Parang ayoko nang umuwi, hehehe!!!"
Where do you invest your money?
"In small businesses, franchises."
Where do you go to seek peace of mind?
"I visit the Padre Pio Shrine in Eastwood, Quezon City. I am a St. Padre Pio devotee.
WHEN
When is the best time to get married?
"There is no best time, only the right time. Neither is there a right age. Only the right person, right mindset…dapat sigurado ka."
When are you and Xian getting married?
"We haven't even talked about it! It hasn't even entered our mind."
When are you happiest?
"When I'm rolling in the snow. I can do it more than three hours na walang kasama."
When are you saddest?
"When my mom died. I was devastated."
When did you know that you were rich and famous?
"Rich talaga ha, hehehe!!! Famous? When two or three people recognize me, feeling ko sikat na nga ako."
HOW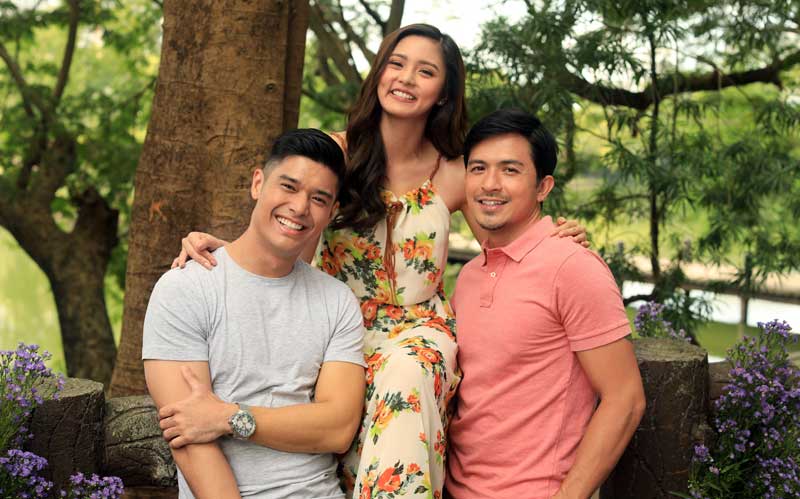 With leading men Dennis and JC: 'My role model is Judy Ann Santos. Parang patented na ang buhay niya. Nag-artista siya, nag-asawa, nagka-anak and then she combines family and career.'
How do you know that you are in love?
"When his text messages make me smile, maski 'Good morning' lang with emoji."
How did Xian react when you said "yes" to him?
"Masaya siya, after all he courted me for two years. I made sure na sigurado na ako."
How was it working with Dennis (who is Kapuso while JC is Kapamilya like Kim)?
"At first kinabahan ako, especially during our love scene. I never thought I would be working with him because we are from (rival) networks."
How did you cope with a broken heart? (During the presscon, Kim admitted that another actor broke her heart. You know who he was, don't you? His initials are GA.)
"If he's not for you, don't push it. Let go."
How did you let go?
"Iniyak ko na lang, then smile-smile lang."
(E-mail reactions at rickylophilstar@gmail.com. For more updates, photos and videos, visit www.philstar.com/funfare or follow me on Instagram @therealrickylo.)