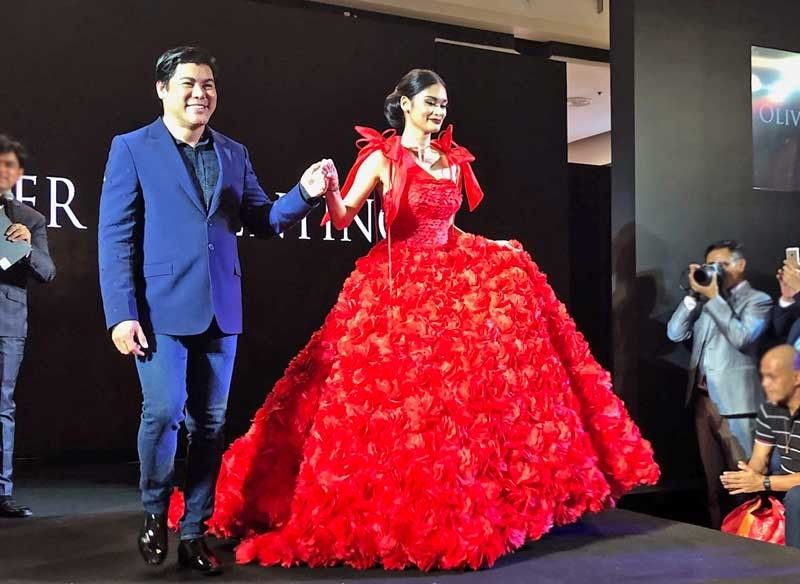 Designer Oliver Tolentino with Pia Wurtzbach in the red OT gown as nod to the one she wore during the 2015 Miss Universe preliminaries
Photos by Oliver Tolentino's Team A Caruthrers
Pia, Oliver shine at Thai Silk Int'l Fashion Week
FUNFARE
-
Ricky Lo
(The Philippine Star) - December 7, 2018 - 12:00am
It took two to wow 'em.
Pia Wurtzbach and Oliver Tolentino shone last weekend in Bangkok at two high-profile events. As Funfare reported, Oliver was invited by the kingdom to present creations made from Thai silk at the 8th Celebration of Thai Silk kick-off gala and at the 1st Thai Silk International Fashion Week. Oliver worked with silk sent from Queen Sirikit's own factory. Thailand flew Pia in as a special guest to walk exclusively for Oliver. Legendary show designer Jimmy Choo and Air Asia's founder/owner Tony Fernandes were honorees. Choo created custom silk shoes for the queen for the event.
Oliver and Pia first represented the country last Dec. 1 in front of the Thai Prime Minister Prayut Chan-o-Cha, members of the Royal Family and 1,000 diplomats and VIP guests at the Centara Grand Ballroom. Past Miss Universe bets from 30 countries walked the runway in Thai silk creations by their country's respective designers. Pia was the only former title-holder and she was featured as the finale.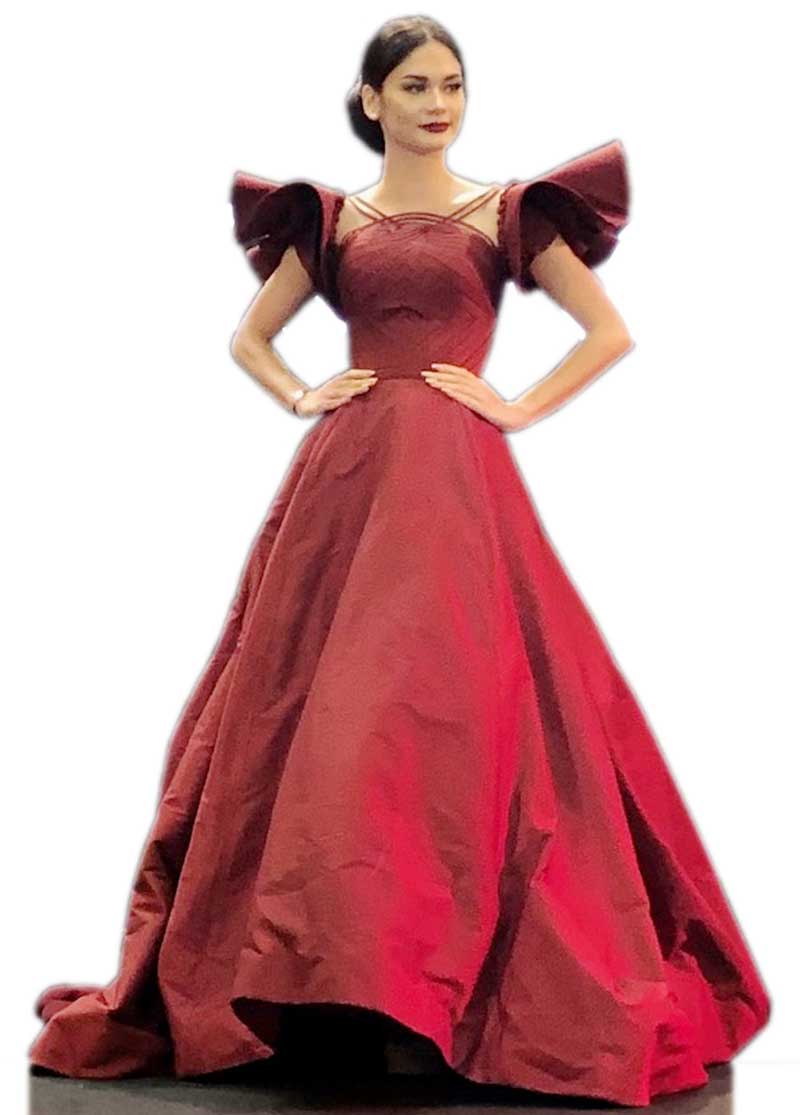 2015 Miss Universe preliminaries and in another maroon OT, both during the First Thai Silk International Fashion Week…
"Pia owned the stage and showed the Thai and international audience why she won the (Miss U) crown," said Oliver who created a light blue Thai silk mermaid gown for her accented with side bows at the shoulder and hip. At an earlier reception, Pia greeted Thais, including Minister of Tourism Weerasak Kowsurat, in Oliver's blue pencil-cut cocktail dress with ruffled bolero.
Also at the Dec. 1 event, Oliver escorted down the runway Philippine Ambassador Mary Jo Bernardo Aragon in a lavender Thai silk OT gown embellished down the sides. The gala event was in honor of Queen Sirikit whose mission is to promote the silk industry to the world.
On Dec. 2, Oliver presented a 50-piece collection at the first-ever Thai Silk International Fashion Week held in CentralWorld. Oliver made 20 outfits with Thai silk, followed by 30 pieces made with non-Thai silk fabric, including some with piña fabric.
Oliver's collection was the largest presented by any designer during the week and the show attracted the largest crowd with so many of Pia's fans coming out to cheer her on. After the show, Oliver and Pia greeted press and well-wishers but the crowd became so large that a diversion had to be created in order to sneak Pia out.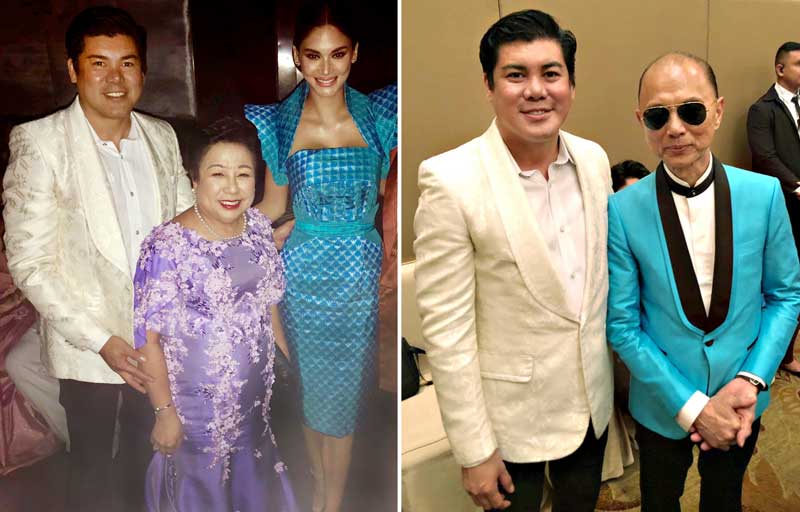 …with Philippine Ambassador to Thailand Mary Jo Bernardo Aragon also in an Oliver Tolentino at the 8th celebration of Thai Silk gala and (right) Oliver with Jimmy Choo at the same event.
During the Dec. 2 event, Pia walked three times, opening and closing the show. Her opener was a maroon Thai silk gown with ruffled sleeves and a mirrored stripped neckline. A beautifully intricate yellow mermaid gown followed, a nod to the Thai royal color and featuring a solid hand-draped bodice, shoulders with bow accents, and skirt with multi-colored floral cutouts.
The last gown was a voluminous red ball gown with a skirt full of 5,000 cutout flowers. The color red was a nod to the Miss Universe gown Pia wore in the preliminaries. In fact, after the show, Pia told reporters she wouldn't have won the crown if Oliver hadn't supplied her with gowns the day before the preliminaries. So nice that Pia still appreciates Oliver's efforts to help her win.
Oliver just arrived from Bangkok to work in his Makati boutique for a week before returning to his boutique in Beverly Hills, California.
Another Pinoy wins Eurofest singing tilt in Berlin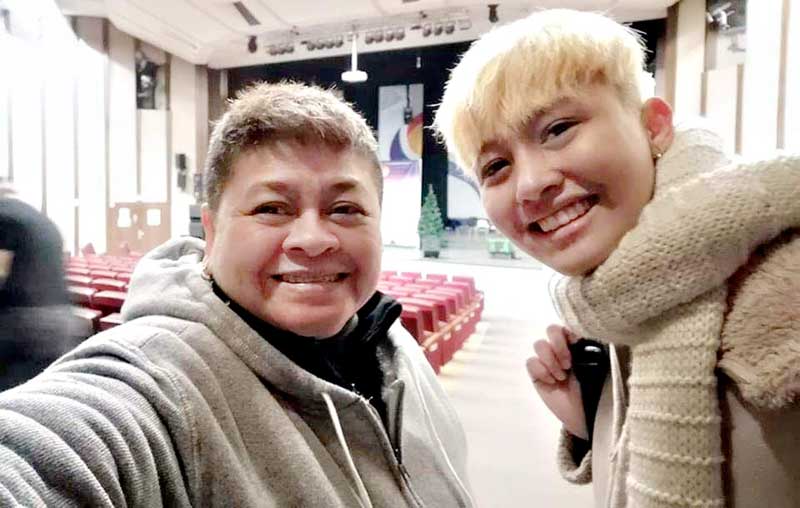 Jay Kent (right) and Charie Vega, managing director of Vega Entertainment
The Philippines has made its mark in Berlin, Germany again. The one and only Filipino and Asian delegate, Jay Kent, competed against 19 European countries at the 2018 Euro Pop Singing Contest, Berliner Perle held in Berlin, Germany last Nov. 25. Kent won the audience's heart with her original song Infinity, the same song that earned her the Grand Prix in the competition.
This 17 year old from Angeles City, Pampanga, is a singer/songwriter to watch for. She joined the same competition in 2016 with no experience at all and placed fifth. After two years of thorough vocal training and professional experience, she decided to join the same competition again under Vega Entertainment Productions' Euro Talent Festival (ETF). Vega is the official partner of six European talent competitions — Euro Pop Contest in Berlin, Arpeggio International in Malta, Stars of the Albion in London, Star Raine in Prague, Aire Nuevo in Spain and Trixie International in Bulgaria.
It was not the first time the Philippines joined the said competition. The last time was in 2015 at the Euro Pop Singing Contest when Ryan Tamondong bagged the Grand Prix. Tamondong is now a Star Music Recording Artist.
(E-mail reactions at rickylophilstar@gmail.com. For more updates, photos and videos, visit www.philstar.com/funfare or follow me on Instagram @therealrickylo.)