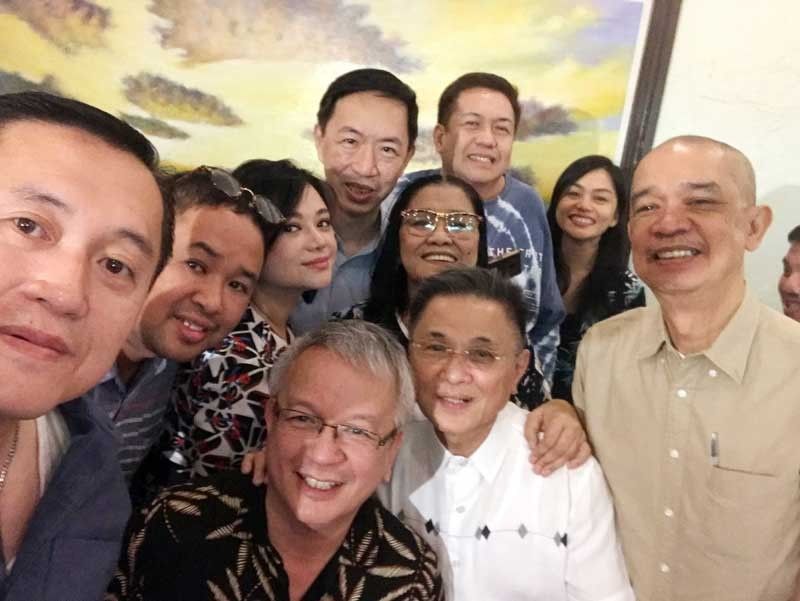 As requested, senatoriable Bong Go obliged movie writers with a 'groupie' with he himself clicking the cellphone camera during a lunch chit-chat at Annabel's restaurant. Among those in photo are (from left) Roldan Castro, Tessa Mauricio-Arriola, Mario Dumaual, Wilson Lee Flores, Lolit Solis, Gorgy Rula, Your Funfarer, Dinah Venture and Nestor Cuartero
Bong Go traces his showbiz connection
FUNFARE
-
Ricky Lo
(The Philippine Star) - December 6, 2018 - 12:00am
Just call him "janitor" – that is, for the time being, pending the outcome of the May 2019 midterms in which he's running for senator.
"I don't want to be 'assuming'," Bong Go begged off when addressed as "Senator Bong" during a lunch chit-chat at Annabel's restaurant the other day.
Because it was his first close encounters with movie writers, "Janitor Bong" kicked off the Q&A by tracing his showbiz connection dating back to Davao City where he recalled frequently watching Filipino movies from wooden seats in a moviehouse filled with smoke ("No Smoking" wasn't enforced yet at that time).
"I was six years old," Bong reminisced. "My friends and I didn't want to miss anything in the movie we were watching so we just peed on the floor instead of going to the restroom."
His favorites were action flicks starring FPJ, Philip Salvador and Lito Lapid.
"How time flies," mused Bong. "Today, wow 'yang mga idols ko nakakasama at nakakausap ko na," especially Philip who, aside from Robin Padilla, is the actor closest to Pres. DU30. "After the movie, my friends and I would rush to the printing press owned by our family at doon ginagaya namin ang mga barilan sa pelikula. In a scene from his movie, I remember Lito having only one bullet left in his gun and he had two people to kill. Pareho niyang tinamaan."
Christopher Lawrence "Bong" Go, 43, graduated with an AB Management degree from De La Salle University. Until he filed his COC (Certifcate Of Candidacy) in October, Bong served as Presidential Assistant to Pres. DU30 whom he has known since time immemorial, starting when the President was mayor of Davao City. It was during the 2016 presidential campaign that Bong entered the public consciousness as, as he was to become known, a Pambansang Photo Bomber because he was always photographed behind the President.
It was his closeness to the President that gave Bong the enviable (rare) opportunity to have "selfies" with dignitaries, heads of state and other world celebrities, prompting the public to call him Selfie King, a "title" that simply amuses him and that qualifies him to have a spot in The Guinness Book of Records. Name the head of state and Bong has had "selfie" with him, from Trump to Trudeau to Putin, et al. Sometimes, it's the honorable subjects themselves who would click the cellphone camera, although Bong would rather that he does it himself.
His selfies have become so popular that somebody created a Facebook account about them, with the followers superimposing Bong's face on their group pictures.
"Maski may nag-susuntukan sa background, nilalagay nila ang mukha ko sa harap," laughed Bong, not at all offended, nodding it off as "part of the social-media age."
To cap the chit-chat, the movie writers (some of them anyway) gathered behind "Janitor Bong" for a "groupie," with Bong himself clicking the cellphone camera.
He clicked…and how!!!
Eerie world premiere at SIFF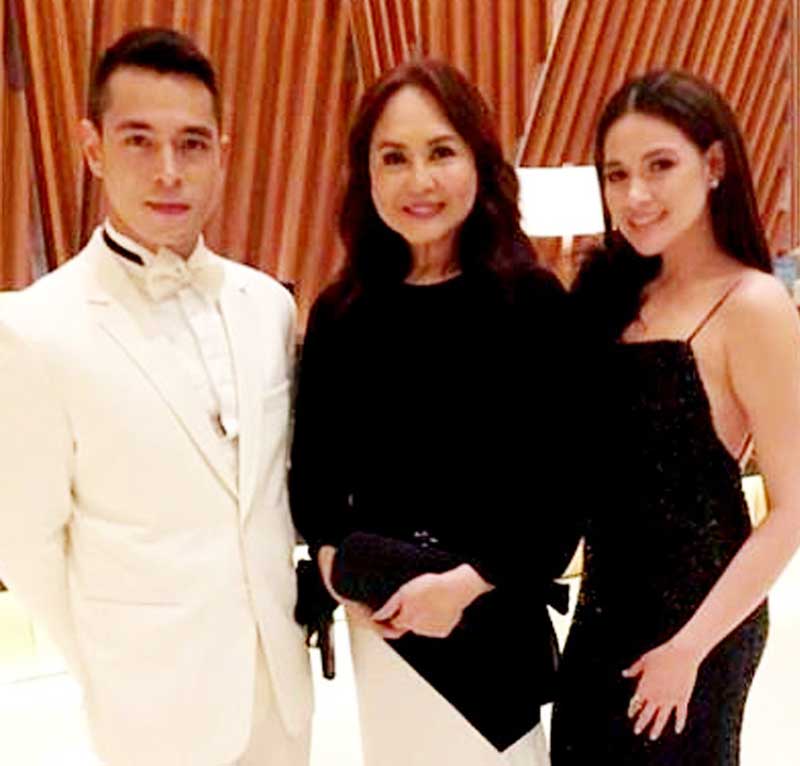 Eerie stars Jake Cuenca, Charo Santos-Concio and Bea Alonzo during the movie's world premiere at the Singapore International Film Festival (SIFF) – Photo by Michael Red
Eerie was as one of the three films featured in the Festival Opening and Special Presentation Program last Dec. 3 together with Cities of Last Things + Kingdom by Ho Wi Ding and Tan Wei Keong (Taiwan, China, USA, France, Singapore), and Dear Ex by Mag Hsu and Hsu Chih-yen (Taiwan).
Present at the world premiere were the men and women behind Eerie including director Mikhail Red; the stars Charo Santos-Concio, Bea Alonzo and Jake Cuenca; and producers Malou Santos, Micah Tadena and Chan Gin Kai. (Maxene Magalona is also in the cast.)
Set in 1995, the religious-horror-mystery thriller is the story of clairvoyant guidance counselor Pat Consolacion, (played by Bea) and Mother Alice or Mother Superior (Charo) who investigate a murder in St. Lucia Convent, a Catholic school where the only witness is the ghost of a suicide victim. The screenplay was co-written by Mikhail, Mariah Reodica, Rae Red and Cheska Marfori.
FDCP Chair Liza Diño-Seguerra is attending the festival (until Dec. 9) in support of the participating Philippine films showcased in the "SIFF Celebrates Philippine Cinema Program," including Ang Panahon ng Halimaw by Lav Diaz, Dapol Tan Payawar na Tayug 1931 by Christopher Gozum, Nervous Translation by Shireen Seno, Baga't Diri Tuhay Ta't Pamahungpahung by Carlo Francisco Manatad, Manila is Full of Men Named Boy by Andrew Stephen Lee, Wag Mo 'Kong Kausapin by Josef Gacutan and Judgement by Raymund Ribay Gutierrez. – Reported by Celso de Guzman Caparas
* * *
Jose Mari performs in concert for the love of St. Padre Pio

Jose Mari Chan stars in Going Home to Christmas, a fundraising concert for the completion of the construction of St. Padre Pio Parish Church in Parañaque City
The construction of a new St. Padre Pio Parish Church is being completed in Severina Subdivision, Brgy. Marcelo Green, Paranaque City. To raise additional funds, the parish has lined up various events including a special concert topbilled by Jose Mari Chan.
Titled Jose Mari Chan: Going Home To Christmas, the concert is slated on Dec. 15, Saturday, 7:30 p.m. at the St. Padre Pio Church located on Garnet Street, Severina Subdivison, Km. 18 West Service Road, Parañaque City. The show is also a treat to all devotees of St. Padre Pio, also known as Pio of Pietrelcina, a the stigmatist friar both beatified (1999) and canonized (2002) by Pope John Paul II.
When finished, the church can comfortably seat at least 600 persons and will service the pastoral needs of about 23,000 parishioners. It aims to be declared a Diocesian Shrine. Rev. Father Marcelo Arturo Morota is the parish priest.
(Those interested to watch the concert may get in touch with fund-raising head Nenita Ayon at 0917-8349300 or deposit your donations to Bank of the Philippine Islands with account name RCBP – St. Pius of Pietrelcina Padre Pio Parish [Construction], Philippine Peso checking account no. 8241-0056-16, US Dollar savings account no. 8244-0158-41, swift code BOPIPHMM.