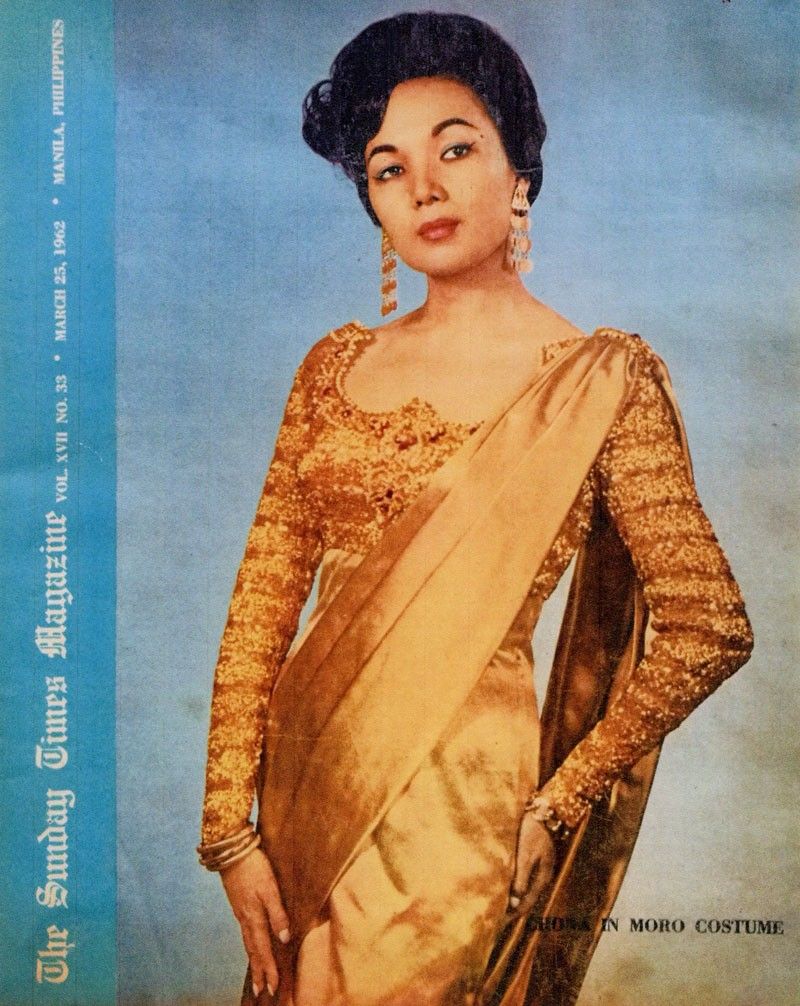 Chona Kasten in a Muslim costume on the cover of The Sunday Times Magazine (March 15, 1962)
Valera's 12 'pet theories'
REMEMBER WHEN?
-
Danny Dolor
(The Philippine Star) - December 2, 2018 - 12:00am
The country's unequalled designer, Ramon Valera, decades ago came up with 12 fashion 'pet theories,' as called by a magazine writer. His words remain relevant to this very day.
Valera, who this columnist had the honor and pleasure of knowing quite well, is to date the only designer to be named National Artist.
Modesty aside, this columnist, together with family members and friends, worked for his elevation to the pantheon of National Artists.
Valera dressed the most famous women of the country, among them, Gloria Romero, Elvira Manahan and Chona Kasten. Here are his 12 fashion 'pet theories.':
1. White is my favorite color. I use it quite often in my designs. From that color, I found it a cinch to work with other colors.
2. My very own personal favorite color combination is cocoa and black. But there are only very few fair ladies around town who can get away with it.
3. What a dull practice many women have of matching everything from dress to handkerchief to shoes and bags! This is utterly unimaginative. It is the safest and easiest way out.
4. It is always more challenging to play up a contrast of the right colors. To do this, women would need more tasteful planning of their wardrobes — but majority lack the right taste.
5. Abbreviated hemlines? It depends upon the kind of legs you have.
6. The Jackie Kennedy look is lovely — on Jackie Kennedy. But look at the society page and what do you see but a school of women in uniform: The same so-called fly-away hairdo, the close rounded neckline, beads and the loosely-fitted jacket. Que horror!
7. The young are usually careless — fashion-wise. That's why I don't generally cater to the young. Their needs and demands are not as challenging as those of the mature women. You can dress up the young in rags and they'd still look all right. I like the challenge of the bulge and the sagging flesh.
8. I like to dress women who are extremely meticulous and who have an eye for the well-made dress. I want them to fuss over the correct fit and the right hand. I feel I improve my art with every challenge met.
9. It allows that money has a lot to do with good dressing. To get the best clothes, you need money. Those who don't have it, will naturally settle for second best. And who wants to be second best?
10. But even if one had all the money, a woman must go slow in ordering dresses by the dozens. Fashion is so fickle. A closetful of useless dresses is a fault of the nouveau riche. The true aristocrats know how to order moderately.
11. Of course, I do not discount the possibility that a woman may look chic and smart in an inexpensive dress. But she will not be capable of a steady ritual of tasteful dressing.
12. I hate plastic. It is unthinkable for a well-dressed woman to be sporting the glaring shine of a plastic bag. — RKC