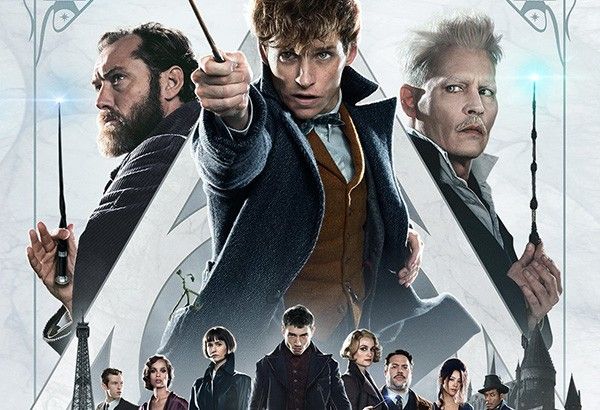 "Fantastic Beasts, the Crimes of Grindelwald" is the second chapter to "Fantastic Beasts and Where to Find Them"
SM Cinema/Released
5 reasons why 'Fantastic Beasts' is next best thing to 'Harry Potter'
Seph Asong
(Philstar.com) - November 19, 2018 - 1:53pm
MANILA, Philippines — Five years after one of the best-selling novel series of all time, "Harry Potter and the Deathly Hallows part 2" concluded on the big screen in 2011, United Kingdom's best-selling living author J.K. Rowling is back to bring us another heart-stopping adventure from the Wizarding World, this time, a spinoff of what is equally interesting as the Harry Potter franchise.
"Fantastic Beasts, the Crimes of Grindelwald" is the second chapter to "Fantastic Beasts and Where to Find Them," which debuted two years ago. The sequel picks up some six months after the events of the first "Fantastic Beasts" movie, in the year 1927, when Great Britain was just recovering from the first World War.
The story immediately opens with Dark Wizard Gellert Grindelwald (played by Academy Award-winning actor Johnny Depp) escaping the Macusa custody while he is being transported to Europe. Grindelwald is obsessed in finding Credence Barebone (played by Ezra Miller) as he believes that the young wizard is key to his quest in exposing magic to muggles and use it to rule them.
The second chapter promises more action-packed scenes, surely leaving you breathless at the edge of your seat. But apart from magic spells and new beastly creatures which Newt Scamander (played by Eddie Redmayne) seem to be so fond of, there are plenty of moments of wonder, delight and mysteries that are pivotal to the whole franchise. Here are five reasons why "Fantastic Beasts: The Crimes of Grindelwald" is a must-watch.

Grindelwald is possibly more dangerous than Voldermort
In this new saga of "Fantastic Beasts," the story will give a substantial focus on Grindelwald, whom later on, will be revealed as someone who has strong connections with Albus Dumbledore.
In J.K Rowling's HP series, Voldermort is considered the evilest Dark Wizard to have ever walked on earth. In retrospect, Grindelwald is not as cruel or evil as Voldermort. On the aspect of who is more powerful, well, that is highly debatable. Nonetheless, what makes him an interesting character is that he is probably more dangerous than the dark lord. Grindelwald is cunning and he attacks his opponents at their lowest point. Moreover, his relationship with one of the most powerful wizards of all time—Albus Dumbledore—is shrouded in secrecy.
The young Dumbledore creates an exciting prequel to the 'Harry Potter' franchise
One of the most fascinating and an all time favorite character in the Harry Potter franchise is Albus Dumbledore. In the original books, he is known as the unequivocal good guy, and Hogwart's headmaster, and probably the only wizard which Voldermort is afraid of.
In "The Crimes of Grindelwald," Dumbledore is played by British actor Jude Law who has given the character a sense of depth and complexity. And although the history between Grindelwald and Dumbledore has been told in the books, this would be the first time that the whole story will be revealed.
Ezra Miller's comeback movie to the big screen
After taking on the iconic role of The Flash in DC's "Justice League" last year, the 26-year old actor and singer is back, and this time, has taken such a big role that in one interview, he kept saying that the whole thing is still blowing his mind.
For those who have already seen the movie, the ending might have been a real shocker to all Harry Potter fans when Credence Barebone's character was finally brought into conclusion. It becomes clear that his remarkable power and the ability to live with an obscurus much longer than anyone in the history means he is someone very special. And the obvious reason was that he is related to one of the most powerful families. Credence is a "Dumbledore," and the only question that is left unanswered is, who his parents are.
The dark origin of Nagini
In "The Crimes of Grindelwald," another interesting character was introduced. The movie shows Credence involved with a mysterious witch (played by Claudia Kim) known to be a "Maledictus," someone who suffers from a blood curse that turns them into a beast. Later on in the movie, the said witch was revealed to be Nagini, whom in the Harry Potter series was known as the beloved and ultimate death eater of Voldermort.
Despite the revelation of her character, some questions were still left in the dark. For one, how did Nagini end up in Voldermort's hands? And since Nagini was a Voldermort loyalist, it would stand to reason she would follow Grindelwald as well, since both dark wizards seem to be aligned when it comes to their never-ending crusade for Muggle domination. But it turns out, at the end of the movie, that Nagini was not so enthused by wizards and witches who were into global domination of all things non-pure blood magic.
Johnny Depp has proven his creative genius again
Did you know that J.K Rowling has personally asked the actor to play the role? After countless meetings and persuasions, the actor has finally agreed to do the part. One of the biggest reasons for him to say yes was the fact that Rowling took it upon herself to give full creative freedom to Depp in terms of how he is going to portray the character, something the actor did not expect since Rowling is known to be very meticulous when it comes to film characterization.
As such, Depp played the character based on his own understanding. In fact, in one interview, Depp mentioned that Grindelwald's creepy eyes were a character choice. He sees Grindelwald as two people in one body, so a gamey eye is more like the other side of him. Time and time gain, Depp has proven his creative genius when it comes to bringing characters to life, and fans cannot wait as he takes the character deeper in the coming series.
"Fantastic Beasts: The Crimes of Grindelwald" is directed by David Yates and is the second installment to the "Fantastic Beasts" film series produced by Warner Bros., now being shown in all major cinemas nationwide.
"Fantastic Beasts: The Crimes of Grindelwald" has been digitally remastered for the IMAX Experience with proprietary IMAX DMR (Digital Re-mastering) technology that delivers high-quality audiovisuals. Catch Warner Bros. Pictures' "Fantastic Beasts: The Crimes of Grindelwald" at any SM Cinema branch, Director's Club Cinema and IMAX theater.