Martin: Rico J. is the original Concert King
November 15, 2018 | 12:00am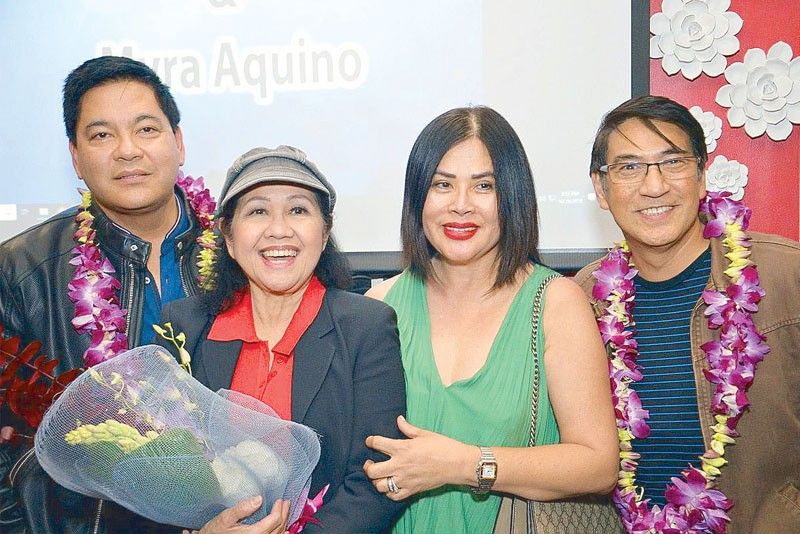 MANILA, Philippines — Concert King Martin Nievera paid tribute to Total Entertainer Rico J. Puno at the Los Angeles press conference for his Nov. 2 concert with Louie Reyes and Jet Montelibano at the Alex Theater in Glendale.
"I used to say before, but no one really took me seriously, about Rico J. Puno, that he is the original Concert King of the Philippines," Martin said. "He earned it, he had great communication skills with the audience. Whether he was green or not green, he had his way of making people swoon, jump to their feet and scream. That, for me, is a true performer."
He added that he would miss Rico J., who passed away early Tuesday morning (L.A. time). "I wish that younger singers saw him during his prime when he was all over that stage and all over someone in the audience. These are all part and parcel of entertainment and he had every single facet that you can think of to become a total entertainer. We don't have that anymore. I don't know anyone who has all of those traits in one singer."
Martin has been on tour of the US for the past month. Just prior to his L.A. stop, he held a show in Arkansas, a first for him in a US red state. His last show will be in San Diego.
Two weeks ago, The STAR broke the story of Pops Fernandez, his ex-wife, joining the cast of the new US reality show called The World's Best.
"It is a big secret although Ricky Lo revealed it already. How does he do that? How does Ricky Lo know all these things?" Martin joked. Unofficially, he was supposed to be in the running but conflicts with his schedule got in the way.
"I am going to make a prediction right now that what Pops is doing here will make you all very, very proud — not just of her but of the Philippines. And, when we can talk about it, I think you will all be very, very shocked to see what she's done to make you all proud."
Pops and Martin have two sons together. Robin and Ram. During the press conference, Martin shared with us how proud he is of both his sons with Pops and his third son, Santino, who just turned 12.
"The ultimate Christmas wish is to live long enough to see my children realize their every dream," he replied when this writer asked what his wish is this season. "I am proud of all my three sons!"
His son, Robin, is also a musician although "he has made it a career to not sound like me and not sound like his mother," Martin joked. Ram is an animator whose goal is to work at Pixar. Santino is a budding drummer. "He could play the drums and sing, all at the same time!"
Martin has a talk show on ANC called LSS (Long Story Short) and one of the upcoming episodes will feature an interview with Pops. He shared with us one of the questions he asked Pops that fans of the former couple would surely want to know the answer of.
"One of the questions I had to ask her was, 'What was it like raising two boys as a single parent?' Can you imagine, me, who made her the single parent is asking her about what it's like to raise two children as a single parent?"
Although Martin did not elaborate on how Pops responded, he praised how Pops brought up their two children.
"The credit goes to Pops the way she raised those two boys. She never badmouthed me to my children and I think that's a credit to the women who can really do that without any bitterness. She never did.
"I think the joy that we both have is that they excel on their own, they shine on their own," he added. "They don't feel entitled to the fame and fortune that we supposedly have as the Concert King, the Concert Queen."
Martin described himself as "the delinquent father, the not-there-every-time-I-need-him" father and yet they accept me with open arms. I am the luckiest dad in the world really."
In March this year, Martin's own father, Timeless Balladeer Bert Nievera, passed away at the age of 81.
"One of my biggest Christmas wishes was to have him come to the Solaire in the Philippines and we do a tribute for him," he said. "That was my dream and I am sure, Dad, deep down inside, he wanted that also. Maybe I can still do it with the help of my children and my friends in the industry."
Before the press conference ended, Martin shared a beautiful story of how his late father would perform at nursing homes even in his old age.
"He would carry his own sound system and just sing for free, for nothing. I want people to always remember that Dad was the most generous singer of them all."