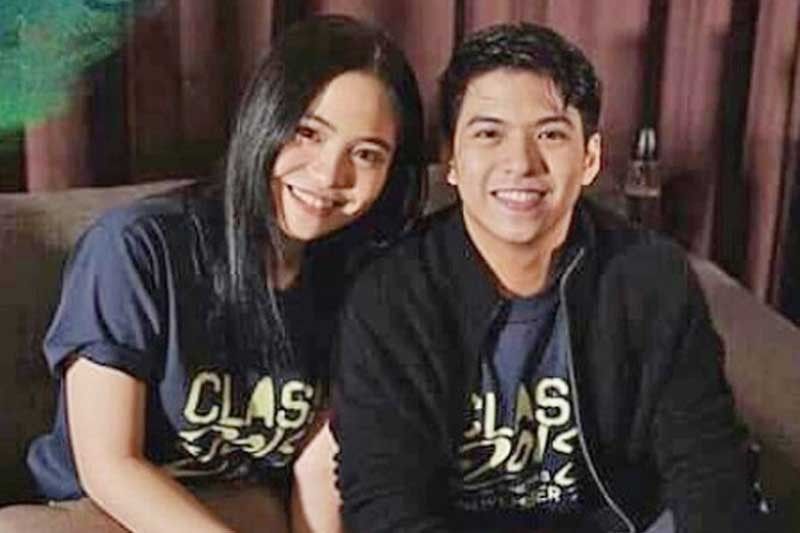 Former Goin' Bulilit stars Nash Aguas and Sharlene San Pedro — NashLene to fans — star in the teen horror-thriller Class of 2018.
Nash: Sharlene is stronger than me
(The Philippine Star) - October 27, 2018 - 12:00am
MANILA, Philippines — There's something about starring in the same show since you were that high that makes you crack jokes, rib each other and defend one another till kingdom come.
That's how former Goin' Bulilit stars Nash Aguas and Sharlene San Pedro — NashLene to fans — treat each other.
Nash calls Sharlene his spokesperson, the one who stands up and defends him when bullies mess up with him.
"She has a stronger personality compared to me," Nash admits.
Sharlene, a year younger than her 20-year-old co-star in the teen horror-thriller Class of 2018, knows he's courting Mika dela Cruz, and is encouraging him all the way.
Nash tells Sharlene that she looks good in the white sando that exposed her bare arms and hugged her figure in a scene from Class of 2018, and in the poster for the film. And all her fears about not being sexy enough disappear.
"She feels conscious because she's not used to wearing these things," Nash explains.
The two draw strength from each other the way close friends do.
They have also adjusted their perception of each other, and realize they're no longer little chidren who loved to play on the Goin' Buliit set.
"Ang laki mo na!" he joined the chorus of voices that greeted Sharlene when she showed up in her sando.
But unlike Nash, Sharlene isn't looking for a special someone. It's not because of an absence in admirers. Nash reveals that a suitor once showed up on the set and gave Sharlene a big teddy bear.
Too bad Sharlene is not crazy over teddy bears.
It's just that Sharlene's standards for a special someone are too high, says Nash. This explains why, at 19, she still has to have a boyfriend.
Sharlene would rather bring out the fighter in her in action scenes where she runs like the wind and kicks ass in Class of 2018.
"I grew up watching wrestling matches with my two brothers," she explains her passion for action.
Nash is just as happy to bring out the aspiring action star in him in several scenes.
It's not the usual way of launching a teen tandem. Still, the film's producer, T-Rex Entertainment, chose to take the road less taken. It came up with a story about a mysterious virus that infects a group of students.
As Ada, Sharlene is a loner who doesn't mingle with her classmates in Section Zamora. Nash, in a big departure from real life, plays Ada's former best friend.
The pressure to live up to expectations is on for NashLene.
Fans who know them as children are rooting for their love team.
Their director, Charliebebs "Bebs" Gohetia, says that "there is a demand for them from those banking on nostalgia."
Now, NashLene has to translate its off-screen and on screen rapport to box-office magic.
The acid test begins on Nov. 7, when Class of 2018 opens in cinemas nationwide.