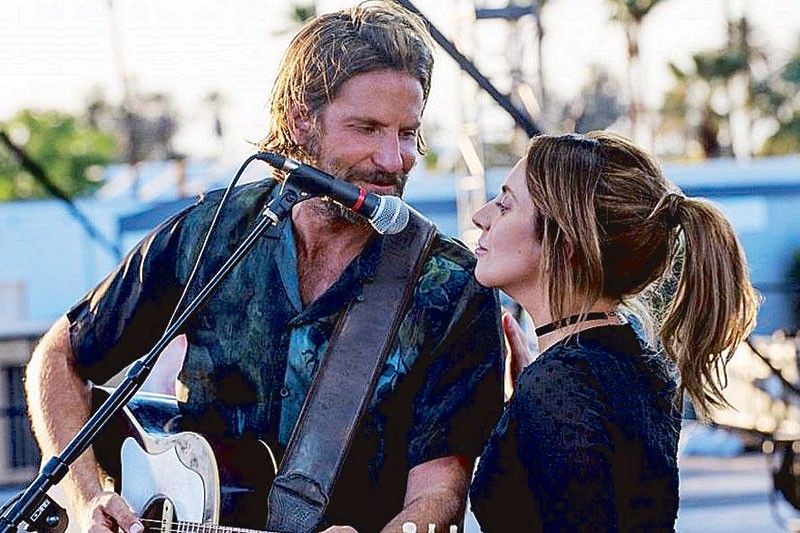 Bradley Cooper and Lady Gaga topbill the film, which is another variation of a tale of the shooting and fading stars
The stuff stardom is made of
Film review: A Star Is Born
I am no fan of Lady Gaga and the hits she is associated with, but I must admit I gave her a second look after watching a new version of A Star Is Born.
Ally, the character she portrays, feels pretty much like one of us. She got the talent and big potential but she doesn't know it. Until someone named Jack (Bradley Cooper) showed her the way.
The concert scenes are education for one used to the sights and sounds of classical music. You see intense, frenetic backstage scenes, you see a huge crowd with flailing hands and you hear piercing loud screams of adoration. After each song number, you realize the stuff of stardom is magical and quite addicting.
Jack (Cooper) has become a legend but he will not be drawn into giving a new version of himself just to please his promoters. His art is anchored into himself. His art is so close to his own life. He will not have it the other way around.
Indeed, Jack has seen all the shades of stardom. When someone highly promising comes into his life, he is instantly attracted and you know why. She is a raw version of himself, she is full of promise and she is herself.
They are instantly drawn into each other enough to plunge into marriage.
But the good thing about Lady Gaga's portrayal is that there is no trace of the pop demigoddess in her characterization. The acting is natural and the singing simply sensational.
Cooper, who not only acted as Jack but also directed the movie, is another good asset of the film. There is absolutely no sign of brilliance in direction but that he is real and passionate is there for all moviegoers to feel and see.
There is an air of wisdom in his looks and he comes on strongly as a fading star who wanted a good exit through, well, nonstop drinking. Life treated him so well but he will not have what he considers the "nonsense" of showbiz. He wants the essential things, not the fluffy side of showbiz.
When the rising star of Ally reached its peak and the fading star of Jack became imminent, you see the hollowness of stardom. The financial returns, for one, egged one to keep it up. No way to go but up, as the wags would say.
To sum it up, the portrayals of the lead stars move and the direction is the stuff of passion.
This is one hell of a movie that teaches you that art and life connect easily. You can succeed in one and fail in another.
Towards the end, a star is born and the star of another plummets.
It also teaches you that nothing good in this earth is permanent. And your audience will not be there to cheer you forever.
(For all you know, A Star Is Born has a teleserye equivalent in the Sharon Cuneta starrer, Bituing Walang Ningning. Sharon was a star raring to shine while Cherie Gil's fading star was there for the showbiz firmament to witness, to her shocking realization.)
But the Lady Gaga starrer has far more insight on art and life and far more vivid contrast.
You can sense from Ally's private abode that her father loves opera. You begin to wonder how her father regards a songwriter in the family so remote from the output of Verdi and Puccini.
And only for these reflections on art and life, I rate A Star Is Born as a rare gem.
A Star Is Born is now showing in cinemas.