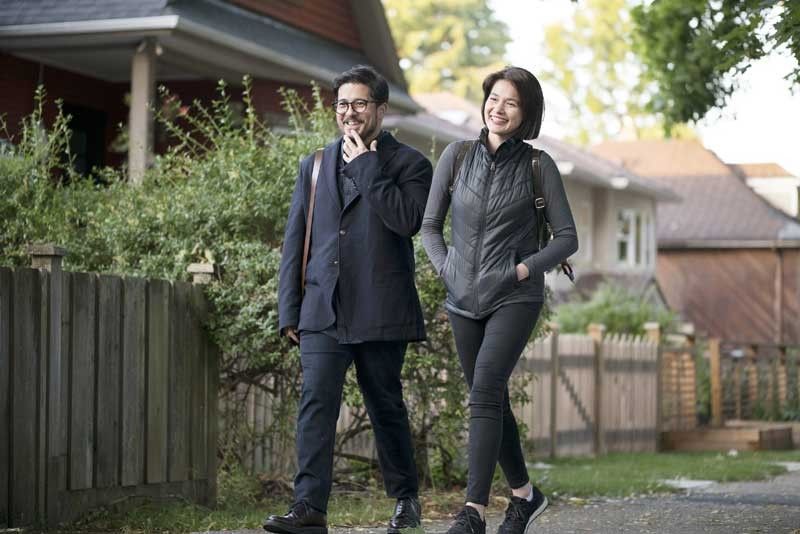 Aga Muhlach and Bea Alonzo star in their first film together, Paul Soriano's First Love, opening in cinemas October 17
Aga and Bea on their 'firsts'
MANILA, Philippines — "It's magic!" That was how director Paul Soriano summed up the journey of his new big-screen project,
First Love, starring Aga Muhlach and Bea Alonzo in their first film together. "Everything that led up to this day was something you cannot recreate. It was like a first."
Set in Vancouver, the film produced by direk Paul's Ten17P with Star Cinema and Viva Films, tells the love story of Nick (Aga), a calculated and reserved businessman, and Ali (Bea), an impulsive photographer living with a congenital heart disease. "The irony there," Bea noted, is that "Ali is someone who wants to live, while (Aga's Nick) wants to stop living." Their fates take a turn when they cross paths while saving the life of a stranger.
From the stories of Aga, Bea and Paul, it would seem the film was fated to happen as well. First, Paul has long wanted to direct Aga after first seeing the actor, when he was five, in Hotshots (1984), which was directed by his father Jeric Soriano.
Aga received several pitches in the course of about a year, before he finally agreed. The veteran actor, "This is a big film for me because I wasn't (planning on) doing a love story. I wanted to do other things already. But then this came, and I was wow. It was a big challenge for me and when we were filming, I had this fear of 'I hope it works.' In the middle of filming, I knew already that this was it. This is the movie na sinabi ko lang na I can't wait, really. I can't wait for everyone to see the movie."
To know more why "literally, the stars aligned for this project," as direk Paul put it, here are thoughts and stories shared by Aga, 49, and Bea, 30, during a presscon about the making of First Love, which premieres Oct. 17.
On first love, the film's main theme:
Bea: "Love is hard to define as it is, I think. Maybe first love is purer, yung hindi ka naghihintay ng kapalit. When we were younger, we thought that was first love. But you could be mistaken; it could have been infatuation only. When you love kasi, it involves sacrifice and you just want that person to be happy.
"When we love for the first time, we don't think that much, we just go for it. We become carefree and reckless. Maybe that's first love, when we do not overthink.
"At saka naisip ko lang, parang ganun din yung pelikula namin... As you can see in the trailer, I have a heart disease. I'm sure there are many films about it. But just when you thought that you know what's going to happen, there's more to the movie than the trailer. So, maybe first love is like that. Feeling mo, you've already experienced love but then here comes a person who will make you feel what love really is."
Aga: "When we were all younger, we thought the first love was yun yung una mong minahal. But with my experience with this movie, I realize that every time we love, since I was like 14, 15, 16, 17, 18, sometimes every month, iba-iba yan eh (laughs) it's always your first love really.
"And when I saw the hashtag of the movie, #LiveLoveNow, that was when I realized that every time you love is your first love, new person, new love, and then #LiveLoveNow is really the secret to first love, meaning it's to life, live now, love now, don't love yesterday or tomorrow. It's all about the now, the moment.
"Just when you think that when you love, before, oh my god, this is like my first love, and then you fall in love again... It's always like that, you feel it like this is not one of those. You don't waste your time. Like when you meet someone, man, it's like magic, this is the first time I'm feeling this, then you meet another person again, oh my god, this is different again (laughs). Parati naman ganun, eh. It's love. It's always a first."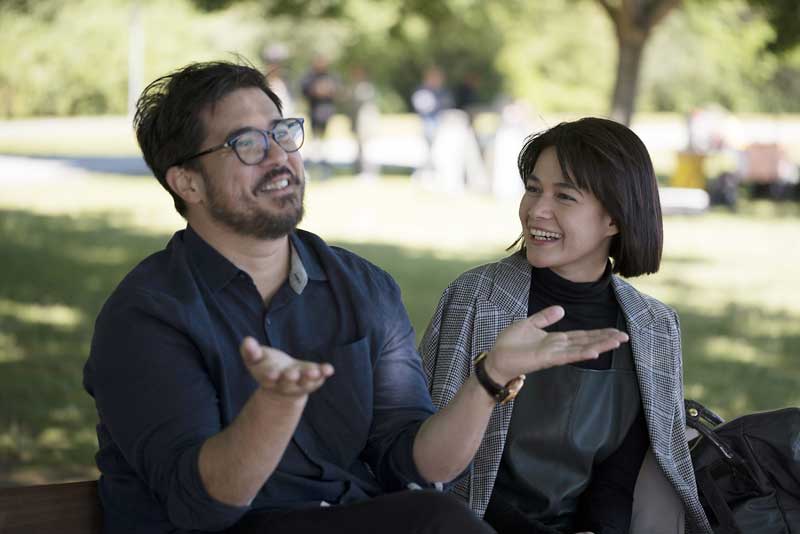 On their first film together and how it came to be:
Aga: "I was thinking really of what love story to do. The first film presented to me was, OK, different and I wanted to do also. But we kept on meeting; it wasn't just working at that time. Then (Paul) tells me, 'I saw your strong points, and it's really love stories.' But I was still scared of making love stories because that was the last film I did. When I stopped (making films) in 2010 or 2011 (before Seven Sundays in 2017, a film about brothers), all I did were love stories. Nothing wrong with that but I stopped for a long time and then I'd return with another love story? It was very critical for me. I wanted to return with the right story, cast, leading lady, everything right.
"In the past years when I wasn't doing anything, I was just living life, I would see movie trailers of this young lady here (referring to Bea). And I'm like, mahirap sabihin to, man, she's really good! Because when you're an actor watching a fellow actor, parang hmm, I know what you're doing… parang you're rushing it. But this one, no! I believed in what she was doing. I said, man, I would love to work with her!
"When Paul said that we're doing a love story... I told Paul I want to work with Bea, and Paul goes, wait, look at this (showing his presentation) it said 'Bea-Aga.' I said, Lord, you're wonderful! So, I had to text Bea — before that, I had never talked to her — 'May I call?' Long story short, we talked on the phone. 'Bea, I have a project, you should do this, this is really nice, this is our chance to work together, please!' The rest is history."
Bea: "(For my part) I was heading somewhere that had no signal. Then, I suddenly got a text message from Aga Muhlach. (He said something like,) 'I have a project for us, can I call you?' I had to tell the driver, 'Wait a minute, stop! Aga Muhlach is going to call!' I answered the phone and I really tried to calm myself, 'Hi, kumusta po, Kuya Aga?' Taas ng boses, kinakabahan. He sounded excited, 'Galing dito si Paul, there's a project, are you open to do it with me?' He wasn't able to finish his sentence, I already said, 'Yes, let's make a film!'
"I said yes right away. Of course, how can you say no? It has always been my dream to work with Aga Muhlach. I thought I would never get that chance because he was able to work with (actresses) from my generation like Angelica (Panganiban), Angel (Locsin), Anne (Curtis). I thought it would never happen for me until (this film). Perhaps, this is the perfect time and perfect project."
On first shooting days:
Aga: "I saw that she was nervous — maybe not nervous, but naiilang sa akin. But I had to tell her on our first shooting day, 'Bea, ikaw ang ankla ko dito, sayo ako kakapit dito.' Meaning, let me just do what I got to do, but I'm holding on to you, allow me to fall for you. I didn't tell all that to her, but I just said sayo ako kakapit. Parang tama ako. What I saw in her before, nung nakita ko ginagawa niya dito, and you see it live, you become a fan, oh my god, this girl is crazy good!
"(Of course,) nangangapa din ako… Then pag-nag-line ka ng ganito and mali ang balik niya sayo, maiiba ang scene and meron na akong ramdam like I know (where it's headed next) and doon siya pumupunta talaga. So, I think that's chemistry right there."
Bea: "I remember that specific moment when I told him that I was super nervous. That was the first scene we did in the film. After he told me, 'Ikaw ang ankla ko,' he said, 'Ako din kinakabahan.' At times, if you're acting opposite a big actor, you won't hear that because normally there's ego, right? But he doesn't have that and it made me feel comfortable. It was like, we're the same, we're both feeling nervous, we're equals, so it was easier for me."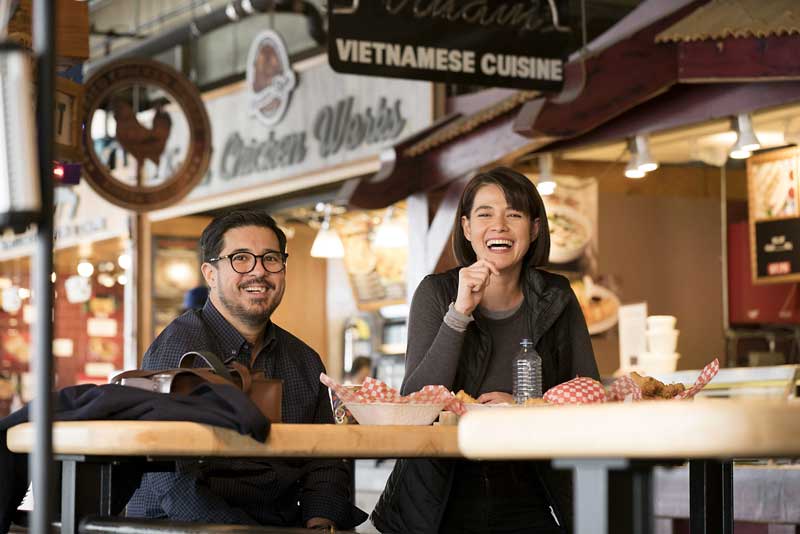 On their first scene together:
Bea: "I remember the first scene we did in the movie. It was in a coffee shop. The good thing about our film, we didn't go to tourist spots to shoot. Because our characters are locals in Vancouver, we went to coffee shops that locals go and I remember the scene, I was crossing the street, it was surreal in my mind that I was sharing a scene with Aga Muhlach. That was the thought running in my mind. I wasn't Ali yet. I was thinking, 'Oh my god! Oh my god!' I was freaking out!
"I don't know if the others will understand this but this is quite a big deal, at least for me. Until he said, 'Relax, ako din kinakabahan ako'... From then on, I relaxed and I thought, yes, I would enjoy this and every single scene we did in the film. Before I'd jump into the film as Ali, I'd always tell Aga that 'I will enjoy this.' Maybe, this is what the character of Ali has taught me, that you should just have to enjoy every single moment because it might be your last. And maybe it will not be repeated. Feeling ko, matatagalan or baka di maulit na makatrabaho ko siya at masasabi ko na para siyang — na-te-treasure ko lahat ng moments ko with these guys.
"And it's a beautiful thing to acknowledge what you feel that specific moment because if you keep it to yourself it will become an acting block. You won't be truthful in your acting. You need to come from a place of truth. Otherwise, your performance is fake.
"First day, my character wasn't still second skin and wasn't natural yet, you're still creating it, so it fit the scene because I was nervous in real life! Bagay sa eksena that I was talking fast, I was panting for breath, because you were freaking out, your breathing was wrong, then you were walking and saying a lot of things. Then, I thought this is Ali because minamadali niya sabihin lahat ng gusto niya sabihin, baka kasi di na niya masabi in the future."
On first time to work with direk Paul:
Aga: "This is a Paul Soriano film. (I'd go) 'Direk, kailangan ganito gawin namin, ganun. I think I should see this and Bea should see this,' and he goes, yeah, yeah, yeah, that's good, that's good, let's take.' Action! 'Bea, Bea, Aga, Aga, cut, that's good, that's good, let's do one more! (laughs)' Akala mo 'good, good,' hahaha, pero isa pa, one more! (He'd say) 'I think you can change it a bit, like that, but that's good. Let's do that, but one more, action. That take was good, I'm good, are you good?, you're good, you're good, I'm good.' That's Paul Soriano.
"The film almost did not happen. There were times, we were rewriting and rewriting, and I was like, my god, it's not happening! But we never stopped. We believed in each other, we believed in the cast, I believed in Paul.
"I always say, it's magic. It's magic really, like when I dub a few scenes I have to stop, I don't want to dub anymore because I cannot do that. It's so real, I cannot repeat it, I said. I had to post in my Facebook account, which is very private, I had to ask my friends who are not in showbiz, just watch this movie, please, I just want you to experience what we all experienced in doing this film and our journey that's crazy."