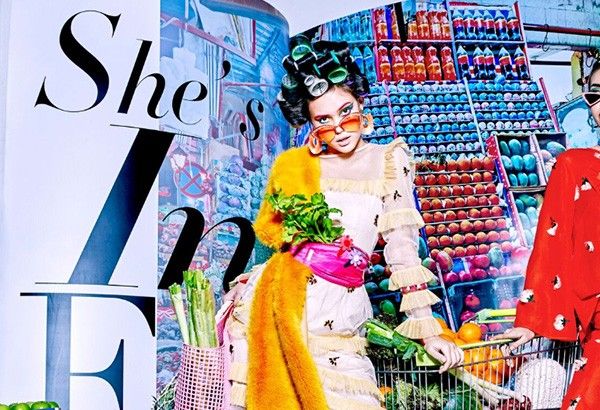 "Asia's Next Top Model" season six finalist Adela-Mae Marshall
Fox Life/Released
Filipina enters 'Asia's Next Top Model' top 3
MANILA, Philippines — Adela-Mae Marshall, the last Filipina standing at the ongoing sixth season of reality TV series "Asia's Next Top Model" (AsNTM), feels really proud of herself for being in the modeling competition's top three.
In a recent interview with Philstar.com during Nadine Lustre's launch as Skechers D'Lites endorser, Adela said that she might have lasted this long in the competition because she has been listening to judges' comments.
Week 8 • Top 3 • Finalist • Adela | #TeamAdela #TeamPhilippines #AsNTM6 #BeyondLimits @adelamae_ ???????? pic.twitter.com/3Lix3hAFK1

— Asia's Next Top Model (@AsNTM6) October 10, 2018
"I hope that what the judges saw in me is the fact that I listen when they give me criticism and then I come back the next week and try to show them what I've learned," she shared.
After getting the third best photo of the week at the show's episode seven, Adela now has the second highest accumulated average among the top three finalists, which makes her closer to getting the Philippines its back-to-back win in the contest, after Maureen Wroblewitz took home the country's first AsNTM crown last season.
Like Maureen, Adela draws strength from what others think might be her weakness.
"I'm not a typical model like I'm not super matangkad, super payat. But I really think that I have a good attitude and approach, and I'm really game for anything."
Though happy to be in the top three, she feels deeply for fellow Filipino contender Jachin Manere, who was eliminated at episode six.
"I was really, really sad, actually. Because even though we were competitors, she is my kababayan. So even if I don't succeed, I want it to be her. But when she left, I had a wakeup call that there's a lot of pressure on me."
If ever Adela wins in the show, one of the prizes is a contract with Storm Model Management in London.
"Hopefully, I could utilize that and with that following, be a good role model to younger girls. I think that's the most important," said the 20-year-old model.
"My advice to anyone who wants to become a model is to believe in yourself. Because in this industry everybody tells you, 'You're not tall enough, you're not skinny enough, you're not this, you're not that.' You really have to know yourself first before you get into that industry."