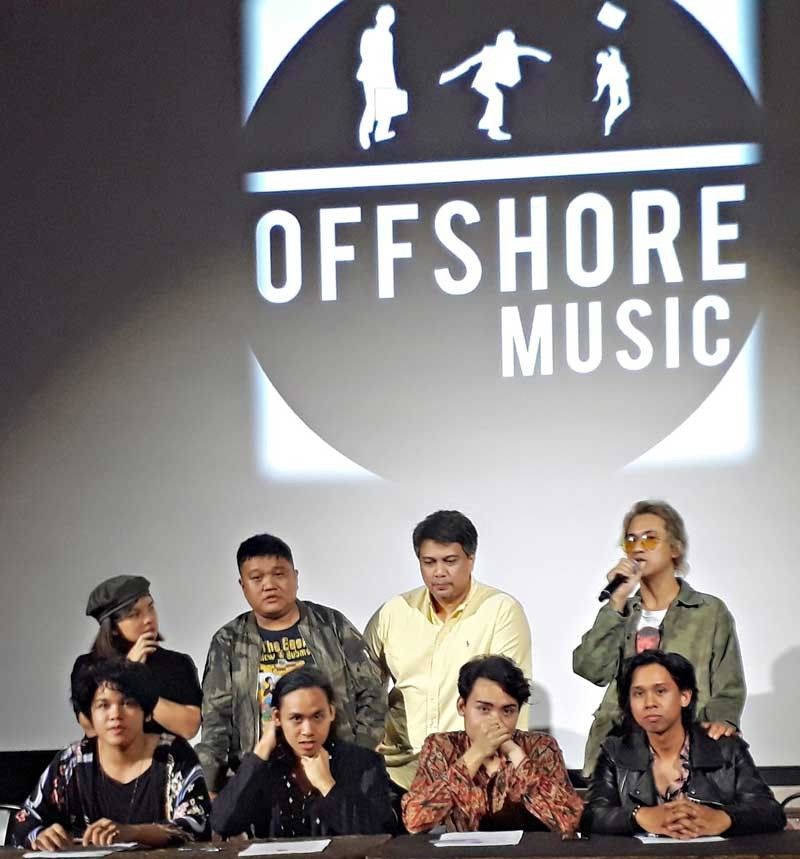 Offshore is headed by former Eraserheads frontman Ely Buendia, who founded the local startup with a handful of partners with equal faith in Original Pilipino Music
BLITZ REVIEW
-
Juaniyo Arcellana
(The Philippine Star) - October 9, 2018 - 12:00am
Last Thursday Oct. 4 saw the official launch of Offshore record label at El Calle in Resorts World Manila, with some numbers performed by a couple of its recent signups, the virtuoso guitarist Jun Lopito and intrepid millennial band One Click Straight. Offshore is headed by former Eraserheads frontman Ely Buendia, who founded the local startup with a handful of partners with equal faith in original Pilipino music, just as the industry is going through one of its moribund phases. But they can't help but be gung-ho about this, and continue to go where the music takes them.
Signing up Lopito was a no brainer of course, much like that of the Itchyworms, who resemble younger brothers of the Eheads and more. Lopito's bottleneck blues sounded better than ever, channeling Robert Johnson in the swanky resort by the airport. Lopito's rendition of Himig Natin on acoustic guitar was also a tribute of sorts to an old friend, as he rewrote the second verse: "Ako'y may kaibigan/Joey Smith ang kanyang pangalan." For a nanosecond there everything came back, not as flashback but as something reborn.
Lopito's Boddhisatvas was one of the seminal albums of the 1990s, heyday of both Eheads and Rivermaya, the second coming of Pinoy rock as it were. Back then the session guitarist was already doing Canuplin one better, his runs on the fretboard nothing less than Chaplinesque. I'd heard him live before maybe a couple of times, one of which was in a now shuttered bar in Malate, a guitar duel with the Jerks' Nitoy Adriano.
Offshore is thinking of reissuing Boddhisatvas in vinyl, as will most of their acts' albums be released in this format, a more solid representation of the music apart from the customary digital download and maybe the odd CD.
One Click Straight should excite more than just millennials with their wall of ambient sound, proving that the music never rests, never really loses the downbeat across generations. One listener likened the staccato like guitar work to Aztec Camera, another compared the layered meticulous arrangements to bands like Toto. Whatever your wild it was clear these kids — three brothers with a childhood friend, including a multi-instrumentalist on percussion and saxophone — knew their stuff and syncopations. The bass could be heard but nowhere in sight; perhaps programmed for modern times.
Offshore's flagship band however is Apartel, Buendia's new band where one of the record label's partners Pat Sarabia plays drums, keeps time like clockwork orange in a no nonsense manner. Check out their music videos on YouTube and you will get the drift: to hear is to believe. There's Pateros from their soon to be released second album. As well a good number of cuts from their debut, including Better Off which has Buendia doing an inspired impression of either Smokey Robinson or Style Council, and Sala Sa Init heard on the car radio to ease the long drive through traffic and assorted road hazards.
Apartel has a co-vocalist in Jay Ortega, and he takes over in such tunes as Is It Hip and WTF (What The Funk), much like wielding the baton to the steady horn section, ah yes, the Memphis Shoals somewhere in the heart of metro Manila. Apart from the horns they also have a couple of lady backup singers and you get the picture — Sarah Vaughan is alive and well in Pasig capitolyo. The band has a demon of a keyboard player in Arjay Pineda, obviously classically trained with the way he tickles those keys, whom we've heard some years ago in Bar 1951, crawling like Spiderman on the counterpoint — gagambang contrapelo!
Sometimes, too, the elusive Louie Talan sits in on bass, so how can you lose? Not Offshore for sure. The sound is whole and then some, but never wholesome. In fact can be black as night. Malawak man ang gabi, umaga'y parating din. And when the morning comes there's a song or two waiting to be found (Petrified anthem by way of petrified hope). Stone cold sober again.