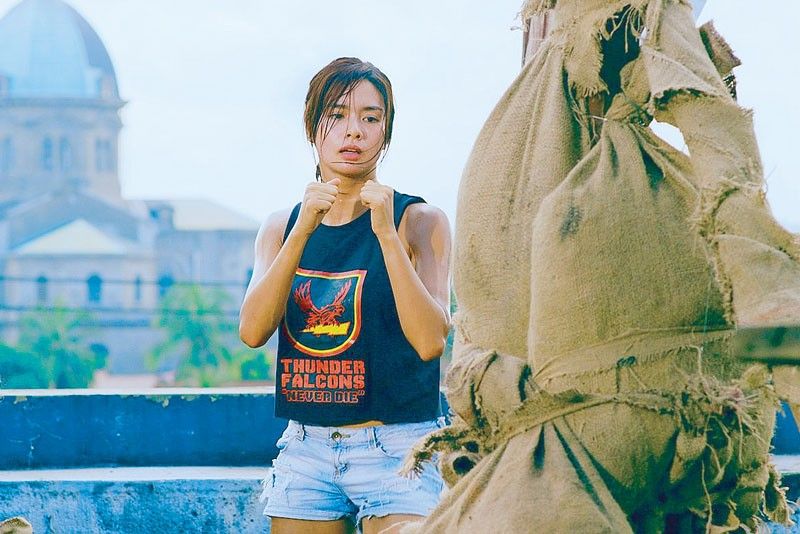 The movie, starring Erich Gonzales, heightens the sense of dread and foreboding of being chased down by a gang of neo nihilists in the old part of Manila, and be caught in the maelstrom of all that useless if lyrical violence.
Grindhouse rock, with reverb
Blitz review
MANILA, Philippines — If ever you get a chance to watch Richard Somes' latest grinder We Will Not Die Tonight alone in some darkened completely empty theater, by all means do so — it heightens the sense of dread and foreboding of being chased down by a gang of neo nihilists in the old part of Manila, and be caught in the maelstrom of all that useless if lyrical violence.
The visual equivalent of the mostly unintelligible goth-metal rap of splayed repetitive riffs and vocals shouting from doom's abyss, We Will Not Die functions on sheer velocity as it does with its well-limned characters — the dutiful daughter Kray (Erich Gonzales), a bit stuntwoman looking after her ailing retired stuntman father; Ramil (Alexis Medina), leader of the hardluck band that takes on a racket of no return; Jonesky (Thou Reyes), failed mixed martial artist in need of a gig; Che (Max Eigenmann) and Reneboy.
For a quick buck they amble into the lair of Bangkil (Paolo Paraiso), whose sinister business is to carve out the organs of homeless kids plucked off the mean streets of the city. When Ramil and company get the stinking drift of the organs factory, they make a run for it in the dead of night with a rescued kid in tow, into a part of town that resembles Escolta, Bangkil and his bloodthirsty subalterns on their heels.
What follows is almost nonstop action, knife fights and martial arts duels, swords, fists and hammers, sticks and chains, in barely decipherable matchups in an abandoned building with spilling entrails on staircases, blood being choked on and gushing out of assorted guts, wounds of varying degrees and tourniquets deluxe or special delivery, everything in your face.
Can you imagine watching this in an empty theater, just you and the director in a kind of dialogue, and then recall a scene in another horror picture, from a different time — The Shining with all work and no play Jack Nicholson, a dull boy taking a drink in an empty dance hall, or what seems an empty dance hall, for there are omnipresent ghosts in attendance. Being alone has its blessings, but it can also leave you quite exposed.
As happens to the dutiful hardluck gang, who are picked off one by one by the camp Bangkil killers in ruthless, take no prisoners stakedown. References may be made to Tarrantino, but just because it is partly derivative doesn't mean it isn't inventive in itself. For that is the function of the genre; reinvention of violence is in the details, however quick and fleeting.
Like Buybust it thrives on velocity, hurtling forward with inexorable force despite having not much sense. Precisely because there's barely time to think when life — or indeed death — is at stake. Though not quite the masterpiece we're expecting of Somes after his wildly promising Yanggaw and flawed Cry No Fear among other slash and burn films teetering on the edge of isolation or redemption, We Will Not Die is as grunge and metal and gothic as they come. No accident that Erich wears a Metallica T-shirt throughout, though perhaps more apt would be Prophets of Rage or System of a Down.
The movie seems to be saying that nihilism as a theory or philosophy may have seen the end of days before the Kray character, the stuntwoman who translated her bit role into real life and made good use of it. There's even a token gesture of mercy as a coda to battle, not for us to judge as gratuitous or condescending. We will not die tonight is rude, rough, and certainly will upset all haters of anarchy, which at times is necessary to find out what is left standing and made purer by fire.
(Clarification from last Blitz Review: The upgrade of Gusto Kita with All My Hypothalamus to B is not deemed official unless a provision in bylaws is amended or revised by a majority of a quorum of the en banc, sources said.)