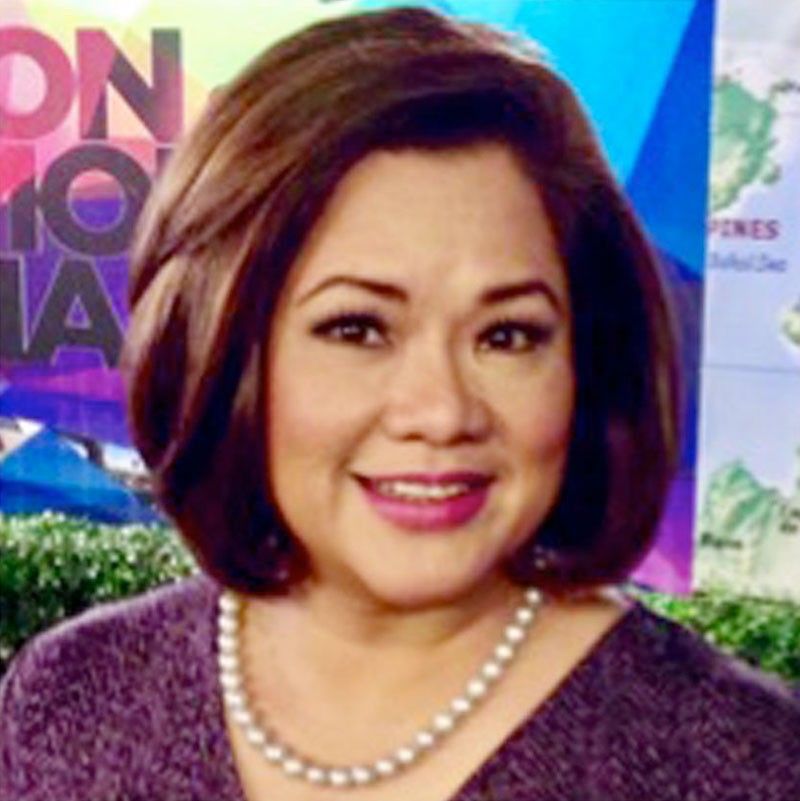 Kata Inocencio cut her hair short thinking she might lose her hair from the chemotherapy, but didn't.
Kata battles Big C with 'my Big C'
MANILA, Philippines — She could have been an actress and singer since she was an active performer on stage way back during our college days at the University of the Philippines. As a freshman in 1978, my dear friend Kata Inocencio starred as Gregoria de Jesus in Bonifacio Ilagan's Sigaw ng Bayan which was directed by the late Behn Cervantes for the UP Repertory Company. She alternated with 1969 Miss Universe Gloria Diaz as Andres Bonifacio's beloved Oryang, and impressed the director and audience with her commanding stage presence, beauty, acting and singing skills.
While acting with the UP Rep, Kata also trained to dance with the UP Filipiniana Dancers. "Pero ang hirap makipagsabayan sa mga advanced na ang dancing skills," laments Kata. Besides, singing and acting were her bigger interests, and by 1980, Kata starred with this author and three other young "beauty pageant aspirants" in the popular musicale, Ms. Philippines, a co-production of the UP Concert Chorus and Dulaang UP. "At least, kahit kathang-isip man lang, naging Ms. Philippines na tayo noh, LOL!," Kata quips with her infectious laughter. Ms. Philippines was directed by Tony Mabesa, with libretto by Isagani Cruz, and music by our dear late Dean Rey Paguio, conductor of the UP Concert Chorus. Kata went on to sing around the world with the UP Concert Chorus while finishing her Broadcast Communication course at the UP College of Mass Communication.
Post-college, Kata joined the re-opened ABS-CBN in 1986 as a production assistant in its Entertainment Department. Direk Johnny Manahan, in fact, eyed Kata to be cast in the TV sexy-comedy show Chicks to Chicks. But the exciting call of News & Current Affairs beckoned when she was asked to help the News production of Pres. Cory Aquino's first State Visit to Japan. Kata then decided to be a newscaster and current affairs producer instead of an artista, even helming the Bantay-Bata 163 production as producer and host. Thirty-two years thereafter, Kata has moved on to producing and hosting the inspirational-spiritual TV program, The 700 Club Asia, which airs on GMA. The program features true-to-life testimonies of people transformed by the love and forgiveness of God.
Kata asserts that she is one of those people transformed by the love of God.
"I used to be a mistress living a lie," reveals Kata. "But God rescued me out of that pit and gave me a brand-new life that's true and honest." Her spiritual awakening has been Kata's guide and source of strength in raising her three children as a single mother, and in facing difficult challenges in life. "I know God has a plan to prosper me and not to harm me, to give me hope and a future. He will never leave me nor forsake me."
Kata emphasized that her trust in God is her anchor in dealing with a recent diagnosis of Chronic Lymphocytic Leukemia. "Cancer may be a death threat, but it is not a death sentence, for only God has the final word on this," Kata confidently states. After a bone marrow biopsy done in July last year confirmed the cancer, Kata immediately turned to natural treatments and followed a strict diet. No one suspected that she was struggling with her health because Kata had lost so much weight and looked young again with radiant skin. Most of all, she exuded a healthy, positive and even joyous outlook. "The dreaded Big C is nothing compared to my Big C — Christ! He promised to rescue me once again from this pit. I will not die but live, and I will proclaim what the Lord has done!" says Kata.
Kata's friends, led by the UP Concert Chorus Alumni, are organizing a dinner-show-fund-raiser to help her with the chemotherapy treatments that her oncologist has required since she is now in Stage 3. Katakamtakam: Kainan, Kanta Kontra Kanser para kay Kata will be held on Sept. 16, 7 p.m., at the UP Bahay ng Alumni, Diliman, QC. Tickets are at P1,500.
(Contact the following for ticket reservations and for donations of any amount: Manny Aquino – 0917 7987266 and Manolo Tanquilut – 0939 9275096. You may deposit your ticket payment and donations in BPI Account No. 3590-0022-31, Ma. Katherine R. Inocencio. Then, immediately email a screenshot of your deposit slip to katafeast@gmail.com for proper acknowledgement. Please support this worthy endeavor and let's help Kata win this battle against the Big C.)
(You may e-mail author at dotgancayco@ymail.com or text 0920-9000407.)