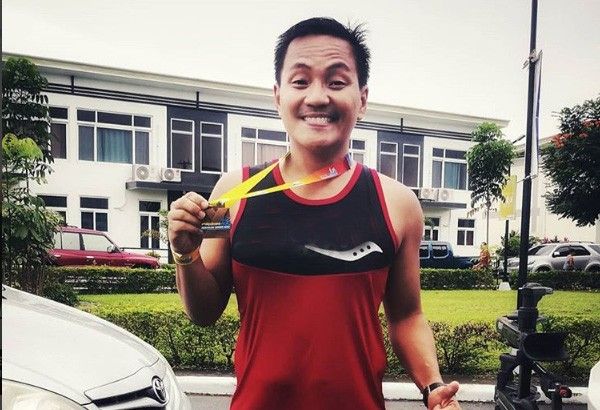 Musician Ebe Dancel
Screenshot from Instagram/Ebe Dancel
Ebe Dancel: Heroism starts with simple kindness
MANILA, Philippines — In time for the celebration of the country's National Heroes' Day, musician Ebe Dancel shared his thoughts on modern-day heroism.
Ebe believes that being a hero starts with simple kindness.
In an interview with Philstar.com during a recent Saucony event where he performed his hit songs, Ebe said heroism has many levels.
"I think 'hero' is a big word. But we can start by being nice with each other. It all begins there. 'Yung compassion mo, 'yung kindness mo, 'yung malasakit mo sa kapwa hindi nawawala. That's where it all begins," said the man behind the hit song "Huwag Ka Nang Umiyak."
Ebe said that his personal heroes are his parents because it is not easy to raise six children.
"They raised six kids. My mom had to stay at home to take care of us. Mabigat na responsibilidad 'yon. My dad had to work every day for so long and now we have a doctor, lawyer, dentist, architect, MBA graduates in the family. 'Yung dedication nila with the family is tremendous," he said.
Ebe starts his day with a run for him to set his day for a good mood.
"I'm a musician, an athlete and a restaurant owner. 'Pag nagsabay-sabay ang trabaho it can be stressful. I usually start my day by going for a run. It helps me focus, 'yun talaga nagse-set ng araw ko," he said.
Saucony's new global brand platform titled "Run Your World" is a new chapter in the brand's 120-year narrative that invites everyone to be the hero of their own journey. Committed to elevating the running experience through performance-driven design and next-generation running technology, the brand reveals its all-new fall 2018 footwear, the Freedom ISO2.
Apart from choosing the right running shoes, Ebe is encouraging the youth to start picking a physical activity for optimum health.
"It's good for the body, mind and soul. We have the responsibility to take care of our body. When I was young, hindi ako ganon e. I was not careful on what I ate, I slept all day, I smoke, I drank a lot. It's gonna catch up to you at some point e. Luckily, it wasn't late for me to change," Ebe said.