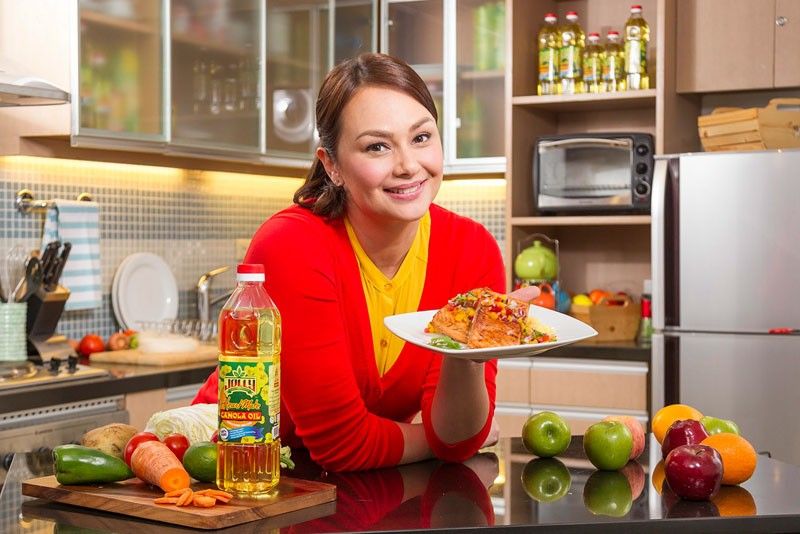 Jolly Heart Mate Kitchen 2 host/endorser Donita Rose admitted that she was touched when Eric said sorry to her last Valentine's Day.
Donita moves on from failed marriage
MANILA, Philippines — Donita Rose exuded a positive aura when she appeared before the entertainment press during the recent launch of her cooking show Jolly Heart Mate Kitchen, which is now on its second season, held at GMA's Executive Lounge. This made reporters, including The STAR, wonder if she has fully moved on after going through a rough patch in her married life. She and now ex-husband Eric Villarama have a 14-year-old son named JP.
"We're now friends. There's no more pain and I have moved on finally," said Donita confirming that she and Eric have finally patched things up between them. She admitted that she was touched when Eric said sorry to her last Valentine's Day.
Donita recalled, "I guested on Magandang Buhay for a Valentine episode and the hosts asked me about my love life and if I have already moved on. Then, I told them I've already moved on and forgiven everything but there's no replacement since then. Eric, meanwhile, wondering why he was getting social media requests asked me what I said in the interview. Since it's for Valentine's, he must have been reminded about our break-up which happened on that occasion.
"Then he apologized at naiyak naman ako. But you see, these words that are spoken are powerful and they do something... they bring healing to the heart."
As a single mom, Donita said that it was difficult but exciting at the same time to make a fresh start, sans regrets.
"I could say that it's been a hard journey but I have no regrets," she said. "This is the first time that I'm really focused on myself like having my own place na, going back to working out and just focusing on my son. It was hard at first but I think I'm fully recovered na. And since coming back to the Philippines, I just reestablished myself and financially, I'm getting back on my feet na."
Asked if she's ready to fall in love again and if she has entertained suitors already, she quipped, "No suitors yet. Pero bukas na bukas na ang puso ko hahaha! Pero hindi ko naman siya hinahanap sa ngayon. I'm happy being where I'm at right now."
What Donita really looks forward to is to have more work so that "I can save a lot because I wanna finish paying off my place and I want to be able to renovate my kitchen so that I can also do shoots from home. 'Yun talaga 'yung dream that's taking a bit longer than expected," she shared. Donita also wishes to release her own cookbook.
"This is my fourth year of working with Jolly Heart Mate, and next year as I celebrate my fifth year with them, I'm really hoping that they wanna sponsor a cookbook because, so far, I already donated 50 recipes which are not just something you grab from the Internet because that's copyright infringement so all of these recipes na meron ako talagang pinag-isipan ko nang mabuti."
Asked if she has plans to put up her own restaurant, the chef mom said, "As of now, I think it's hard for me because, I mean, I don't have that much to invest into a restaurant. When you do, you have to put your heart and soul into it and you have to really focus on that.
"I kinda like what I'm doing right now. I have time to spend with my kid at home and then I also get to do the cooking, hosting. I like the variety. And if someday I'm able to save up some money to put up a restaurant, definitely that would be something I'd love to do. I have had offers from people who would like to invest but I'm afraid of investing with other people's money. We'll see, maybe later down the road."
Donita added that for the meantime she'd like to focus on her showbiz career.
"I still love showbiz. I still love stuffs like this. This is like my dream project, 'yung Jolly Heart Mate Kitchen."
And once again, the celebrity chef returns to its second season for a new batch of easy-to-follow and heart-friendly Filipino recipes which Donita guarantees to be delicious and healthy for the whole family with the use of Jolly Heart Mate Canola Oil.
The program features 12 episodes where Donita cooks dishes and solves kitchen problems with the help of some of the Kapuso stars like Camille Prats, Mikael Daez, Rocco Nacino, Jason Abalos, Julie Anne San Jose, Zoren Legaspi and Yasmien Kurdi.
(Heart Mate Kitchen 2, co-produced by GMA 7 and Jolly Heart Mate Canola Oil, airs Aug. 22 during commercial gaps of Unang Hirit and Wowowin weekdays and in Sarap Diva and Kapuso Movie Festival on weekends.)