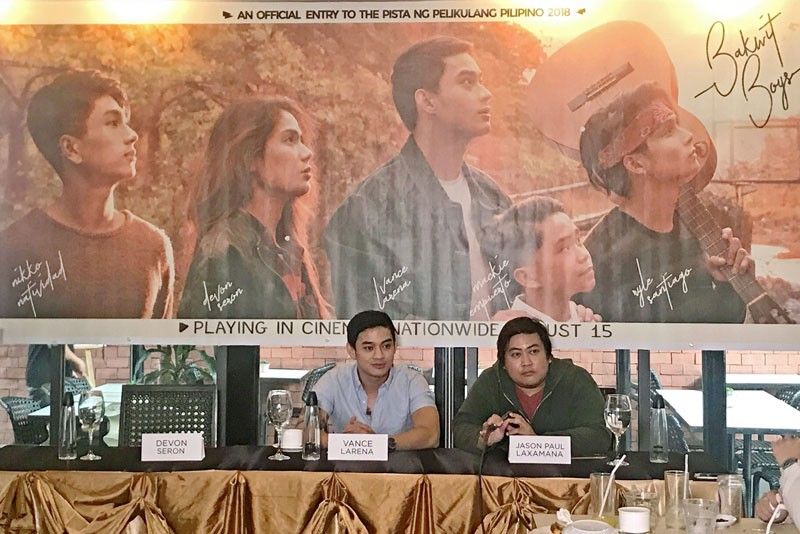 Writer-director Jason Paul Laxamana (right) with new actor Vance Larena during a presscon for Bakwit Boys, an entry in the 2nd Pista ng Pelikulang Pilipino (PPP, Aug. 15-21)
Bakwit Boys inspired by Pinatubo tragedy
FUNFARE
-
Ricky Lo
(The Philippine Star) - August 13, 2018 - 12:00am
Being an unwed father is not an obstacle to stardom as Philippine movie history has proven. The "honor roll" is packed full of actors who have had children out of wedlock. Name some? Eddie Gutierrez, Cesar Montano, Martin Nievera, Aga Muhlach, Piolo Pascual, Jericho Rosales, JC de Vera and James Yap. Even Quezon City Mayor Herbert Bautista has some love children with two different women and he basks in his bona fide membership in the "not the marrying kind" club.
That's why when newcomer Vance Larena was told pointblank by a movie writer at one of the series of presscons for Bakwit Boys that he had a child and Vance without batting an eyelash said, "Yes," I guess the movie media saw no point in making an issue about it. One of those things, you know.
Perhaps Vance isn't aware that it's his straight-forward attitude and unblinking honesty that endear him to movie writers. Sexual harassment is a continuing issue fueled by the Hollywood-generated #MeToo movement. When asked at another presscon if he had ever been sexually harassed, Lance, a dead ringer for a younger Ricky Davao, replied tongue-in-cheek, "Wala nga eh," adding, "nananawagan nga ako, eh!"
Bakwit (from evacuate) became a front-page word only after the Marawi siege last year but actually it first emerged after Mt. Pinatubo erupted in the early '90s and buried Pampanga towns around it in ashes, forcing scores of families to flee.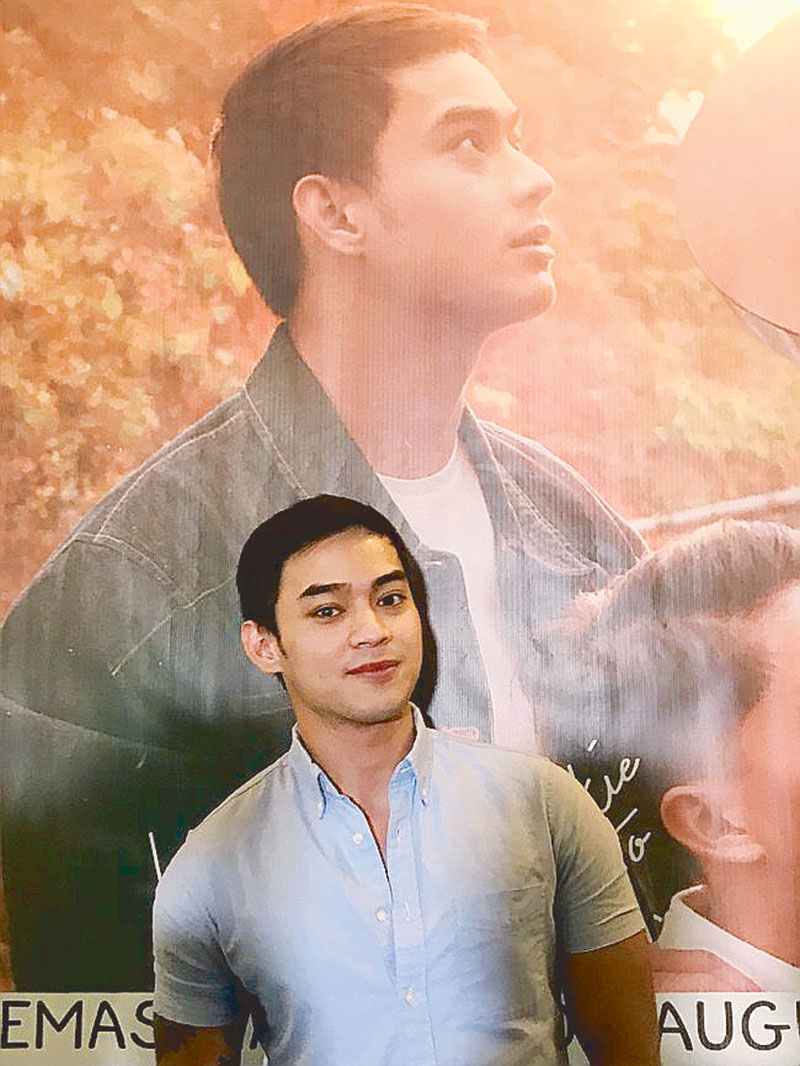 Jason Paul Laxamana, writer-director of Bakwit Boys, T-Rex Entertainment's entry in the 2nd Pista ng Pelikulang Pilipino (PPP, Aug. 15 to 21 nationwide), is a Pinatubo survivor and his experience inspired him to write the tale of four boys who dream of rising from the tragedy through their passion for music. Vance plays the eldest of the boys (with the three played by Ryle Santiago, son of Sherilyn Reyes by ex-husband Jun Santiago; Nikko Natividad of Hashtags and winner of It's Showtime's Gandang Lalake Kuma-career contest; and Mackie Empuerto, one of It's Showtime's TNT Boys) who get their big break when a city girl (Devon Seron) who shares their passion helps them record their song.
Unlike exclusively musical local films like Sinta and Larawan where the dialogue is sung (instead of merely spoken), Bakwit Boys is touted as "musical" because it is charged with music, featuring original songs composed by Tarlac-based Jhaye Cura — Ligtas Ka Na, Fiona, High On You, Tayong Dalawa and Kung Di Ikaw.
Said T-Rex producer Rex Tiri (Deadma Walking and Patay Na Si Hesus, the latter also directed by Laxamana), "I want these songs to be heard. When Jason Paul pitched the concept to me and said he wanted to give a break to the composer, I said, 'Game!' I didn't need to hear the songs. I was already hooked by what he wanted to achieve."
Laxamana personally picked the lead stars. Mackie caught Laxamana's attention when he saw Mackie at a singing contest in Cubao where Laxamana sat as a judge.
Said Laxamana (who has another PPP entry, Viva Films' The Day After Valentine's starring JC Santos and Bela Padilla), "It's hard to find a boy who can sing and act. Nakakaiyak si Mackie tingnang umarte. Mahusay mag-memorize at mag-deliver ng dialogue." Ryle's guitar-playing expertise helped him bag the role. Laxamana saw Nikko in a YouTube performance and he has worked with Devon in Regal Entertainment's Puwera Usog.
Of course, Vance's theater experience is a big factor.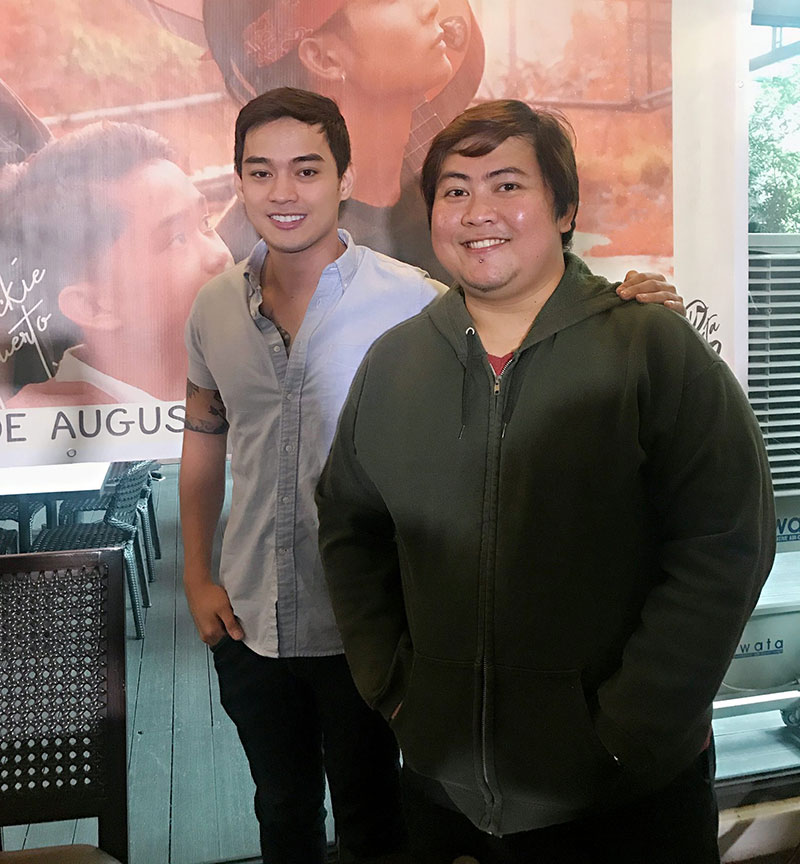 Laxamana: Bakwit Boys is about moving on and rising from the wreckage brought about by catastrophes both natural and man-made
"As a kid," he related, "I would compete with my brother in crying scenes. Mahusay ako umiyak kaya palaging ako ang panalo. I was makulit."
It was Vance's kakulitan that got him into theater. He was falling in line to watch a play by the Philippine Stagers Foundation (PSF), making kulit as usual.
"A PSF member saw me and invited me to attend their summer workshop." And he got stuck in theater for 10 years, until he was recruited for movies, starting with the first PPP entry Bar Boys (as a Lord Master among law graduates preparing to take the bar), followed by Joey Javier Reyes' Spirit of the Glass 2: The Haunted (2017), and Jun Robles Lana's Ang Dalawang Mrs. Reyes and So Connected (by Laxamana) both this year.
"Bar Boys was close to home because I was a Law sophomore at San Beda when I quit last year," said Vance. "But I am determined to finish the course."
Incidentally, aside from making films, Laxamana has been involved in music production. He has collaborated with several musicians and singers from different parts of the country, from his native Pampanga to Iloilo. They compose original songs which they release online and submit to local radio stations for possible airplay.
"I love working with fresh talents," shared Laxamana. "They are like empty canvases on which you can visualize your ideas. They are receptive. I am more comfortable with them than with older (established) actors."
"This aspect of my life was what inspired me to make Bakwit Boys," added Laxamana. "I tapped my Tarlac-based musician friend to create the original songs for it. My being a survivor of the Mt. Pinatubo eruption was another part of my identity that encouraged me to do the movie. Bakwit Boys is about moving on and rising from the wreckage brought about by catastrophes both natural and man-made."
(E-mail reactions at rickylophilstar@gmail.com. For more updates, photos and videos, visit www.philstar.com/funfare or follow me on Instagram @therealrickylo.)