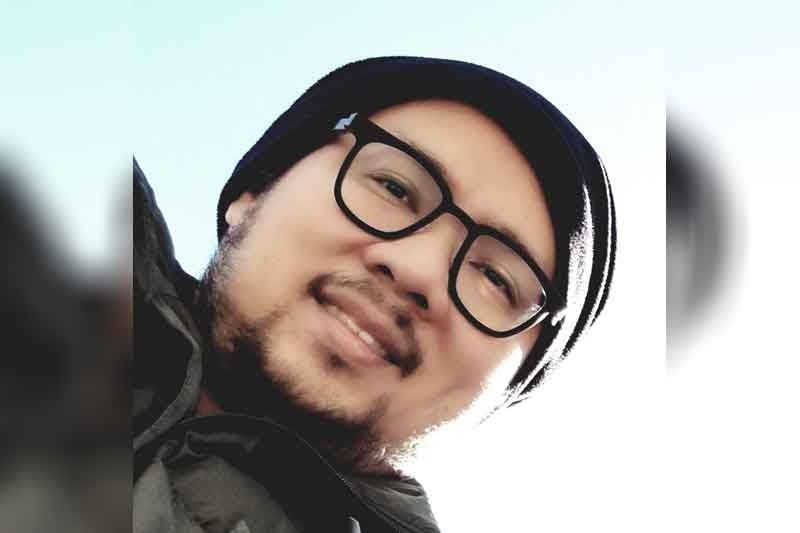 Filipino artist Leon Enriquez is part of the exciting industry of visual effects (VFX) and animation, lending his talent to works — including the upcoming animated feature Hotel Transylvania 3: A Monster Vacation — seen all over the world.
From company cleaner to world-class animator
MANILA, Philippines — His first job was cleaning candy conveyors of a food company in his hometown in Pampanga. Today, Filipino artist Leon Enriquez is part of the fascinating industry of visual effects (VFX) and animation, lending his talent to works seen all over the world.
The now Canada-based Leon is a senior modeler for Sony Pictures Imageworks. He does computer-generated characters, environment and "hard-surface models" — these are vehicles, robots, weapons, etc., for the info of the uninitiated — of an animated feature in three dimensions.
Born and raised in Pampanga, Leon earned his Bachelor of Fine Arts Major in Industrial Design degree from the University of Sto. Tomas. In Manila, he worked for ImagineAsia and Ambientmedia before being recruited by Framestore London where he worked on the iconic Baby Groot and Teenage Groot models, among other creatures.
His professional portfolio also includes Junglebook the origins, titled as Mowgli and set for release this year under Warner Bros. "I was involved with various characters and mainly the key person for (the animal) Tabaqui. I sculpted mainly Tabaqui and helped out on other characters. I did some facial shapes for some characters but mainly for Tabaqui and took over on Bagheera in rectifying and refinement of shapes," Leon was quoted in a media backgrounder.
He was also involved in "modeling the props, environments and generic people" in the upcoming Spider-Man: Into the Spider-Verse.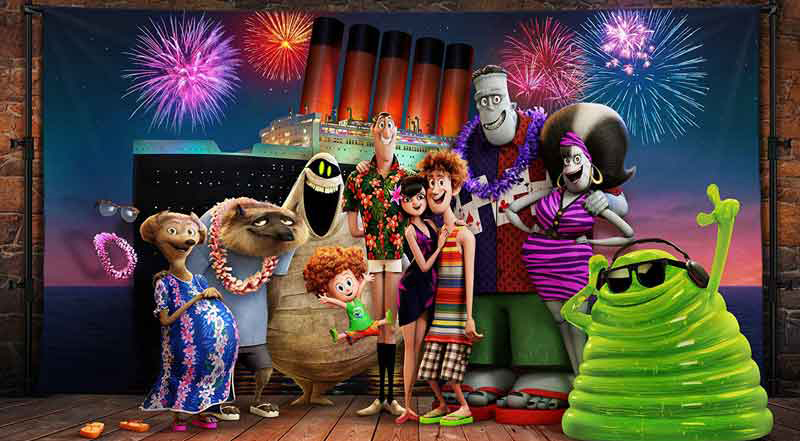 In the film, the favorite monster family goes on a holiday onboard a luxury cruise ship so that Count 'Drac' Dracula (voiced by Adam Sandler) can take a break from providing everyone else's vacation at the hotel
In Hotel Transylvania 3: A Monster Vacation, which rolls into Philippine theaters on Aug. 22, Leon was responsible for modeling the "massive nightclub DJ fight scene environment."
In the film, the favorite monster family goes on a holiday onboard a luxury cruise ship so that Count "Drac" Dracula (voiced by Adam Sandler) can take a break from providing everyone else's vacation at the hotel. Drac's Pack basks in all of the shipboard fun, from monster volleyball, exotic excursions to getting moon tans. But the dream vacation becomes a nightmare when Mavis (voiced by Selena Gomez) finds out that her dad Drac has fallen for the enigmatic captain of the ship, Ericka (Kathryn Hahn), who keeps a dangerous secret that could wipe out all of monsterkind.
Hotel Transylvania 3 also features the voices of Andy Samberg, Kevin James, David Spade, Steve Buscemi, Keegan-Michael Key, Molly Shannon, Fran Drescher, Jim Gaffigan, Joe Jonas, Chrissy Teigen, Jaime Camil and Mel Brooks. The movie is directed and written by Genndy Tartakovsky, produced by Michelle Murdocca and co-written by Michael McCullers.
The STAR had an e-mail interview with Leon before the animated film hits theaters.
Can you talk about your Filipino background? And why did you move abroad?
"I grew up in Pampanga, and after almost 15 years of struggling in the movie industry in the Philippines, I decided to move to London then Vancouver since there were more opportunities there for me and my family."
What Filipino values/culture you think are still very much part of you?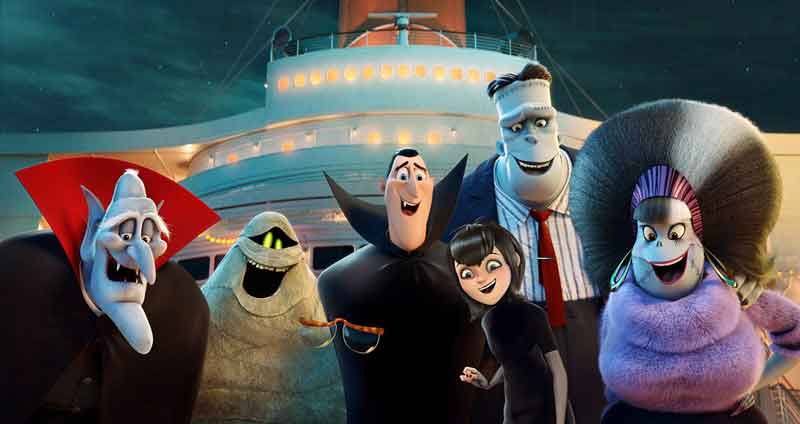 Drac's Pack enjoys all the shipboard fun
"I would say my patience, and my love for Filipino food."
What brought about this love for the arts?
"I remember my Dad drawing me a doodle of a tank when I was young, and from then on I started imitating his drawings. My mom was also studying architecture when I was young, and seeing her sketches of still life amazed me. When I was three years old, my dad took me to my first cinema viewing, and we saw Spiderman. My family also rented a lot of Betamax and VHS tapes to watch movies together. While I was not aware of the visual effects as a kid, movies like Alien, Labyrinth, Legend and Clash of the Titans inspired me a lot in many ways. I also enjoyed watching '80s cartoons like Looney Toons, Super 6, He-Man, Visionaries and Transformers. My interest and love for animation and VFX continued and became the biggest factors to why I'm working in the field today."
How did you get into the animation industry?
"My first job was in my hometown when I was a student as a candy conveyor cleaner at Universal Robina Corporation in Pampanga, Philippines. I then worked as a product research and development supervisor in Artisans Reproduction after graduating from Secondary School in Pampanga, Philippines. I also did a number of freelance works involving storyboarding for commercials during my free time before I got to my first job as a 3D artist in ImagineAsia back in 2000 in Mandaluyong, Philippines.
"I had a lot of different experience from other companies in the Philippines for VFX, Animation and commercials after ImagineAsia. Next, I was hired as a lead modeler in Hualong Film Digital productions for a straight-to-video project in Beijing, China. I was an employee for eight years (2005 to 2013) at Ambientmedia Animation working on a full-length animated feature in Muntinlupa, Philippines. I was also doing side projects for gaming and commercials during those years. Then, I worked as a full-time remote modeler for Clockwork VFX in Dubai.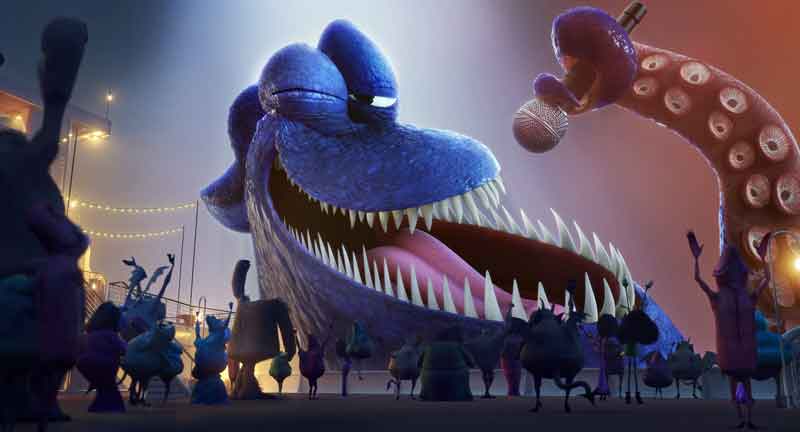 Party time with the Kraken (voiced by Joe Jonas)
"In 2015, Framestore London offered me a job as a modeler and of course, I took the opportunity! There I did some creature models and facial shapes. And since 2017, I've been at Sony Pictures Imageworks Canada where I get to work in both worlds of VFX and animation. Each project I've worked on has been very memorable to me, and each one has been challenging in their own way."
How tough was it breaking into the industry and starting out?
"I think the toughest part is being up to date with the newest software (programs). In this industry, you have to study almost annually to be familiar with what is new and how you can utilize the newest software in production. And each studio has their own pipeline. This industry also allows you to work with a lot of different people, so it's important to keep a good attitude and have strong work ethics. Being patient and hardworking is important as well."
Who were your mentors and who are your inspirations?
"I've only had one formal mentor; his name is Stephen Heidelberg. I worked with him in 1999 in a studio called ImagineAsia where he mentored me for softimage. Along the way, I've also met a lot of great artists, leads, supervisors and friends (who) have helped me into becoming a better artist. There are also countless people and things that inspire me, too. Including my lovely wife, Trina, who has always been supportive of me. I regularly ask for her opinions on my personal works and for major decisions. And of course, my daughter, who makes me strive to be a good example for her. It feels great when she gets excited to see my name appear during the end credits. It's the small things that are rewarding and keep me going!"
Can you tell us more about your work as senior modeler in the upcoming animated film Hotel Transylvania 3: A Monster Vacation?
"I joined Imageworks in 2017 and was assigned to different shows, but along the way, the Hotel Transylvania 3 production needed some help creating cloth, environment and destruction works. Probably the biggest challenge for me was the destruction of the nightclub scene. Along with great artists, we demolished the whole set!"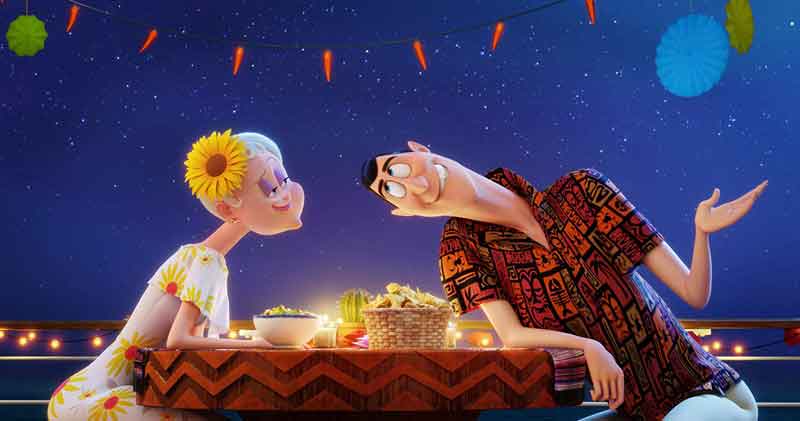 Drac falls for the enigmatic captain of the ship, Ericka (Kathryn Hahn)
With developments in technology (i.e. faster computers), is your work now easier or not, and why?
"It's both. It's easier as the course computer and software become faster and more capable, but then the demand and deadlines become shorter and bigger, too… I would say sculpting and concept stage are the most fun (to transform visually) when you remove the deadlines. I love character concepting!"
Who's your favorite character in Hotel Transylvania 3: A Monster Vacation?
"I would say Drac! The way that he's animated has a solid sense of character which I love."
How can you relate to the story of Hotel Transylvania 3?
"It's a movie about family, and I love my family! We love the sea, too."
What's free time like for you when you're not working?
"In my free time, I spend it with my wife and daughter. We love outdoor camping, going to beaches and traveling. And in my extra free time, I find myself sculpting my own creatures, and studying things on art and investments. It's always good to learn new things."
For anyone who wants to be part of the animation business, what would be your advice?
"If you want to pursue something, make sure you learn about it and understand it. Also be patient, and don't let other people influence you into another direction; it's your life so enjoy it!"