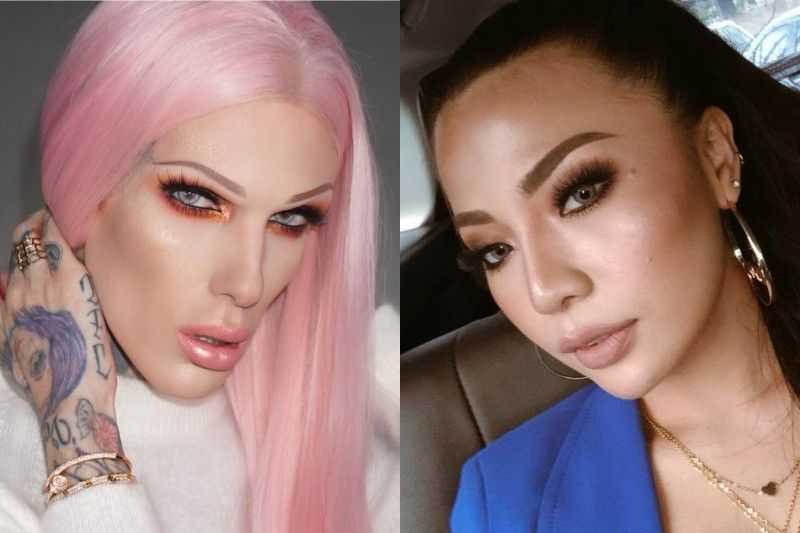 Filipina vlogger Michelle Dy was called out by American beauty guru Jeffree Star for allegedly copying his copyrighted series.
Jeffree Star and Michelle Dy's Facebook pages
Pinay vlogger Michelle Dy apologizes to Jeffree Star after getting called out for using copyrighted series
(Philstar.com) - August 1, 2018 - 4:02pm
MANILA, Philippines — Filipina vlogger Michelle Dy has issued a public apology after American beauty vlogger and cosmetics line owner Jeffree Star called out an unnamed "vlogger" for allegedly copying his copyrighted series.
On Wednesday, Jeffree posted Instagram stories accusing a Youtuber "who is not known in America" of stealing his copyrighted "Approved" series.
"Also, there is a Youtuber who is not known here in America but they recently tried to steal my approved trademark—whole entire series and do it in their channel," Jeffree said.
"I knew I didn't invent the word 'approved' but girl, that's been my thing for two years now. It's trademarked on merch. Don't try me," she added.
Jeffree added that he would not name the YouTuber to avoid giving more attention to her.
Although Jeffree did not name the vlogger, Michelle owned up to the mistake and publicly apologized to the American beauty guru.
Michelle explained that Jeffree Star is one of the few YouTube gurus she watches and looks up to in the YouTube community. She, however, said she is not aware that the "Approved" series is copyrighted in the US.
"Recently, I uploaded 2 new videos in my youtube channel which was the 'MD Approved New Series' inspired by Jeffree, while it was clearly stated in the description box in the 2 videos that these new series in my channel were Pinay version and inspired by international YouTubers, I was unaware that this "Jeffree Star Approved" series is copyrighted in America," Michelle wrote in a statement she posted on her social media account.
"I would like to sincerely apologize to Jeffree Star if any way or another, I may have violated your trademark," she added.
Michelle promised that such an incident would not happen again as it served as a lesson to her.
"I am sharing this to all of you to serve as a lesson for all of us. I believe that a mistake cannot be corrected with another mistake," the Filipina vlogger wrote.
????????????♥? pic.twitter.com/AWR5ylitji

— Michelle Dy (@michelle_dy) July 31, 2018
Before Michelle issued her public apology, netizens also posted a screenshot of Jeffree's alleged comment on the Filipina's vlogs which has since been taken down.
In the comment, Jeffree allegedly lambasted Michelle and called her "pathetic" and "boring unoriginal" for supposedly stealing his series.
"You're full of complete s***. Stealing my 'Approved' series and trademarked title is pathetic…but that's what boring unoriginal people do. My lawyer will reach out to you shortly. 'Jeffree Star Approved' is copyrighted in America," the comment allegedly read.
Despite this, it was unclear whether Jeffree indeed filed a case against Michelle.
— Rosette Adel