Jennifer Laude film in Cinemalaya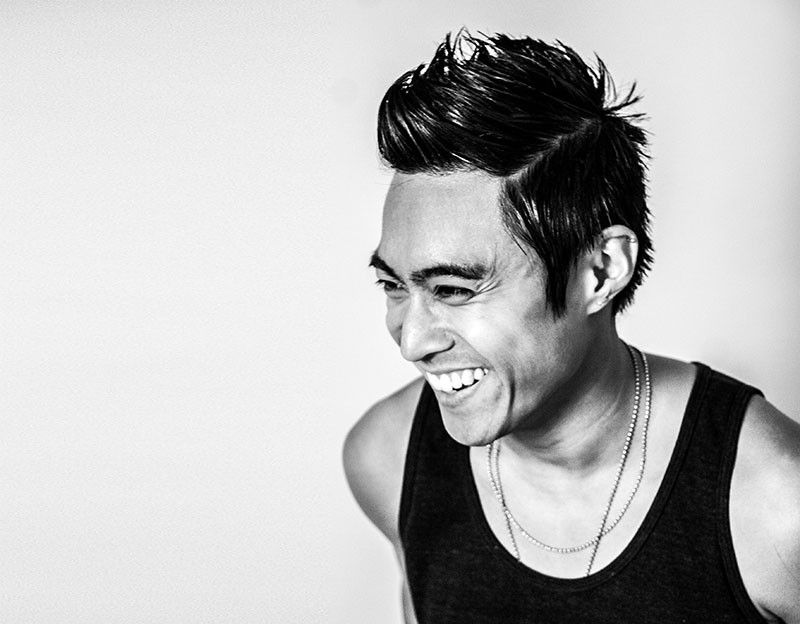 Set to premiere on Saturday, Aug. 4, at the 2018 Cinemalaya is the documentary Call Her Ganda which is about the sensational case of transgender woman Jennifer Laude and US PFC Joseph Scott Pemberton who is now detained at Camp Aguinaldo after he was found guilty of killing Laude.
Directing the docu produced by Marty Syjuco and Kara Magsanoc-Alikpala is PJ Raval, a Fil-Am cinematographer and filmmaker whose works include Trouble The Water (2008), Trinidad (2008), Habibi (2011), Fourplay (2012), Sunset Stories: A Tale About Losing Baggage (2012), Before You Know It (2013) and Love & Air Sex (2013).
In an e-mail interview, PJ talks about Call Her Ganda, probably his most controversial film which had its world premiere at the Tribeca Film Festival in New York.
Why did it take US-based Fil-Ams to film this sensational case that affected US-Philippine relations?
"I must admit at first I was apprehensive to make a film about Jennifer Laude, and I thought perhaps someone already on the ground, someone living in the Philippines should make this film. Maybe even a trans activist? But the more I spoke to Atty. Virginia Suarez (lawyer of Jennifer Laude) about the potential of me making a documentary, the more I realized that as a Fil-Am, I would have a unique perspective and perhaps making a film that potentially criticizes the US would hold a certain amount of weight coming from an American.
"Having been born and raised in the US, I know firsthand how the Philippines has been overlooked and misunderstood, and sharing Jennifer's story would make many Americans realize how deep the effects of American imperialism have been in the Philippines and in some cases make people first aware of the imperialist past.
"As a queer individual, I also know firsthand how LGBTQ+ communities have been marginalized and targets of hate and violence, so all of this makes Jennifer Laude's story personal to me because it's also the story of the Filipino people and of the queer community — both which are my communities."
At the red carpet of the Tribeca Film Festival with (from left) journalist Meredith Tuason, lawyer Virgie Suarez and transgender woman Naomi Fontanos…
What went into the preparation for the project, who were the people interviewed?
"In order for me to commit to making the film, the first thing I needed to do was make sure I had the permission and trust of the Laude family first and foremost since I knew they'd be the heart of the story. Thankfully, Virgie introduced me to Jennifer's mother 'Nanay' and Jennifer's sisters Malou and Michelle. After they heard why I wanted to make the film, they quickly agreed and I planned to start filming immediately, but I also knew in order to start I'd need a strong local producer.
"Several close friends put me in touch with Kara Magsanoc-Alikpala who became crucial to the film being possible. A few weeks later, I met Marty Syjuco through close mutual friends and I immediately approached him about joining our team. Then, after we began production, I brought on Lisa Valencia-Svensson who is based in Canada to round out our all-Filipino producing team.
"I knew everyone involved would have personal stakes in telling this story and also be able to bring their own unique perspectives and experiences to the production. I started filming Nanay, Virgie and Malou, then through another close connection I was introduced to Meredith who I immediately knew would be the narrator of the film. Meredith's investigation into the case would parallel my own, but also her comprehensive and eloquent writing would serve as a reflection of the story."
Doesn't the movie make any judgment (who's to blame, who's at fault, etc.)?
"This film is not a crime drama and isn't about if Pemberton is guilty or not…the evidence is there and, in fact, he admitted to the crime during his surprise testimony. The film for me is about: Will these women see that this marine be held accountable for his crimes? So I chose to follow the experience of those fighting endlessly despite the many barriers they have to overcome and continually have to overcome. They not only have to navigate a legal system, but they are also up against a century of imperialism and unequal power relations with a foreign superpower. So it's really quite an overwhelming undertaking and I am inspired by the commitment and passion of everyone we follow in the film."
How was the cast chosen?
"I initially started following those featured in the film not only because of their importance to the unfolding events, but also because of their passion and commitment. But when I began editing the film, it became clear to me how they were all interconnected. I started thinking of the film itself as a body, a being, and at the heart was Nanay and the Laude family who loved unconditionally and would never give up despite the odds. They loved Jennifer and her loss was devastating.
"Meredith as the investigative reporter represented the head or the intellect and she not only asked the very difficult questions, but also as a trans person navigating the world herself, she could identify with Jennifer through her own experiences and place this story into the larger context of the challenges a trans person faces in this world. And lastly, Virgie and the activists were the flesh or the body, they took action and hit the streets to physically change the outcome. So for me it was a great trio."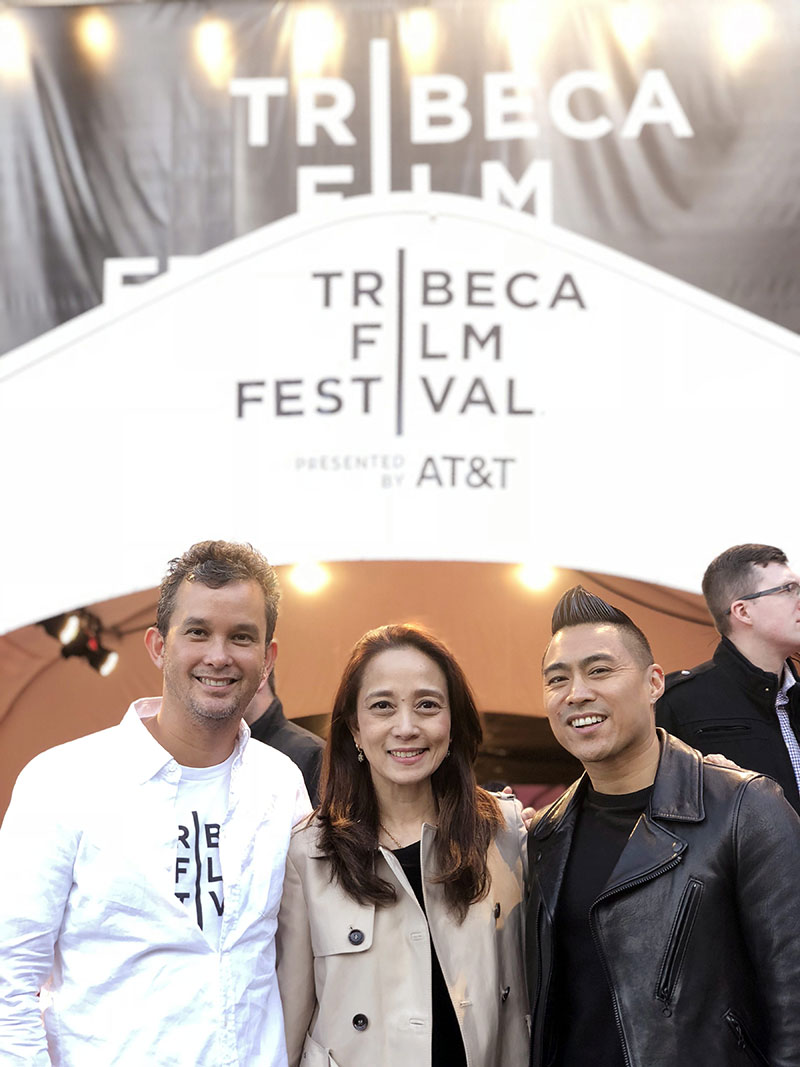 …and with Marty Syjuco (left) and Kara Magsanoc-Alikpala, producers. Marty was also the producer of the docu Give Up Tomorrow which is about Paco Larrañaga, one of the accused in the Chiong Sisters murder case.
How do you think the movie will affect the attitude of women "entertaining" soldiers (not only Americans but other nationalities as well) on R&R or on duty in the Philippines?
"The sad reality is that this film cannot directly help these women who are subject to the barriers of poverty, sexisms and 'transphobia.' However, I hope it serves as a platform for some of their voices to be heard. In the film, we have transwomen who are activists, investigative reporters, daughters and sisters but also sex workers. So I hope people see transwomen can also take on many different roles and as trans activist, Naomi Fontanos says in the film, 'transgender movement has to eradicate the notion that you have to sell your body in order to survive'."
What lessons can be learned from the movie?
"The story of Jennifer Laude is tragic. At the end of the day, a mother lost her daughter and no one should ever have to face the hardship Nanay has faced. But the story is also an inspirational one because for me it also shows the resilience and will of the people and what is possible when people come together and fight to be heard and refuse to stop until they see change for the better. I think we can all agree in this day and age we need that more than ever. So I hope people see this film and are inspired by those whose stories we feature. If they can do it, so can we."
Lovers in Tokyo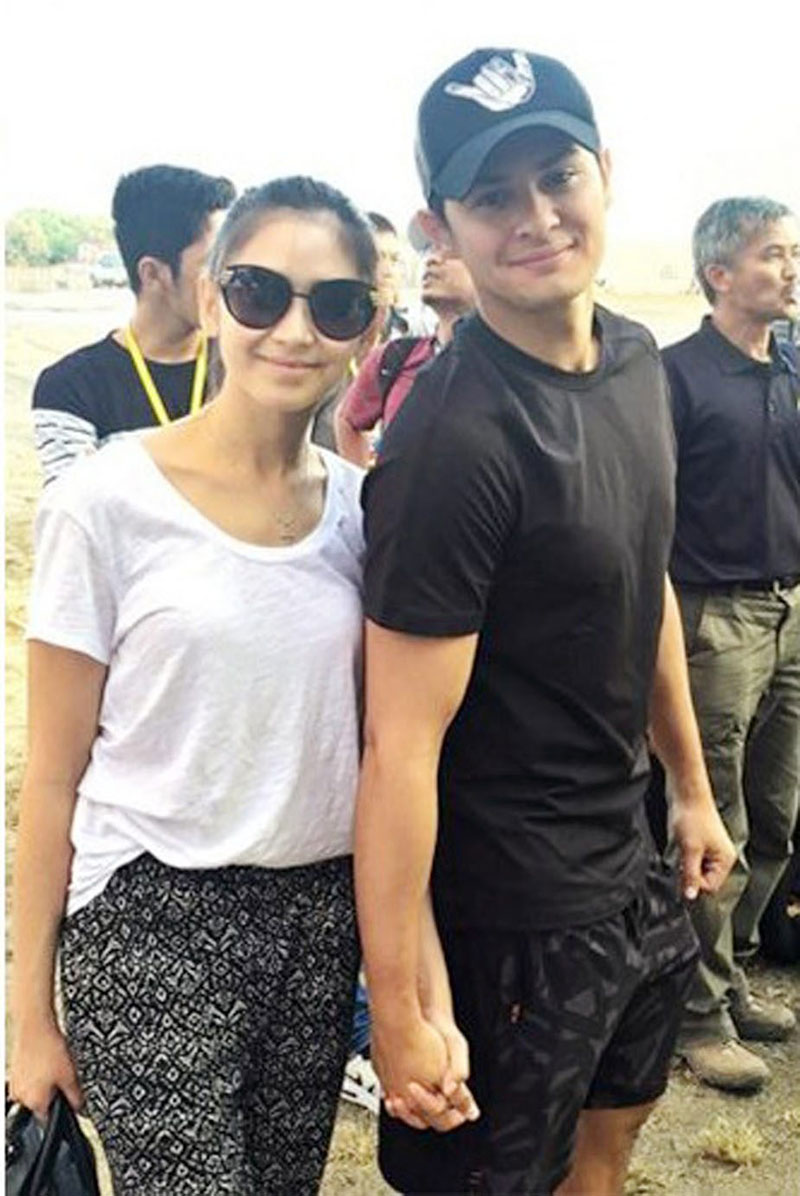 While the world was not looking, sweethearts Sarah Geronimo and Matteo Guidicelli (in file photo) slipped out of the country for some private moments in Tokyo…far from the maddening (nosey) crowd…
The couple must have departed last July 27 or 28 from Cebu where two days earlier Matteo was launched as brand ambassador of Uratex, 'The Sleep Specialist.' Sarah was in Cebu at the time to support Matteo but she didn't appear at the Uratex event.
Cebu has become virtually Sarah's second home where she's comfortable with Matteo's family.
Sarah turned 30 last July 25 and is obviously enjoying her independence (Read: Wway from the eagle eyes of her parents).
While in Tokyo, they were billeted at the Peninsula, just the two of them, according to The STAR source who was staying at the same hotel. The lovers should be back by this time.