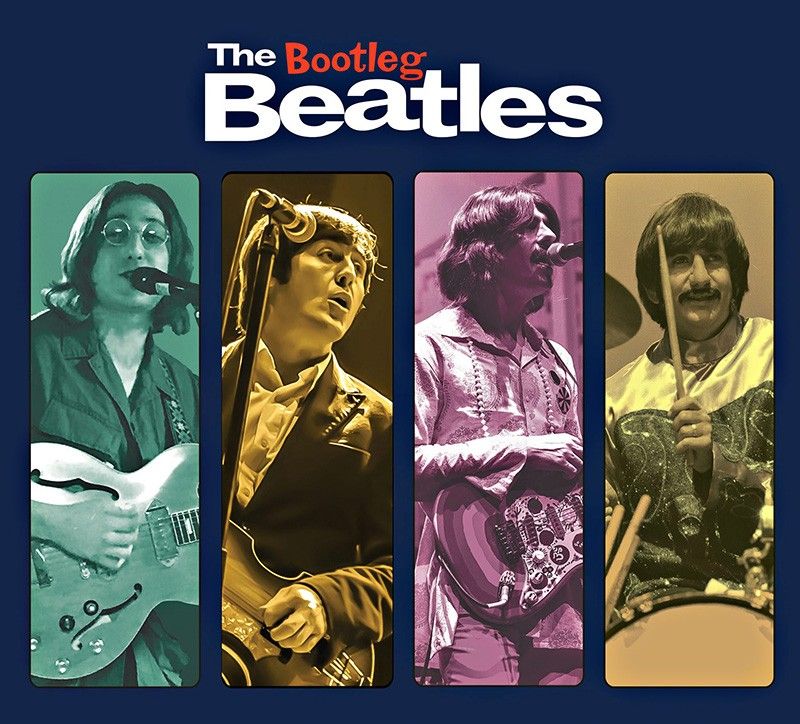 John Lennon has been gone for over 30 years. George Harrison, too, for only a few years less. I know that the now 76-year-old Paul McCartney is very much around and mighty busy, too.
Bootleg Beatles back again
I don't think there is anybody alive in this world who still dreams of being able to watch a live performance by the legendary Beatles. Now, when I say legendary, I mean legendary in big, capital letters because those mopheaded boys from Liverpool have indeed become legends for all time. But there is no way anymore that a Beatles concert is going to happen. And I do not think I would even be interested in a virtual reality version. The band has passed on.
John Lennon has been gone for over 30 years. George Harrison, too, for only a few years less. I know that the now 76-year-old Paul McCartney is very much around and mighty busy, too. He has announced a new tour, released a new album of original material titled Egypt Station. Why, he has even done a most heartwarming Carpool Karaoke around Liverpool with James Corden a few weeks ago. But all that is just because of being McCartney, not as a Beatle.
Ex Beatle drummer Ringo Starr is not doing so bad either. The recently knighted, he is now also Sir Ringo, has an album out, Give More Love and tours regularly with his band The All-Starrs. He celebrated his 78th birthday last July 7 with a Peace and Love Salute event at Hard Rock Café in Nice, France. Starr has been doing this at noon every July 7 at a Hard Rock Café wherever he happens to be in the world. He enjoins fans to do the salute at 12 p.m. on their own timeline. As a result, there were 60 countries doing a Peace and Love Salute this year.
But enough of Ringo. Let us go back to Beatles live. If you still want a taste of the Beatles concert experience, then be glad that there is the Bootleg Beatles show to turn to. An off-shoot of the Beatlemania West End revue in London, the tribute band has been doing its Beatles act for nearly 40 years now and getting mostly positive reactions.
With costumes and musical instruments accurate to the last detail, those who watched them during their last gig here swear that they look and sound like almost the real thing. As one reviewer wrote, "It's not John, Paul, George and Ringo — but you simply won't believe it." The guys performing as the Fabulous Four do a note-perfect performance and even have those cute English accents. Time to savor the good news, they will be back in town for the grandest Beatles sing-out ever.
So for the only live Beatles show you will ever be able to watch in this lifetime, go and check out the Bootleg Beatles on its Philippine Tour. Sept. 3 at the Santa Rosa Sports Coliseum in Santa Rosa, Laguna; Sept. 5 at the Plenary Hall of the Philippine International Convention Center in Pasay City; Sept. 6 at the LausGroup Event Centre in San Fernando, Pampanga; and Sept. 8 at the IC3 Convention Center in Cebu.
Filipino audiences will be treated to Beatle tunes that the Bootleggers have never played live before. These will include tracks from the Beatles' White Album, which came out on Nov. 22, 1968 and is marking its 50th year of release into the market. A portion of The Bootleg Beatles show is set aside for the White Album songs.
Fans can now look forward to enjoying tunes like I Will, Blackbird, Obladi Oblada, Back In The USSR, Happiness Is A Warm Gun, Savoy Truffle, Helter Skelter, Honey Pie, Mother Nature's Son, Sexy Sadie, Revolution 9, Glass Onion, Cry Baby Cry, Julia, Rocky Raccoon, and others from the album. I do not know how they will do it but they had better get the beautifully haunting Harrison composition, While My Guitar Gently Weeps down perfectly.
Tickets to Bootleg Beatles are now available at ticketworld.com.ph, smtickets.com, ticketnet.com.ph, platinumlist.net.
By the way, speaking of anniversaries, this year marks the 50th anniversary of another Beatles landmark release, the animated feature film Yellow Submarine. Released into theaters in 1968, the picture was based on the Lennon-McCartney nonsense song of the same title which was included in the Revolver album from 1966.
The soundtrack includes Only A Northern Song, All Together Now, Hey Bulldog, It's All Too Much, All You Need Is Love and Yellow Submarine.
Ready now, "In the town where I was born/ lived a man who sailed to sea/ and he told us of his life in the land of submarines/…we all live in a yellow submarine/ yellow submarine…"