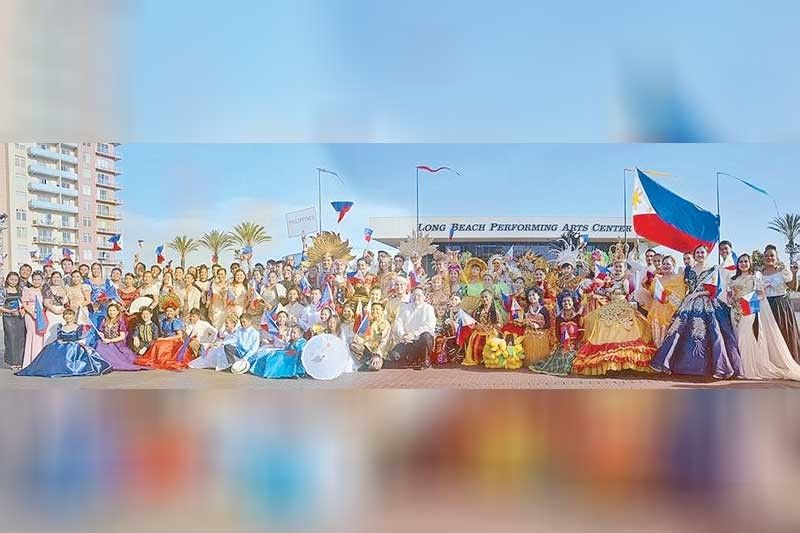 Team Philippines brings home medals each time it joins the World Championships of the Performing Arts (WCOPA)
WCOPA's Team Philippines still on a winning streak
MANILA, Philippines — Besides talent, what makes Team Philippines bring home medals each time it joins the World Championships of the Performing Arts (WCOPA), where the group brought home 286 awards in this year's 22nd competition in Long Beach, California?
It must be the training and the support the nearly 100 talents underwent under their national director Gerry Mercado, who started heading the team six years ago. Gerry felt how much the candidates longed to join this year's event, where they competed against over 50 countries around the world.
Some of the candidates begged that the deadline be extended a couple of hours more. Gerry knew it required more work on his part, since the deadline for the international competition can't be moved.
But he saw the fire in the candidates' eyes. He felt the passion in their pleas. Who doesn't want to attend boot camps under tried-and-tested star makers like Seth Riggs, who taught the art of speech-level singing to Michael Jackson, Julio Iglesias, Stevie Wonder, Madonna, Tina Turner, Michael Bolton and others?
Who doesn't want to learn dance from the Millennium Dance Complex, where Justin Timberlake, Usher, Pink and the Pussycat Dolls got ideas about pleasing the crowd and making it ask for more?
Gerry felt the fire in the auditioning talents' bellies. He understood the gleam of hope in their eyes. So, he took a leap of faith. He granted their wish.
After all, some of them came all the way from Visayas and Mindanao (besides Luzon, of course), where regional talent scouts scoured barangays to get the cream of the crop.
Team Philippines deputy national director Annie Mercado says only 87 talents made the cut out of 580 who auditioned all over the country. They consisted of singers, dancers, instrumentalists and other performers. Some are wide-eyed boys and girls with Goliath-like talents.
The Mercados know talent is a given for all of them. So, the couple instills the qualities of winners — humility, perseverance and gratitude as well.
"Gratitude is the most important of them all," Gerry tells the team, who got light blue jackets as their identifying attire. "Never forget the people who helped you."
He also boosts their spiritual values.
"Your talent," he points out, "is God's gift to you. What you do with it is your gift to God."
He warns against setting their sights too high. WCOPA, he explains, doesn't promise fame and fortune. Like success, it's a journey. One thing it can do is open big doors for gifted performers, the way it did for WCOPA Senior Grand Performer of the World Jed Madela in 2005.
Jed tells the US-bound talents that WCOPA saved him from severe depression and frustration back when he was an unknown named John Edward Tajanlangit from a small town in Iloilo. So, he's paying it forward by helping orphans, street children and others.
"Talented Filipinos are everywhere," he observes. "Ninety percent of them live in poverty. Most are bullied in school for being different. Some have resorted to drugs out of frustration. Most of them have to shelve their dreams."
Jed thinks aloud. "Why not find a way to help their family financially?"
WCOPA is doing just that — indirectly. It's providing the venue for raw talent to shine so they can share their blessings with their family.
This is why the Mercado couple created a new page in social media for talented performers who want to join the WCOPA to check out. Gerry says his home is always open to performers who need advice about honing and taking their talents to the next level.
The search for excellence and bigger opportunities is unending. WCOPA's Team Philippines is always there to make dreams come true and help the country shine even more as a haven of the best performers the world can ever have.