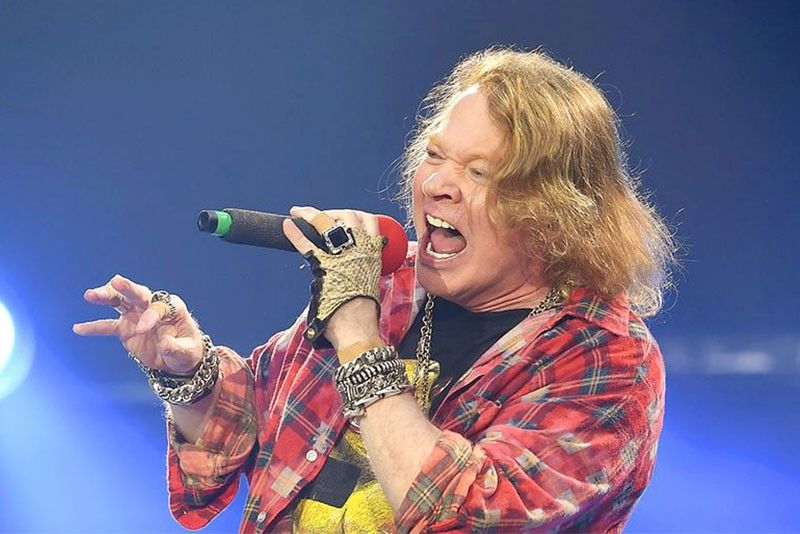 Guns N' Roses frontman Axl Rose
AP photo
Not In This Lifetime tour
The tour is named Not In This Lifetime and that was what almost happened. Guns N' Roses (G N' R), one of the most successful and most influential rock bands that ever existed, went into demise after frontman Axl Rose began to lose his members. He did hire several others to take the place of Slash and company but those, too, did not last long enough to finish an album or do a tour. And so the fans and the music business put G N' R in storage in the pantheon of rock with a "not in this lifetime" caption.
But then literally, almost out of the blue came the announcement, Guns N' Roses has reunited and it is going on tour. Axl and Slash have become friends and original bassist Duff McKagan is along for the ride. And contrary to those early tours that were mostly rocked by riots, cancellations and bad vibes among the members, this one has been going smoothly. The fans are loving it. The G N' R guys are enjoying themselves. Who knows, one of these days they might even go to the studio and record an album.
But really who woudn't when the Not In This Lifetime tour has been packing arenas everywhere. It has already earned a staggering $480.9M and is now the fourth highest grossing tour of all time. Let us all see how much Manila will add to that figure when Guns N' Roses comes to perform at the Philippine Arena in Bulacan on Nov. 11 for the first time ever. This is your chance to hear Sweet Child Of Mine performed live. Another happy note, ticket prices are very reasonable for this, the biggest rock concert to hit local shores. P840 to a high of P15,595. Joining Axl, Slash and Duff will be Dizzy Read on keyboards, Richard Fortus on rhythm guitar, Frank Ferrer on drums and Melissa Reese on keyboards.
Now, to celebrate their return to performing on tour and to keep the appetites of their fans foaming at the prospect of a new album soon, Guns N' Roses is releasing the Appetite For Destruction Locked N' Loaded Edition boxed set on June 29. And this is what is boggling my mind right now. Whoever put this together created the ultimate dream package for the die-hard Guns N' Roses fan. This is also probably the most extensive memorabilia set put together for a rock group or any music star for that matter. Not even the Beatles got something like this and it costs a jaw-dropping $999 or almost a cool one thousand bucks not including shipping.
Take a look at the contents that come housed in a gorgeous simulated leather and wooden box with an embossed G N' R logo. Handmade 3D Cross; 96-page hardcover book with never-before-released photos from Axl's personal archive and memorabilia; four CDs with a total of 73 tracks, 49 of them previously unreleased; a Blu-Ray Audio Disc; assorted mixes; original music videos; seven Audiophile 12-inch LPs; limited edition Foil Art slipcase; Hologroove Hologram of G N' R logo; the first album release from 1985, the Live Like A Suicide EP with an extra track, the never-before-released Shadow Of Your Love; a B-Sides N'EPs LP; replica seven-inch singles including Shadow Of Your Love on yellow vinyl.
There are more. 32GB Metal Cross USB Stick with high resolution audio formats from all four CDs; 12 new illustration lithographs visualizing each song on the album; metal band skull face rings; metal bang skull face lapel pins; metal guitar picks with band skull faces and signature; turntable mat; microfiber vinyl cleaning cloth; replica early years gig flyers; iron-on stitched logo patches; seven-inch collectible coin; bandana with silver metallic ink; two wall posters; temporary band member tattoos; replica ticket stubs; numbered certificate of authenticity; and other items.
Although I cannot really imagine what anybody will do with all of the G N' R stuff in the box, the package comes across as truly impressive. I see it as something for future generations to marvel at. Future tales will say, well, you see there were these guys from the '80s era who created ear-splitting music. Their songs became so popular that they were later considered worthy to be honored and, of course, remembered with this Locked and Loaded album.
However, if all that you want are just the hits in plain trappings, a CD or LP, then the Greatest Hits by Guns N' Roses from a decade ago is the album for you. Aside from Welcome To The Jungle and its usual companions, Sweet Child Of Mine, Paradise City, this collection also includes gorgeous covers: Civil War, You Could Be Mine, Don't Cry, November Rain, Live And Let Die, Yesterdays, Ain't It Fun, Since I Don't Have You and Sympathy For The Devil.