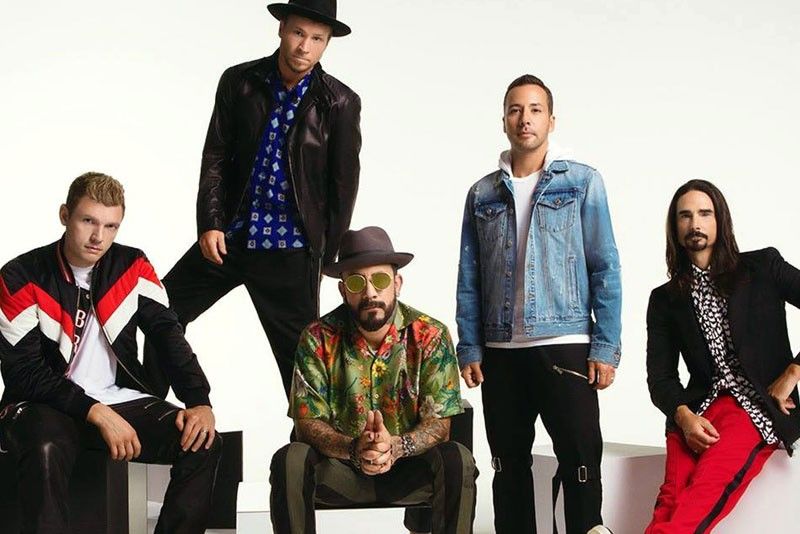 It also helps that despite some upheavals and crises in the past, the Backstreet Boys remains intact with the same founding members
New single from Backstreet Boys
The fans of N'SYNC seem forever caught in limbo wondering if their favorite group would ever perform together again. Fat chance. Do you think Justin Timberlake would ever do that? Not so the fans of the generally acknowledged greatest boy band of all time, the Backstreet Boys (BSB). Their fans are at present rejoicing over the incredible results of the BSB's latest single release, Don't Go Breaking My Heart.
It is true. The boys are still very much in the hitmaking game. The song is their first original recording in five years. It comes on the heels of the collaborative single with the Florida Georgia Line, God, Your Mama And Me. This one gave the boys a Top 10 seller in the country chart and lots of new followers among country music fans. Their last album was In A World Like This, which spawned one of the most successful world tours of the group. That one included the Mall of Asia (MOA) Arena in Manila where they performed to a screaming, dancing, everything swooning jam-packed audience.
Don't Go Breaking My Heart is a sexy dance jam with the falsetto vocals so adored by BSB fans. It easily made No. 1 on iTunes in a lot of countries and led trending on Twitter. The gorgeous video has already received over five million views on YouTube. And I am sure that those of you who have checked out this one out will agree. These boys, well, they are now more men than boys, have not only kept their dance moves and vocal chops in very good condition, they have also maintained their heartthrob looks. Not bad for a, would you believe, 25-year-old boy band.
That is right, the BSB is now celebrating its 25th year. It was in 1993 when A.J. McLean, Howie Dorough, Nick Carter, Kevin Richardson and Brian Littrell became the Backstreet Boys. They were the Orlando, Florida version of the New Kids On The Block (NKOTB) of New Jersey. They were part of a new type of sound popular among teenagers that came about during the late-'80s. This propelled acts like the NKOTB, Spice Girls, Britney Spears N'SYNC, 98 Degrees, Hanson and others to stardom and the biggest of them all was the Backstreet Boys.
The Backstreet Boys has since then sold billions in concert tickets and over 130 million albums. Take time to check out those online polls nowadays about the greatest boy bands of all time and you will find the Backstreet Boys, ever the No. 1 choice. For those wondering if One Direction ever made it to the list, well those lads always make it to the Top 10. But never No. 1. That slot belongs to BSB.
I would attribute this enduring popularity mainly to the fact that the Backstreet Boys made hit songs that have endured through the years. The endurance game is all about the hits and artists have been known to build lifetime careers on the strength of just one or two hit songs. The BSB sound then was nothing earth-shaking. The songs were simple and formulaic, and market release nicely alternated between catchy, danceable, uptempo tunes and sweet heart-breaking ballads. But they were just what the teen market wanted.
Quit Playing Games (With My Heart), As Long As You Love Me, Everybody (Backstreet's Back), All I Have To Give, Anywhere For You, I'll Never Break Your Heart, Get Down (You're The One For Me), I Want It That Way, Larger Than Life, Show Me The Meaning Of Being Lonely, The One, Shape Of My Heart, More Than That and The Call.
Those teens, now middle-aged ladies and gentlemen, keep the Backstreet Boys selling. They introduce their likeable music to their kids. Aside from streaming and downloads, they also fill up concert halls like the Zappos Theater in Las Vegas where the BSB established residency in the Backstreet Boys Larger Than Life show starting last year. It also helps that despite some upheavals and crises in the past, the Backstreet Boys remains intact with the same founding members.
Okay, the guys are also older now, but from what I remember during their last visit, they still put on an enjoyable show. This is why in case the BSB announces a tour after their Las Vegas stint, I would so like to watch them perform live again.
Update: Kevin is married to Kristin Kay Willits and they have two sons, Mason Frey and Maxwell Haze; Brian is married to Leighanne Wallace and they are parents to budding actor Baylee Thomas Wylee. Nick has a son Odin Reign with his wife Lauren Kitt. Howie and Leigh Boniello have two sons James Hoke and Holden John. AJ and Rochelle Deanna Karidis have a daughter Ava Jaymes.