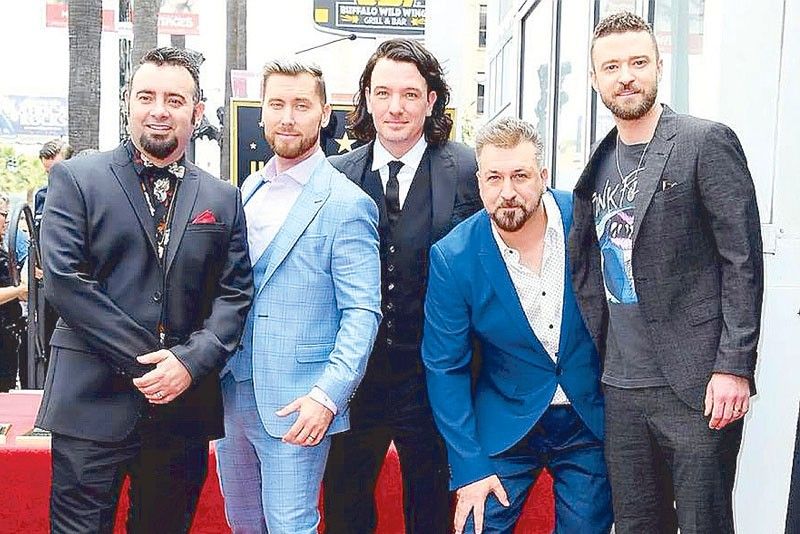 The boy band was honored with its own star on the Hollywood Walk of Fame and Lance Bass, JC Chasez, Joey Fatone, Chris Kirkpatrick and Justin Timberlake were present at the ceremony
Hosting the biggest stars is nothing new to 7080 Hollywood Boulevard. So is having the excited fans who always materialize in the wake of celebrities. Still the natives were very surprised when April 30 turned out to be more crowded and than usual. In fact, a news report described the fans present as countless and a good many of them were women in their 30s and 40s. They were screaming their lungs out in near hysterics. It was all because of 'NSYNC.
'NSYNC was honored with its own star on the Hollywood Walk of Fame and all five members were present at the ceremony. No wonder the fans were going crazy even singing the big hit Tearin' Up My Heart upon sight of the boys. It was great to see Lance Bass, JC Chasez, Joey Fatone, Chris Kirkpatrick and Justin Timberlake together again. Though now older, the boys still looked swoony handsome in their heartthrob bests.
And what have they been doing these past 15 years on their own? Well, we all know what Justin is always up to.
'NSYNC catapulted Justin to stardom. But it was also him who, in a way, destroyed the group. It was in 2002 when the announcement came that 'NSYNC was going into hiatus. Not disbanding. Just taking a break. But it was during that same year when Justin made his solo debut with the album Justified. He was not the best singer of the band but he had pop idol oozing out of every pore. Justified was a hit and Justin was on his way to the top, all by himself.
Justin has since then recorded albums Love Sounds, The 20/20 Experience, Man Of The Woods and singles like Cry Me A River, Rock Your Body, Sexyback, What Goes Around Comes Around and Can't Stop The Feeling. He acts in films like The Social Network, Bad Teacher and Friends With Benefits. The first time that 'NSYNC performed together on stage after the break-up was at the 2013 MTV Music Video Awards where Justin was honored with the Video Vanguard Award.
JC was 'NSYNC's other lead singer. It was Justin who brought him into 'NSYNC. They were both part of the All New Mickey Mouse Club TV show. JC is now a songwriter and record producer who has worked with the Backstreet Boys, Matthew Morrisson, David Archuleta and Girls Aloud. He sings solo and appears on television. Last seen, he was a judge in the show America's Best Dance Crew.
Chris was singing with the Hollywood Hi-Tones at Universal Studios when he was approached by music manager Lou Pearlman about putting together a boy band. The result was 'NSYNC. Chris still performs occasionally. He is a well-known voice actor as Chip Skylark in The FairlyOdd Parents. He is married to Karly Skladany and they have one son, Nash Dylan. He is also very active in charity work at the Chris Kirkpatrick Foundation that benefits disadvantaged children.
It was Chris who recruited Italian boy Joey Fatone to become 'NSYNC's baritone when they met while working at Universal. The genial Joey has led a very busy life post-'NSYNC. He is an actor as in the My Big Fat Greek Wedding series on films and television. As a TV host, The Singing Bee, Family Feud, The Price Is Right, Rewrapped, My Family's Recipe Rocks and in Red Carpet pre-shows. As in theater, Rent, The Little Shop Of Horrors and The Producers. He is a voice actor for Robot Chicken. He danced in Dancing With The Stars. He is married to Kelly Baldwin and they have two girls who have Lance Bass as their godfather.
Bass singer Lance almost rode the Soyuz Space Capsule as a cosmonaut. But that did not happen although he was pronounced fit for the ride. Lance whom Justin brought into 'NSYNC is now an actor in films, I Now Pronounce You Chuck and Larry, Zoolander, Tropic Thunder, in theater, Hair Spray and he also danced in Dancing With The Stars. Aside from all that, Lance is a bestselling author. His book, Out Of Sync, about his experiences as the gay member of a boy band made the New York Times list.
'NSYNC came to prominence in 1995 but did not stay around very long, 1995 to 2002. They recorded three studio albums, 'NSYNC, No Strings Attached and Celebrity. No Strings Attached in 1998 broke sales records with one million copies sold in one day and 2.42 million copies in one week. This record stood for 15 years until Adele's 25 came along in 2013 and broke the 'NSYNC record.