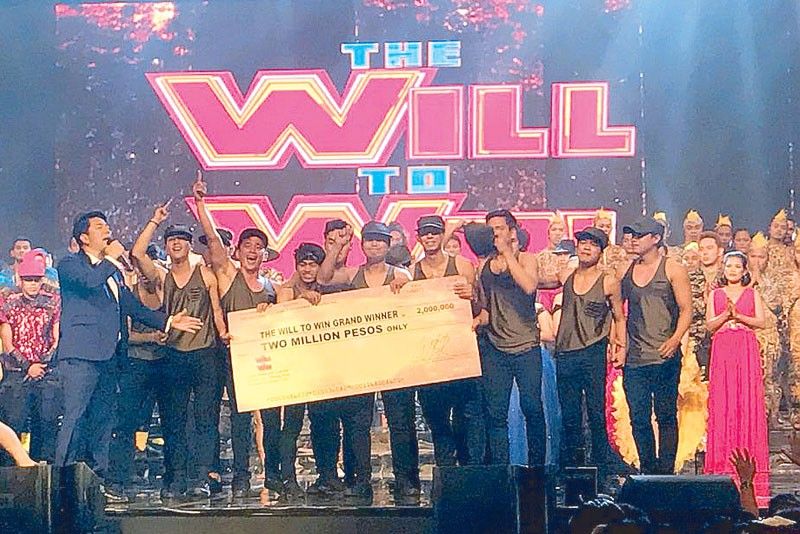 First Prize (P2M): Philippine Islands Assassins
Resounding 'Wow!' to winners
FUNFARE
-
Ricky Lo
(The Philippine Star) - May 5, 2018 - 12:00am
Curtain-raisers:
• My heart aches for a showbiz couple who lost what would have been their second child. The mom, who was into her third month of pregnancy, was set to announce the good news to the whole world when her OB-Gyne broke the sad news to her — the little life in her womb had no more heartbeat. The couple's first child (a beautiful, talented teenager) has been longing to have a baby brother or sister. "God must have another 'gift' to us," sighed the grieving mom. "In His good time."
• A sexy actress is wondering if she has any balat (dark spot) in her body because four of her exes have landed in jail — Ex #1 is still "inside"; Ex #2 is now into his second (happy) marriage; Ex #3 (the husband) was linked to a beauty queen when last heard from; and Ex #4 is hoping and praying to be back in the outside world…soon? She's hoping against hope that her current flame (a foreigner that her mom doesn't approve of) doesn't suffer the same fate.
• Instead of winning friends (and, as the good book says, influencing people) at her new home, a petite actress is only succeeding in alienating them because of her "attitude." She would become grumpy and throw a huge tantrum when asked to follow instructions (such as during a pictorial, she would insist on wearing a sexy dress even if it wasn't required). Is that why her old home didn't stop her when she decided to "jump" ober da bakod?
***
From last Wednesday to yesterday, Willie Revillame's Wowowin had been airing the grand finals of the show's widely-followed (attracting contestants of varied talents) The Will To Win segment, taped as live Friday last week from 2:30 to 10:30 p.m. at the Kia Theater which was packed full of energy-charged audience. If you watched the episodes, you must have gasped at the buwis-buhay (life-threatening) derring-do, especially of the acrobats who executed multiple tumbles into the air, gracefully landing (not on their head but) on their feet…smiling widely!!! They made it look so easy but viewers, especially the children, are warned against attempting to try the "acts" because only professionals can do them.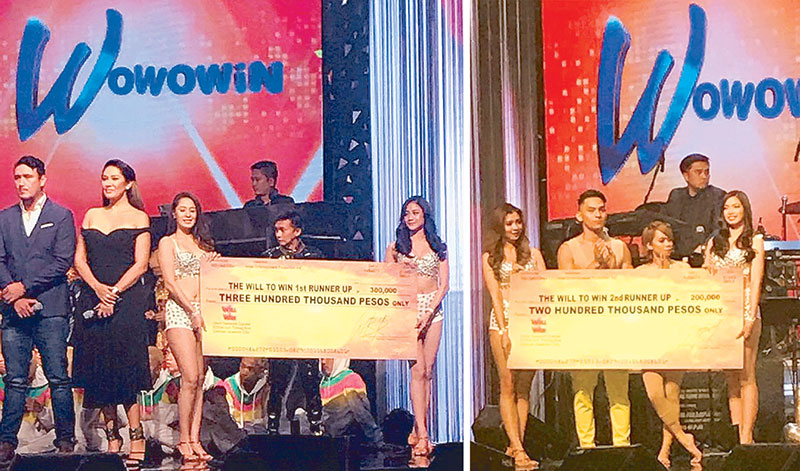 Second Prize (P300,000): Macky D Spinner (yoyo master). Third Prize (P200,000): Love Wins Duo(right)
The "non-disclosure" agreement (among the contestants and among us the six judges including Ruffa Gutierrez, director Bert de Leon, new Kapuso John Estrada, and GMA executives Joey Abacan and Annette Gozon-Valdes) has expired and, for sure, you should know by now who the winners among the 27 contestants were.
• First Prize (P2M): Philippine Islands Assassins (who performed with a Ferris Wheel as props);
• Second Prize (P300,000): Macky D'Spinner (who did eye-popping, never-before-seen tricks with the yoyo); and
• Third Prize (P200,000): Love Wins Duo (Adagio) who showed how "lovers" flirted with danger as they danced, and twisted this way and that while hanging onto a round steel bar.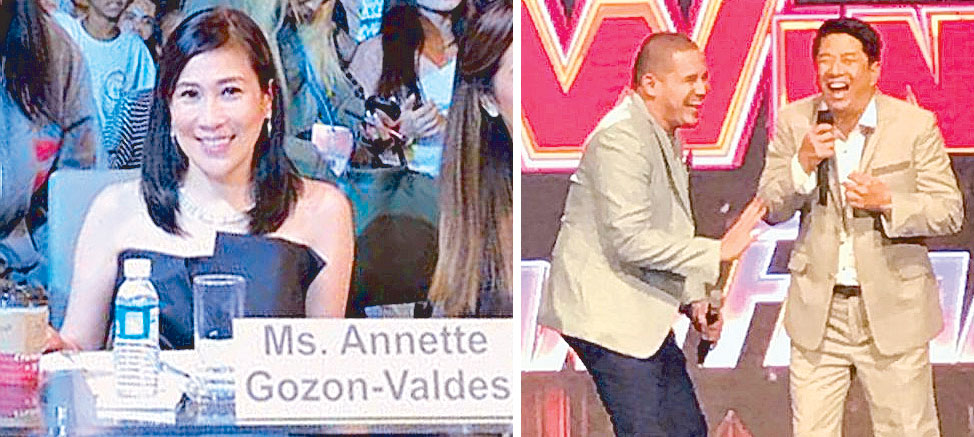 XAnnette Gozon-Valdes was among the six judges while (left) Paolo Contis acted as the guest co-host of Wowowin host-producer Willie Revillame
The 24 other contestants were just as talented and awesome performers that, as far as I am concerned, they were also winners.
(Incidentally, some people were wondering why the name tag read: Annette Gozon-Valdes. Her hyphenated surname has visibly changed. Suffice it to say that Annette is happy with now being "Mrs. Valdes.")
Briefly noted
• From Rita Avila (photo, left):

Met former Pres. Noynoy Aquino (photo, right) at the surprise birthday party for Jorge Cariño. I went to him to pay respect. He looked puzzled. I said, "I am Rita Avila. (Your sister) and I belong in the same industry." He still looked puzzled but smiled anyway. The following day, when he realized who I am, he called Jorge to tell how sorry he was for not recognizing me. He said that I wore a different hairstyle then and that I looked young. Nice naman of him to call Jorge. My husband was kidding me that I must have prepared too well for my new ABS-CBN soap Araw Gabi that I could pass for the remake of Katorse. Hahaha!!! At the presscon and on Instagram, there's only one comment, that I still look young. #happiness.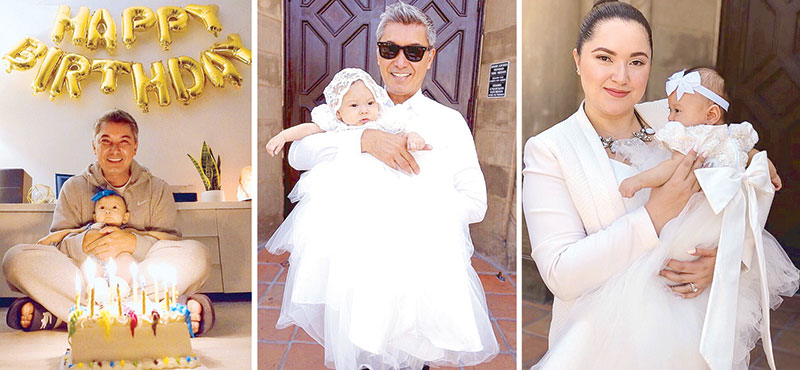 From left: Brand-new granddad Albert Martinez with first apo Adalynn Riley on his 57th birthday…Albert and Adalynn during the baby's baptism…Adalynn and mom Alyanna Martinez
• Albert Martinez, who turned 57 last April 19, is enjoying his new role as granddad to his first apo, Adalynn Riley, who was recently baptized. The girl's parents, Alyanna Martinez and Roy Macam, are happy that during his month-long vacation in California, Lolo Albert is making things easier for them by helping change Adalynn's diapers and preparing her feeding bottles. "I am an expert on that," Albert told Funfare in a text message. "I have three children, remember?" The two others are Alissa and Alfonso who are also vacationing in the US. Their only regret is that Albert's wife Liezl didn't live long enough to hug her first grandchild.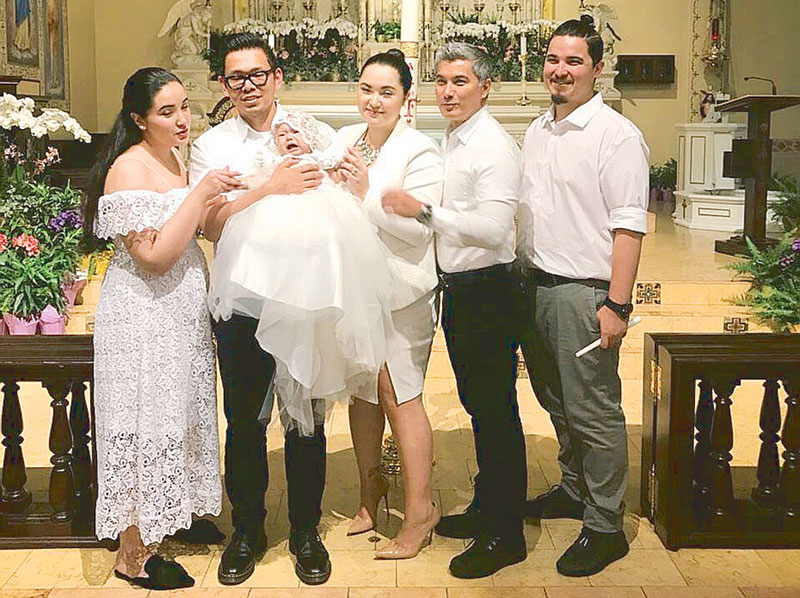 …and Albert and Alyanna with Alyanna's husband Roy Macam and Alyanna's siblings Alissa and Alfonso during Adalynn's baptism. — Photos courtesy of Albert Martinez
• If you watched A Quiet Place (so titled because it has very minimal dialogue, only subtitles) and stayed long enough to read the closing credits, you must have noticed that Jorge Araneta was the first on the list of people the producers were thanking. Just learned that parts of the movie were filmed in the Aranetas' house in the outskirts of New York. I love the message of the movie which is about a strange monster that is so sensitive to even the slightest noise that it threatens a family played by Emily Blunt and real-life husband John Krasinski as the parents and newcomers as the children (one of whom is deaf in real life). The monster symbolizes the fears (break-in robbers, violence all around and man-made/natural disasters) of every family that conquers it by fighting together.
John now officially a Kapuso John now officially a Kapuso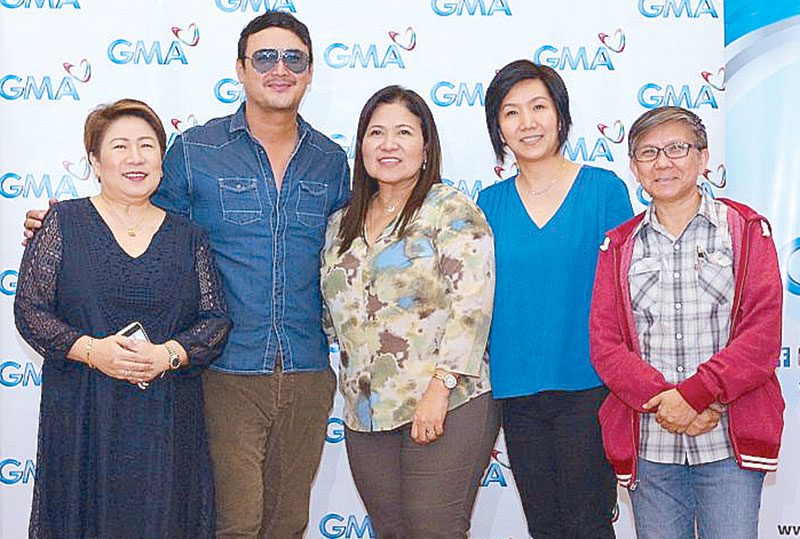 John Estrada signed up as the newest Kapuso on May 2, witnessed by Lilybeth Rasonable (senior vice president for Entertainment Content Group), Redgie Acuña-Magno (vice president for Drama Productions), Angela Javier Cruz (vice president for Corporate Affairs & Communications)), Cheryl Ching Sy (assistant vice president for Drama Productions) and Benita Matilac (program manager).
(E-mail reactions at rickylophilstar@gmail.com. For more updates, photos and videos, visit www.philstar.com/funfare or follow me on Instagram @therealrickylo.)